You can tune a piano, but you can't tuna Christmas tree!
Okay that was cheesy, right?

Wall Mounted and Lighted Tuna Can Christmas Tree
But that's the saying that kept coming to mind as I was making this lighted tuna can Christmas tree.
By the way, who remembers the name of the band that had a similar album title back in the 80's?
Bless your heart if you didn't grow up in the 80's…but that's a whole other conversation.
Speaking of cheating, I actually used canned chicken for this lighted tuna can Christmas tree, because I'm not the biggest tuna fish consumer, so I hope you will forgive me for that little white lie.
Supplies Need to Make a Tuna Can Christmas Tree
11 large and emptied tuna or chicken tin cans
11 flameless tealights (flickering if possible)
1 piece of 1/2″ thick scrap wood, approx size 18″ x 24″
Power drill
1/8″ drill bit to drill holes in tin cans for screw attachment
1/4″ drill bit to drill holes in wood for wire hanging attachment
Phillips drill bit for screws
11 sheet metal screws – 3/8″ length
3′ of sturdy wire (I used 14 ga. solid electrical wire because it's coated red)
Pencil
Sand paper
Spray paint in colors: dark brown, orange and top coat with silver (optional)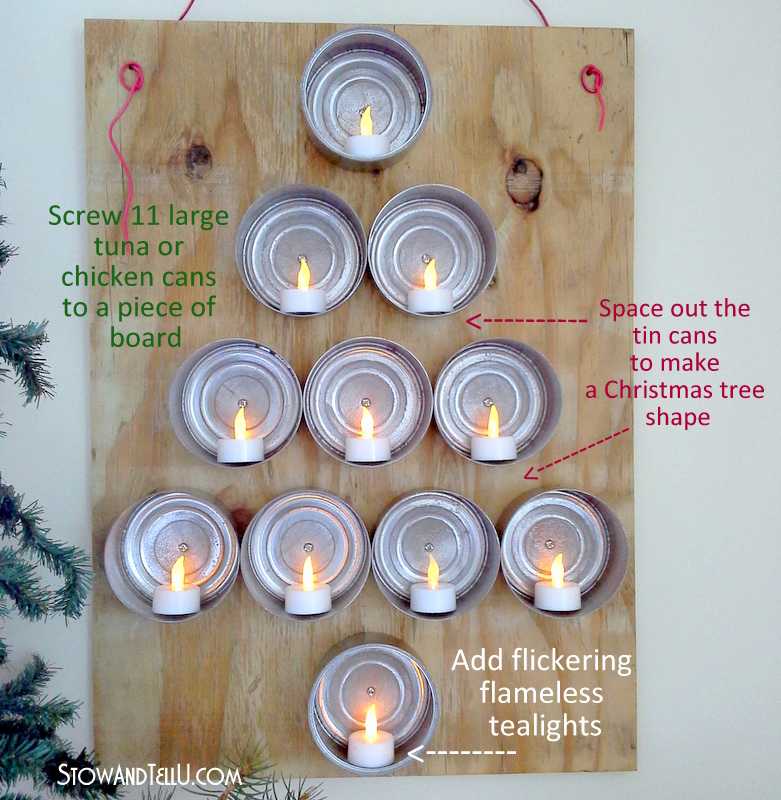 How to make a lighted tuna can Christmas tree
Clean and Prep Tuna or Chicken Cans
Step 1) Empty 10 cans of chicken or tuna. Wash cans thoroughly with dish soap.
Tip #1: After cleaning, you can also drop them in a baking soda/vinegar/ hot water soak for 30 minutes to neutralize the odors.
Tip #2: I froze the chicken in freezer safe bags to use for making several of these chicken recipes later. If I had used tuna, I would have saved in the same way to make several of these tuna recipes for later.
Step 2) To create a faux rust look on the tuna cans:
Spray paint the tin cans with a combination of the dark brown and orange, let dry.
then spray paint the cans with silver paint and let dry.
Gently sand to create a slightly rusted tin can look.
Optionally, you can skip the faux rusting step and just paint them silver (or some metallic color).
Alternatively, you can skip the painting step and keep the cans unpainted.
I recommend painting them with a metallic spray paint because it really makes the light from the flameless tea lights glow and reflect.
Sand and Cut Scrap Wood
Step 3) Cut and sand a piece of scrap wood to size at approximately 18″ x 24″.
Create a Christmas Tree Layout with the Tuna Cans
Step 4) Line up tin cans on the scrap wood in the shape of a Christmas tree, making sure to space out the rows of cans so that it appears more like a Christmas tree than if the cans are all touching. Mark the placement onto the wood with pencil.
Step 5) Doing this step one can at a time, line up the can on the wood and drill a hole through the can and just barely through the wood with the 1/8″ drill bit. Then change out the drill to the screw bit and drill the 3/8″ screw through the hole in the can and into the wood to secure the can.
Repeat with all 11 cans.
Add holes and wire for hanging the wood
Step 6) Drill two holes through the wood near the top outer corners of the wood piece with the 1/4″ drill bit. Insert hanging wire through the holes in the back and knot off in the front. Lightly twist the excess wire down the front of the wood for decorative purposes.
Add FLAMELESS tea lights to turn it into a lighted Christmas Tree
Last step) Hang on the wall and place a flameless tealight candle into each can.
The tin cans could be painted any color, or left as is. The wood board could be stenciled with Christmassy wording or painted as well.
I have to admit, I wasn't too excited about this tree until I hung it on the wall and placed the flameless candles into the tin cans.
The whole wall seemed to light up and come alive with a soft, flickering glow= COZY and RELAXING!
I hope you like my version of a lighted tin can Christmas tree. I think it makes a nice alternative Christmas tree for small space living, a bachelor pad, minimalist or industrial style Christmas decor. I kept mine simple, but glittery paint and some imagination could change this look up in a flash.
More Upcycled Christmas Craft and Decor Ideas
Hope you are enjoying the holiday season ~ Amy
Linking up at:
Party Junk/ Funky Junk Interiors
Create With Me – Tin Can Projects