Plain old straw hat… or decorate it? Wear it to a parade… or hang it on your door in place of a wreath for something different? You might think I'm on a straw hat kick if you've seen the garden sign straw hats I made recently. Call it crafty tunnel vision, but I was thinking that some straw hats decorated with stars and stripes would be a cute way of getting patriotic this summer.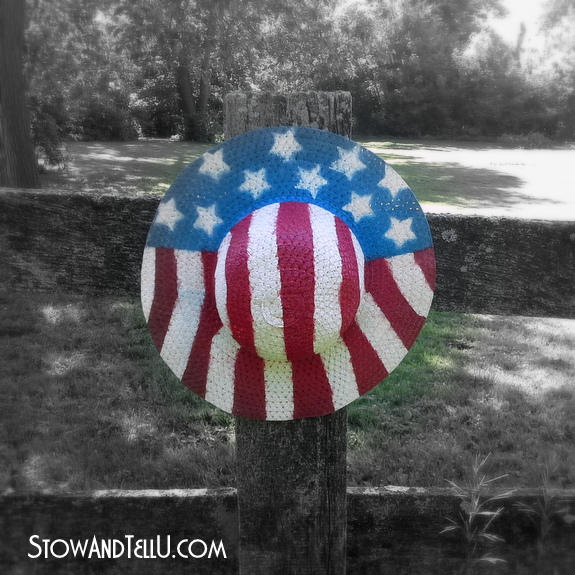 Not just for keeping the sun our of your eyes, consider hanging patriotic straw hats up in unexpected places like on your front door, on a porch post…
Or make a bunch and hang them along a fence.
The Red, White and Blue Blog Tour begins:
I teamed up with 15 other bloggers to bring you some RED, WHITE and BLUE craft and home decor inspiration this week.
There are plenty more DIY patriotic craft and decor projects linked up at the bottom of this post.
Several more will be added each day, through Thursday.
Click on over and check out any ~ or ~ all!!
Your red, white and blue curiosity will surely be satisfied.
How to make patriotic straw hats
Supplies:
Straw hats (I bought some from the dollar store)
Indoor/Outdoor spray paint in colors red, white and blue
Star shaped foam stickers (I found these at Wal-Mart)
1-1/2″ Masking tape (the picture shows blue painters tape, but masking tape works much better)
Newspaper
White paint marker or craft paint (optional)
Step 1) Spray paint the straw hats with white spray paint or white primer and let dry for 1 hour.
Step 2) To make the blue with white stars portion, tape off a section of the hat by laying down a strip of masking tape to create a clean line, and then a second layer of news paper attached to masking tape, making sure to cover the portion of the hat that that will not be painted blue.
Tip: Use 5″ – 6″ pieces of masking tape at a time and smooth down onto the hat for good adhesion.
Step 3) Place the star shaped stickers on the portion of the hat that will be painted blue. I did not measure the distance of the placement of the stars. I just eyed it and tried to make the stars lay in the same direction with each other.
Step 4) Give the star portion of the hat several light coats of blue spray paint until it is fully covered. Remove the stars, the masking tape and newspaper, and then let dry for 1 hour.
Step 5) Mask off the blue portion of the straw hat with a clean line of masking tape (working with 5″ – 6″ pieces). Make sure to overlap onto the blue portion just a bit, so that there is no white showing on the very edge of where the red paint will start. The red paint will cover up the blue enough, that it won't be a problem.
Add a second layer of masking tape attached to newspaper, and make sure to cover up the entire portion of the hat that will not be painted red.
Step 6) Leaving a 1-1/2″ (one and one-have inch) space from the edge of where the blue portion is masked off lay down a 1-1/2″ masking tape line, to create a "stripe". Once again, working with 5-6 inch pieces works best, making sure to smooth down the tape for good adhesion as you go along.
Lay down a second line of masking tape with a 1-1/2″ space in between and continue this process to the opposite edge of the straw hat.
Note: I did not make my lines exactly straight, nor did the space remain at 1-1/2″ throughout because I had to go with the three dimensional shape of the hat, but I did keep the overall look of the stripes straight looking.
Step 7) Spray the striped portion of the hat with several light coats of red spray paint until fully covered. Pull off the tape and news paper and let dry for 1 hour.
Step 8) Allow the hat(s) to dry for 24 hours and then touch up the white portions of the hat with either a white paint marker or a small brush and white craft paint, if desired.
Whether hanging from a fence post, a porch post, an entryway, on a mantel, in the garden
or simply worn on your noggin to the Fourth of July parade;
these stars and stripes straw hats are an inexpensive and crafty way to get patriotic this season.
Patriotic Craft and Decor Blog Tour



*******
For even MORE patriotic ideas,
consider adding a DIY stars and stripes tie dyed table cloth to your decor.
Also linking up to:
Funky Junk/ Patriotic Upcycled Projects
Link Party Palooza / Tatertots and Jello
Confessions of a Plate Additct/ The Scoop
Yankee Doodle Party! Get Inspired Red, White and Blue