It's kind of amazing how little you really need to suggest that "it's almost 4th of July!" Hands down the easiest 4th of July idea for decorating your outdoor space is to add mini flags to any planters, baskets, or window boxes that you may have. And then plop a few into your utensil holders and drink tubs if you are having a party.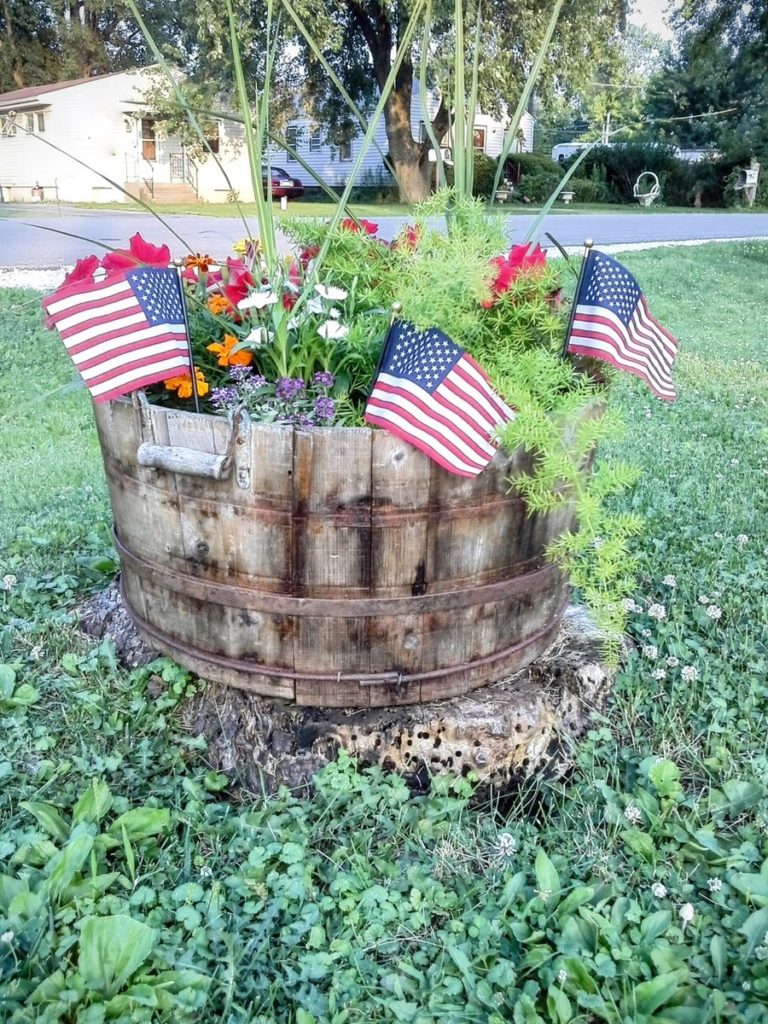 Try this tip, if you are planting or filling large containers in your outdoor decorating.
Next, grab one of the mini flags on the way to the parade to wave around.  Woohoo, it's the 4th of July!
If you are the type that would stop at that, I can't say I blame you.
Isn't it it supposed to be about enjoying the parade, the party and the fireworks after all?
Yeah, it is.  But some of us can't help but want to add those special touches, here and there.  It's a diy thing, I guess.
4th of July ideas for decorating your outdoor space
Here are some 4th of July ideas for decorating your yard, porch or party table.  Some are super easy. Some are a little more challenging, but I hope you see something that says "Hey, I think I can pull that together by the 4th!"
Hanging patriotic decor
Red, White and Blue or Stars and Stripes?
Either way you slice it, you will more than likely obtain the desired Fourth of July effect.
There's all kinds of things you can hang: wreaths, flags, wind socks, hats.
A few summers ago, I made these stars and stripes straw hats which we hung along my sister's fence. These have dual purpose, as you can also grab one of these on the way to the parade, or if it just gets too sunny. But mostly, we just thought they looked cool 😛
Shepard's hooks, mailbox posts and porch posts make great targets for hanging, too.
I pulled this flag and blue jean wreath together in a jiff.  I spray painted a grapevine wreath red, cut up an old pair of blue jeans into fringy strips and topped it off with a thrifted flag plaque.
Earlier this year I made a bird feeder wreath. You can see it in the background. I gave it a subtle touch of red, white and blue. But it does add a little zing of spirit, don't you think?
Table cloths and buntings
Buntings are another way to deck out your porch railings. fence, garage and so on.
Don't forget table runners and table cloths.  Example: If you see a table cloth idea you like, with a few alterations, you could make it as a table runner or bunting instead, and vice versa.
Each one of these shares a stencil or template ideas that can be used interchangeably for other project ideas.
See Patriotic table runner / The Shabby Creek Cottage
See Burlap flag bunting / 733Blog
See Stars and stripes tie dyed table cloth / Stow & TellU
Jars. Luminaries. String lights. Solar lights.
All ways to light up the night and add ambiance.
Like the mini flags, string lights add that punch with the least amount of diy grief, lol.  I wouldn't turn my nose up at a string or two of lighted red, white and blue from the store.
Jars make the perfect luminaries. They can be wrapped with mini flags, painted or filled with red, white and blue.
I filled these with aquarium gravel. Other fillers like candies, sand or glass gems would work, just the same. I made a variation of this for Valentine's Day. You can check out that post to see how I obtained the layered look in the jars, if needed.
I also recently turned some thrifted table lamps into patriotic solar table lamps. This post shares yet another way to make a stars and stripes pattern without having to buy one at the store. They're pretty red, white and blue during the day, but at night you can see the pattern on the lamp shade from the glow of the solar light.
The fact that these ideas can be applied to any nations flag and colors, goes without saying.
But, hey, I'll say it anyway.
Go simple.
Go Kodachrome.
Or just go to the parade, the dessert table or the drink tub.
Happy 4th of July, Canada Day, Just plain sunny day, or sunny weekend!
Amy xox