How long do you leave your tree up after the holidays? We usually leave ours up about 2 weeks. One of my favorite childhood memories is sitting in the living room with my mom and my sister after the holidays, with only the lights from the Christmas tree glowing in the room. My mom usually had a glass of wine in her hand, my sister and I, hot chocolate. The days were short, the temperature outside freezing, and the reality of the holidays being over was always a let down. Our little celebration of lights before bedtime brightened up those dreary days.
I think many of us have come up with ways to celebrate "winter after-the-holidays," mostly to keep us sane, and especially if you live in the north and are suffering from cabin fever.
Cabin fever craft: Pine treeline drawing jar candles
Here is an easy winter craft idea with a flare of cabin decor. You can keep these around even after you've packed all the holiday trimmings away. These only take about 30 minutes to do. Even less if done in multiples.
I actually gave several of these away as Christmas gifts knowing that my friends and family could light them up after the holidays to warm up those frigid winter nights.
This post contains affiliate links. If you purchase something from clicking on one of the links, I may receive a small commission but you won't pay any additional cost. Read full disclosure, here.
Supplies
Print out the Pine Tree Drawing Lesson Template from our FREE Resource Library, find ACCESS, HERE.
Follow that up by gathering the following supplies.
Jar candle – I used 11.5 oz – 14 oz sized Mainstay brand at Walmart, but you can also find small white jar candles at the dollar store. Additionally, you can find them without labels in larger or bulk quantities. See list further below.
Black paint marker – with medium or fine point
Glass cleaner
Paper towels
Remove jar candle label
Start by peeling off the jar label. Most jar candle labels come off pretty easy without residue. If the label won't come off nicely or leaves residue, use a dab of lemon essential oil. That stuff works wonders for cleaning goop off glass, ceramic and mirrors. But do make sure to wash the area with a little bit of soap and water, then wipe with glass cleaner.
Practice drawing pine trees
Next, follow the directions for how to draw pine trees and treelines by using the free drawing template. Practice drawing until you are comfortable. If you can scribble, you can do this. Keep practicing until you feel that you've got it right and even created your own unique looking pine trees. Drawing is kind of like penmanship, each of ours will look a little different. Just, remember, there's no need to be perfect, this is a handmade gift.
Once you've got your pine tree drawing on paper down pat, you can move on to actually drawing on the glass.
Making sure the glass has been wiped clean of fingers prints and all that good stuff, use the marker to make ground lines along the bottom of the jar.
Next, make uneven vertical lines around the jar for your "tree trunks".
Moving right along, start filling in your branches.
Do one half side of the jar at a time, giving about 15 minutes for the ink to dry.
This project was inspired by our trip to the Washington Coast where there are pine trees, like, EVERYWHERE!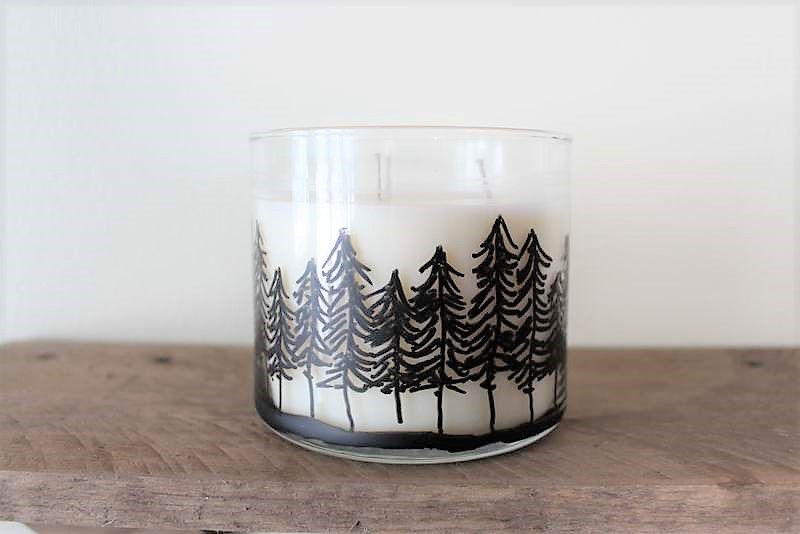 Tip: Use paper towel and glass cleaner (or a little dish soap and water) to wipe off the marker ink if you don't like your drawing at first. But with a little practice you will get the hang of drawing trees on glass, as well. It actually feels a little different than drawing on paper. And it's fun!! Check out these super easy jar candle jack-o-lanterns
Once you are done, set your jar candle or candles aside somewhere out of the way. If the jar candles came with a lid, you can put that back on, as well, to keep the candle free of dust and lint.
Then it's a wait for the ink to dry. I let them sit overnight.
And that's it.
Give them as a gift
Once mine were completely dry (overnight) I wrapped them in cellophane bag with a string tie.
I went with a few types of trees. On some of them, I used a variety of trees, and on some of them I left spaces between the tree groupings.
The FREE Pine Tree Drawing Lesson includes tips for drawing 3 types of pine trees. Get the PASSWORD to the library, HERE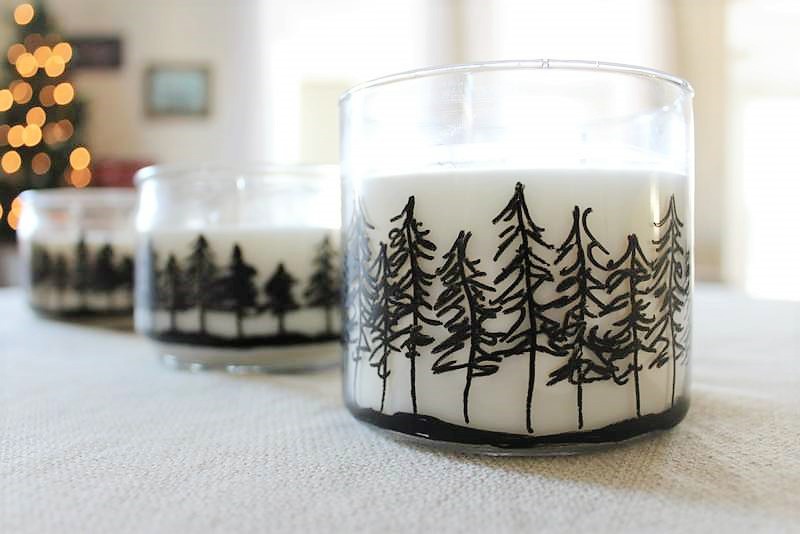 Pine treeline jar candles: a winter craft idea that doesn't say Christmas, Hanukkah, Kwanza or even Festivus.
It just says plain old WINTER!
Make a larger quantities as a party or wedding favor, using bulk quantity LABEL-FREE jar candles, like these:
Small mason jar candles, set of 6
Mini pillar vase candles, set of 36
I hope you are staying warm if it's cold outside.
Amy
Grab the drawing template, HERE …and learn how easy it is to create evergreen trees and treelines so that you can draw onto glass, ceramic, fabric, chalkboards and more.