What can I find to upcycle as a coffee table for our small living room? This was the question I was asking myself as I was putting together our living room layout and on the hunt for space saving furniture pieces.
I had originally thought that I could have my husband, Ken, build something for me. But he had been working so much overtime that I decided try and find a pre-made piece of furniture. One that I could possibly paint to match the living room.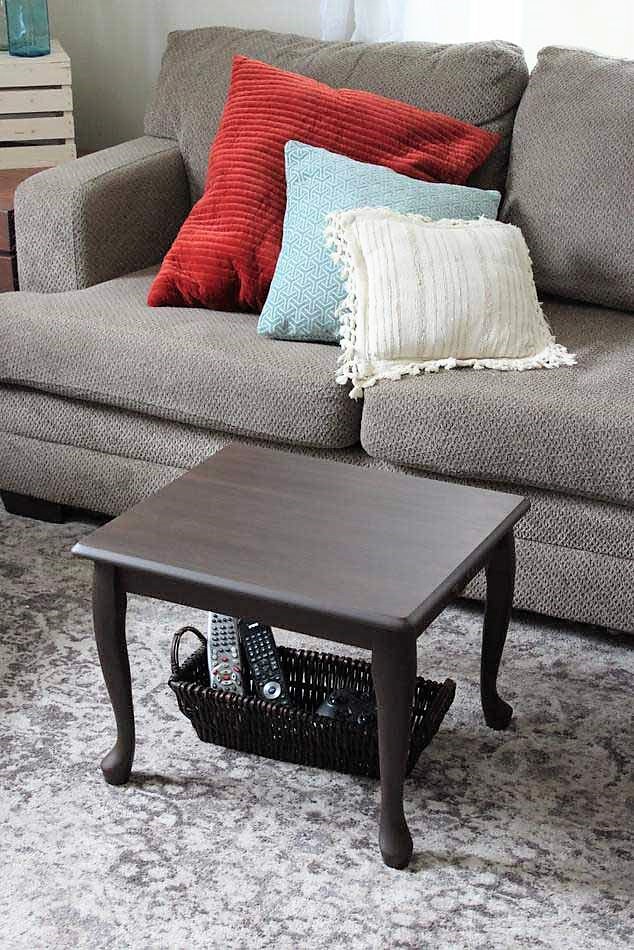 End table upcycled as a small space coffee table
What I eventually found and brought home was a used end table.
5 best features of a small space coffee table
Now, I had a list of features I was looking for while out perusing for a piece that would work. I managed to get 4 out of 5, so I'm pretty happy the results.
Pre-made or repurposed item
Finding a pre-made or repurposed item means it doesn't have to be built from scratch. This could save money and time in labor. When in doubt…upcycle was what I was thinking with this approach.
A small bench, crate, or in this case, an end table can make a great coffee table alternative for a small space living room. I found this end table for $11, which was still on the high side for a used piece. But aside from it not being round or oval, it had all the other attributes I was looking for.
Simple, light design with an open bottom
Having a simple design and an open space underneath was a must. I really wanted room to tuck a basket full of t.v. remotes out of the way.
As I took some time to analyze what kind of clutter ended up on top of our old coffee table, I noticed that the biggest space hog was the array of remotes for the various electronic components that Ken had hooked up to our t.v. While I still don't know how to use them (mostly,) I do know that I didn't want them taking up the small space on top of the coffee table. Dropping the remotes in the basket underneath keeps them out of the way when not in use.
I also think that the light and simple design balances some of the other heavier pieces in the room.
Must be coffee table height
If the table is coffee table height, measuring somewhere between 15 – 18 inches, it won't be as noticeably and awkwardly small.
To make sure it was coffee table height, I line it up next to several of the coffee tables on display at the thrift store. I was exactly the same height as several of the coffee tables. That made it much easier to finalize my decision to go with the end table.
Scaled down length and width
Smaller in scale (length and width) to a standard sized coffee table. A standard coffee table is typically one-half to two-thirds the length of the sofa. On average a coffee table might measure about 40 – 60 inches in length.
This end table measures about 17-1/2" x 20". Giving us just enough room to walk around the table to get to the couch.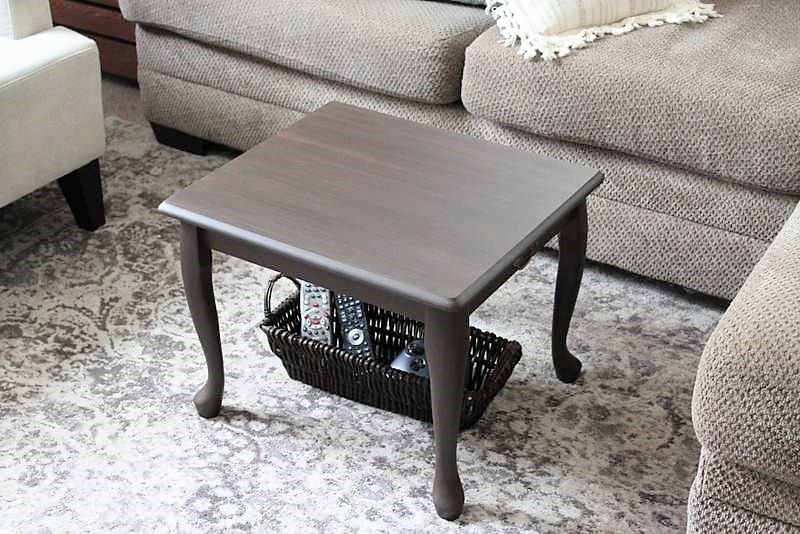 Rounded top
Going with an oval or round-shaped top takes up less space and makes banging your knees (ouch!) into square corners a non-issue.
I didn't manage to find a round topped end table or anything close, so I settled for this square-cornered end table. But if I had my druthers, this table would have been round or oval on top, as well.
Related: Decorating with Area Rugs – See These Before and Afters to decide
This coffee table was painted with a mix of DecoArt Chalky Paint in colors Rustic and Restore, and then top coated with DecoArt Soft Touch Varnish. The small decorative handle was painted with a vintage gold metallic multi-purpose craft paint.
Before shot
Here is a shot of the living room before the end table was painted.
After shot
And here is the after shot. It's taken a while to get our living room completed, but we're almost there.
What do you think?
Small spaces are a challenge, for sure. A regular sized coffee table would not have fit comfortably in this living room layout. So finding just the right end table to upcycle as a coffee table, and inexpensively at that, was a great choice.
Hope you are having a great weekend! Amy
Related Space Saver Ideas
How to Turn a Step Ladder into a Sitting Stool for Extra Party Seating
Vertical Space Saving Hat and Coat Rack
DIY Basket Divider TV Remote Control Holder