These 8 tips for styling faux plants will have you thinking like an indoor gardener while decorating your home with the calming effect of indoor greenery.
Can we all agree that faux plants are A-Okay in home decor? Most of us know they're fake, but we pretend for each other that they're real. Probably because most of us can't keep real plants alive in our home for too long. Nevertheless, there are some decorating tips that can help make fake plants blend in with your home decor, naturally. Because even if subconsciously we know they are fake, we still want them to look realistic.
One thing I like to do is ask myself, "how would someone who is good with growing plants indoors lay it all out"? Factoring that in with trying to accentuate the style of my own home makes for a more flowing combined approach.
This post may contain affiliate links. If you purchase any of these products through the links, there is no extra charge to you; however, I may receive a small commission. Read full disclosure, here.
8 Tips for decorating with faux plants indoor-gardener-style
If you love the idea of having greenery indoors, yet, you don't have great luck with real plants, try some of these hacks for styling faux plants into your home decor while flying under the fake plant radar.
1) Start with a good container to make your artificial plant look it's best
The plant container is like the crowning jewel of a plant. Where faux plants are concerned, a new or update container can make your faux plants really shine. For example, you might buy a fake plant because you like the type of plant it is, but not necessarily the container it is in. Alternatively you may already have a fake plant that you like, but the container is outdated, too small, grungy, etc…
In situations like these, a new planter may be all you need. And in most cases you don't have to rip the fake plant out of the old container. You just need to find a new container that is slightly larger. In a style, of course, that accents your home.
Here is another example –>
My friend was getting rid of this fake palm. I thought it had potential, so I took it off her hands. As you can see the container is kind of outdated. We've all probably seen ten variations of fake plants in this same type of basket planter. Am I right?
Also notable is that if it were a real plant it would most likely need a bigger pot by now. Wouldn't it?
I found a pretty large basket planter. It was large enough to fit, old planter and all. Quite a difference, right? Maybe a little on the huge side, but now it doesn't look like it's totally top heavy. It has a good sized container to grow into, and even better, it fits right in and adds a new look to our budget sun porch makeover.
2) With a few natural filler supplies, you can creatively style your own artificial potted plant
We all have different our own style and you may want to make a planter out of tackle box, for example. Your choice. Nevertheless while fake plants don't need dirt, you can still use dirt, as well as other natural filler supplies, like dried moss, rocks, and pea gravel to name a few. Mixing together fake stems with natures elements can help create a more realistic appearance. Of course floral foam, glue and other crafty cheats will help bring it all together.
Read on, here, to learn how to make stone filled fake succulent planters.
For this example, we have an artificial arrangement in a thrifted white owl ceramic luminary, holes and all. By adding a bit of floral foam, spearing in several fake stems and tucking dried moss around the foam, it is now a cute little indoor potted plant.
3) Use variety when decorating with greenery in container arrangements
When your putting together a container arrangement mix it up with a variety of artificial plant types, colors, heights, and sizes. Experiment with different groupings until you find the combination pleasing to you.
Get inspired with these outdoor: Container arrangements that use herbs as the accent plants.
Budget saving tip: If you have fakes from several years back that look realistic, snip off some of the stems with wire cutters to add into a newer arrangement.
4) Where to place faux plants around your home?
As a rule, to keep the fake factor down, placing faux plants in area with natural light makes sense, as most plant require some sunlight. Keep it simple in work areas, like a kitchen counter, so they aren't in the way. Place multiples in areas that are a little more out of the way, such as window sills or in a corner.
And let's not limit ourselves because rules are made to be broken. Most onlookers (aka friends and family) will already know they're fake. So don't overlook putting artificial ones wherever you want, if it suits YOU! A pretty little faux plant in that windowless bathroom, for example. Because it could be just what the space needs to finish it off.
5) Mix artificial and real plants together without thinking twice
This is a great trick for those of us who have a few real indoor plants. But they're lonely. Don't let your real plants make you feel guilty by mixing a group of real and artificial plants together. The fake factor will go down another notch when you mix them all together. Try doing this and ask a friend to point out the real from the fake in under 10 seconds… They probably won't be able to.
6) Group large and small potted containers together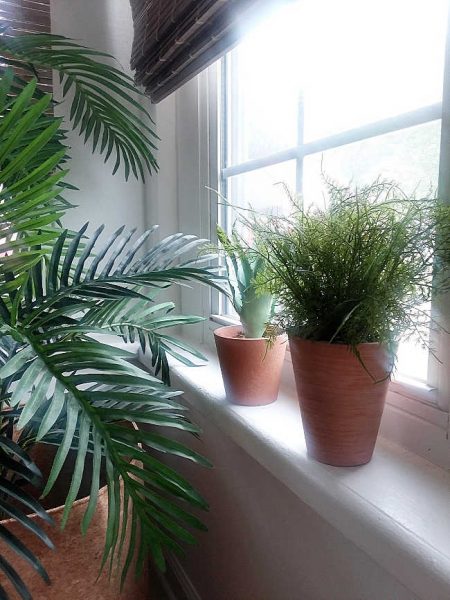 Plants love company. So, while you may not want to over do it with too many plants in one particular spot, think one large potted fake plant with a scatter of a few smaller faux planters of varying sizes. If you know any indoor gardeners, you probably seem then doing this all the time with the real thing. Try these faux planters for a windowsill.
7) Decorating with faux stems or sprigs in a vase
The gardener will often place a single stem in a glass vase (with water) for propagation purposes. She's simply trying to grow more plants, right? To mimic the glass vase propagation look:
DON'T: Go this route if the stem is too short, as in the photo example, here. It will most definitely look unnatural.
DO: Make sure the stem is long enough to look naturally placed inside the bottle.
Placing dried sprigs, like eucalyptus, in a vase for aromatic energy is another. Quite frankly styling a vase with a stem or a few sprigs is one of the easiest ways to bring in some greenery without going overboard. No need to overthink it if it looks good to you.
DON'T: Bend the wire stems, like the plant in this example. Visibly bent wire stems are a dead giveaway and there's no going back, lol.
DO: Make sure you cut the stems down to size with wire cutters, so it, once again, looks more realistic.
Take a few moments, and even a ruler to line up the plant stem with the glass bottle or jar and figure out the best length. For more tips with jars and bottles, see these other ideas for styling faux branches with water in glass containers.
8) Make the rest of your decor pop with faux plants
Blending greenery in with the rest of your decor makes it all come together, right? For some reason, a plant, even if it's fake can really add that extra something to the rest of the decor pieces it surrounds. Kind of like putting on lipstick as a finishing touch before you go out.
Experiment with different plant placements throughout your home, then stand back and decide what combination makes the setting standout the most. The plant should compliment the scene thereby taking the focus off the artificial plant and putting on the setting as a whole.
Styling faux plants for your home is a little indoor gardener and decorator all-in-one. Try to apply a little of both of those approaches to make your home feel more calming and energized like it would if you had the real thing.
Like these tips? PIN or SHARE on Facebook for LATER!!