I finally got around to adding a few container planters to our yard and this year I decided to go with the idea of using herbs as the accent plants to the flowers. I wanted to tell you about it because I'm super happy with how mine are morphing into some of the prettiest arrangements I've ever made.
Container gardening with herbs as accent plants to flowers
Not only are the herb and flower combos taking off in my less than fancy planters, but the smell of the herbs is so refreshing when we're hanging out in the yard.
And the cost savings? I couldn't beat the price. On sale at $ .72 cents each for the herbs vs $1.49 each for the traditional container garden accent plants.
It's considered "mid-summer" here at our garden centers so there were plenty of markdowns across the board. I'd venture to guess that the pricing would be comparable between the herbs and the accent plants of similar proportion during the regular planting season, as well.
Tip to keep your planting budget-proof when purchasing at the start of the season: Purchase a few flats of flowers from the annual section, Make your own flat with a combination of the ones that catch your eye. Next, grab a few flower types from the small to medium-sized, single container section. Finally, purchase a range of herbs in the smallest containers to use as your accent plants.
My containers aren't anything special by any stretch. I planted 1 grungy, old barrel container in the front yard and 3 "seen-better-days" clay pots around the back of the house. I used some of my favorite "container" flowers, and then herbs as my accent plants, instead of actual accent plants as accents plants

Large barrel – week 1: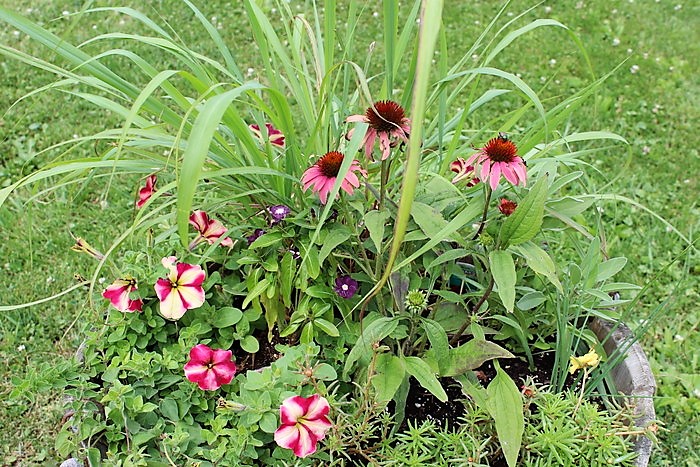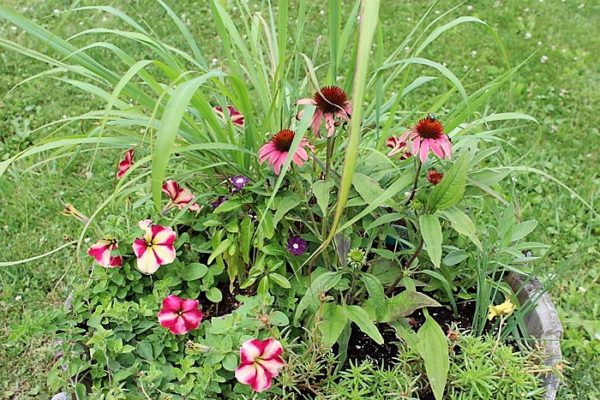 Large barrel – week 2:
For the large barrel, I combined:
Herbs – Lemon Grass, Oregano, Sage and Chive.
Flowers – Cha-Ching Petunias, Jams and Jellies, Moss Roses and a Cheyenne Cone Flower (Echinacea).
This post contains affiliate links for your convenience. (See full disclosure, here.)
I used the old soil that was in the barrel from last year and then added a top layer of bloom enhancing soil
plus watering every day.
Large barrel – week 3

Cha-Ching Petunias
3 clay pots – week 1: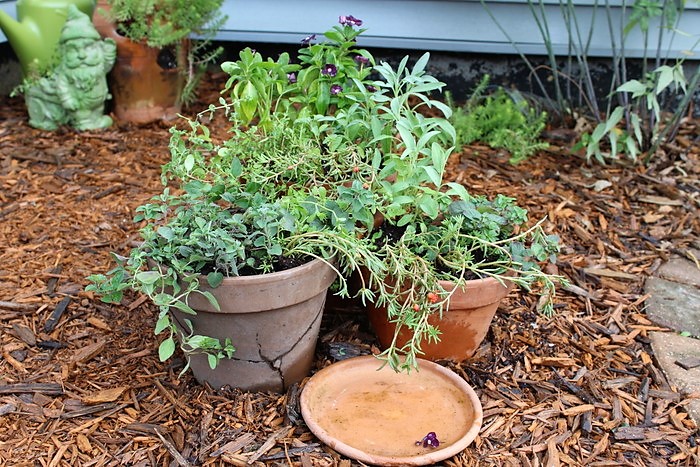 I bought six potted herbs from the mark-down rack for the price of $4.44 and a potted jams and jellies plant for $2.99. (I actually split the J&J plant and put one of the clusters in the barrel up front.)
Right now they all look pretty confused, don't you think?
3 clay pots – week 2:
Look at how the flower and herbs have found a nice flow among the three pots after one week of settling in.
I even added a solar light that was missing it's stake.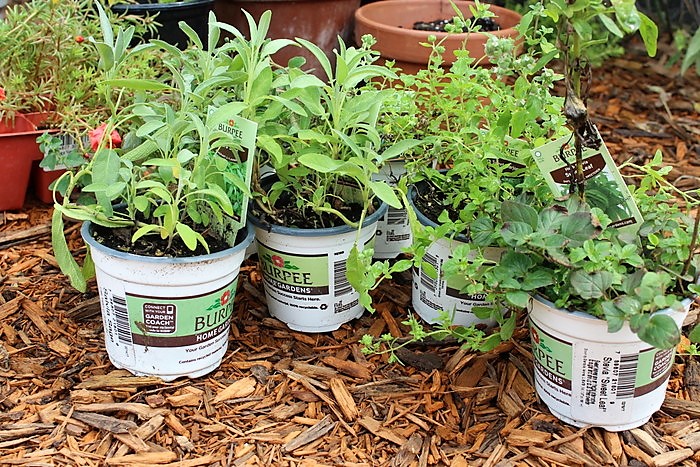 Herbs: German Oregano, Sage, Sweet Marjoram, Stevia.
Flowers: Jams and Jellies and Moss Roses.
Jams and Jellies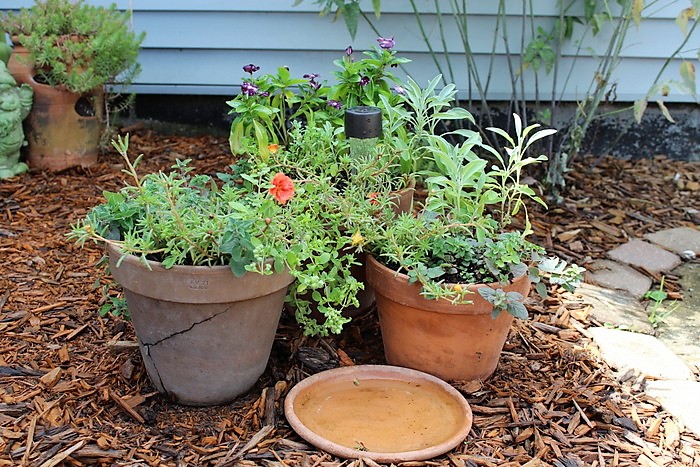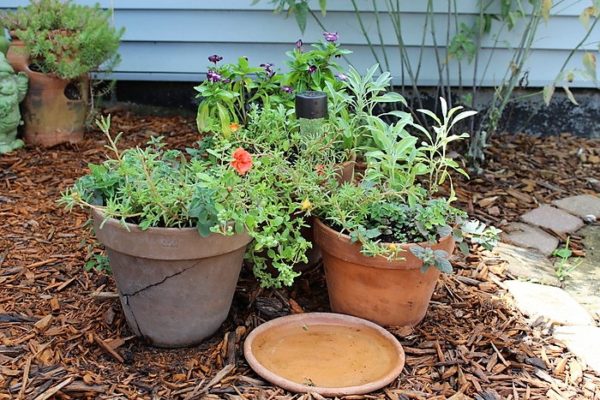 The sage on the right side might looks like it's yellowing, but it's actually just catching the sun.
Benefits of using herbs as accent plants
Full and showy in a container –
If placed in the right spot (full sun/ part shade, etc…) and tended to regularly, most potted herbs with fill in very nicely and probably better than most of the standard accent plants.
Aromatic –
Most herbs smell good enough to eat or even add to a fresh floral arrangement. And just like essential oils, the smell of herbs can relax, invigorate and so on.
Natural bug repellent-
There are plants and herbs that naturally repel mosquito and other pesty bugs: Citronella, Sage, Mint, Peppermint, Lemon Balm, Catnip, Basil and lavender.
Find the details on how to use them as repellents, here.
Find more tips on companion planting with herbs, here.
Less commercial looking –
Of course it's a personal choice, but for me, a lot of the accent plants at our local stores are used in commercial settings. I like to think that my own yard feels a little more homey than what I might see at a restaurant, mall or business office outdoor area. But then again, that's just me.
Use the herbs for cooking –
If you'd like get great blooms and use the herbs for cooking, this type of plant food is organic and safe for edible plants, as well as creating great blooms.
And here in the Prairie State (Illinois) our native landscape tends to look un-manicured and random. Many would even call it weedy, but I take no offense.
I like to go with the flow of the grow, and you might find that reflects in my planting style.
Since last year, I have started a native prairie flower bed from the ground up,
you can see the Before and After DIY Flower Bed photos, here.
More Garden Inspiration
4 Faux Stone Garden Path Ideas
Before and After DIY Flower Bed photos
How to Make Stone Filled Faux Succulent Planters
Best Tip for Planting in Large Garden Containers
Happy weekend ~ Amy