You don't need to use a cookie cutter to get these simple, quick and tasty ghost shaped cookies. I brought these to a recent bonfire get together and they DISAPPEARED!!!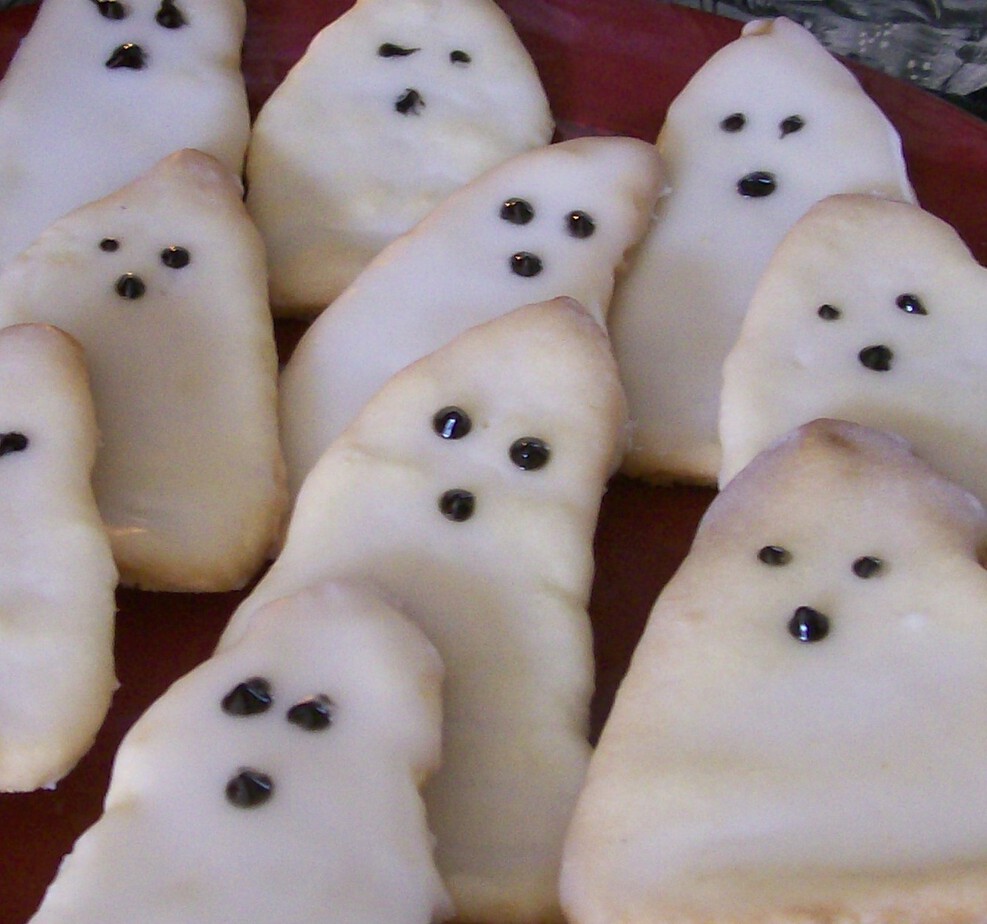 Ghost Shaped Cookies Without Using a Cookie Cutter
To make the cookies:
1 roll of Pillsbury Sugar Cookie Dough
1 tube of black gel frosting
For white frosting:
1 cup powdered sugar
2 tsp white corn syrup
2 tbsp milk or whipping cream
½ tsp vanilla extract (optional)
Directions
Preheat oven to 350
Place cookie dough in freezer for 15 minutes
Cut cookie dough into 24-32 slices (your preference)
Note: If you are only working with half the dough at the time, put the other half back in the freezer.
Roll each slice into a small worm or log-shaped piece and place lengthwise along the edge of the cookie sheet, making sure each piece touches the edge of the cookie sheet.
Press piece down slightly. Make it a little fatter at the bottom, and then pinch the top.

Try to shape it like a thin ghost.
Bake for 7-10 minutes, BUT MAKE SURE TO CHECK THE COOKIES AT THE 7 MINUTE MARK, as every oven is different. Take them out when the edges are golden brown.
Only let them cool for about 30 – 45 seconds before you try to loosen them from the cookie sheet. Transfer to cookie rack to cool completely.
To make a pourable frosting, mix all frosting ingredients together. You may need to add a bit more milk, but only add a teaspoon at a time.
Pour frosting over cookies and use a basting brush or a spoon to spread over the edges of the cookies. Let frosting dry for an hour or so, and then paint on the ghost faces with the black gel frosting.
One More Note: I tried some of the other cookie dough brands, but found that the Pillsbury brand worked the best for these cookies.
Try these other Shaped Cookie Ideas without Using a Cookie Cutter:
More Fun and Creepy Halloween Ideas
Linking up to: