We were just heading back down to Boston from the coast of mid Maine, when I left off on Taste of New England, Part 2, here. It was November 2nd and the Northeast was getting it's first snowfall of the season, which turned out to be a wee bit of a snow storm. Fortunately, the snow fall was limited to the land above Boston, so by the time we made it to the city limits, it was just about dusk, and there wasn't a flake of snow in sight. Dinner was in order with a destination of Durgin-Park, one of the oldest eating establishment in the country.
Durgin-Park – Boston
Dating as far back as 180 years, Durgin-Park has been serving food in Boston, you can read Durgin-Park's history, here. A variety of travel listings claim it to be the second oldest bar and eating establishment in the United States. Just a baby to the rest of the world, but a bonafide historical dining adventure for Kevin and myself.
Our waiter told us to call him "Gilly." That's with a hard "g" not to be confused with the soft "j" sound you might pronounce when saying "Jilly." Gilly was my mind's idea of the quintessential guy from Boston: shaved head, charming smile, down to earth, Red Sox fan and ohhh that New England accent which gets me every time.
I ordered the melt-in-you-mouth Yankee pot roast and Kev couldn't pass up more of the fresh North Atlantic Pollock.
We went to this restaurant for the history of it, being such an old establishment and all, but by the end of our meal, we both agreed that shooting the bull with Gilly about everything from sports teams, to his daughter's first trick-or-treat outing, to what to see in Boston while visiting was what really made us feel like we were getting that full-fledged Boston experience.
Scenery and great food can certainly make a vacation a success, but I tend to think a vacation isn't fully rounded until meeting some of the local people comes into play.
K&A rating: 4 Thumbs up, Yankee style dishes, historical, friendly wait staff
Union Oyster House – Boston
The following day, Kevin and I had lunch at what is often claimed to be "the oldest" eating establishment in the United States: Union Oyster House
More New England claim chowder for Kevin and a plate a fried oysters, while I went with a safe and boring turkey club sandwich. The menu included seafood of every kind, but it was nice that they had non-seafood choices, as well.
Our meal was stellar and hit the spot giving us the strength to carry on with our walking tour along the Freedom Trail.
K&A rating: 4 Thumbs up, seafood dishes galore, located along the Freedom Trail
The Freedom Trail – Boston
When Kevin suggested we take the Freedom Trail walking tour, I imagined a hiking trail, like that you would walk along in the woods. NOT.
The Freedom Trail is a walking tour through the downtown and several neighborhoods of Boston taking you past all of the earliest historical buildings or locations where events took place that lead up to America's Revolutionary War.
The tour includes places like
Paul Revere house
Old North Church
Granary Burying Ground
Bunker Hill Monument
Site of Boston Massacre
There were so many, I couldn't possibly list them all, but you can see The Freedom Trail sites list, here.
This photo is of one of the oldest city streets in Boston. As you can see, the street is very narrow and still contains cobble stone.
Note: The 2 brick line that you see along the street is what delineates that this street is part of the Freedom Trail.
In order to not get lost along the Freedom Trail, you simply had to following the 2 red lines that were either brick or painted. This walk was packed full of sights and took up most of the day.
Needless to say, we were pretty darn hungry by night fall.
Regina's Pizza – Boston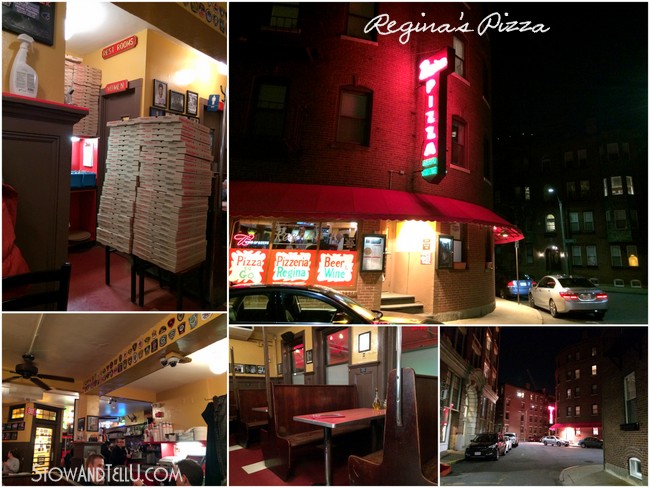 Since we had passed up all of our chances for pizza in Vermont, pizza was in order and Kevin knew just the place for some east coast style pizza. So we followed the 2 red lines back to the car and headed off to Regina's Pizza.
Regina's is tucked back in an older Boston neighborhood rather than along a main drag which I found quite charming.
I've never been to New York, but Kevin has and said that Regina's pizza is very much like New York style with the softer, chewy crust that you can fold up, kind of like a pizza sandwich.
There were so many ingredient choices on the menu, so we each ordered a small pizza of our very own favorite ingredients and it was heavenly. I was thinking Chicago's got plenty of pizza competition.
Regina's has been around since 1926, so ahh, I'm thinking they've mastered their pizza. There IS no room for improvement, as far as I'm concerned.
K&A rating: 4 thumbs up; order your own small pizza, and don't share it with anyone!! ;D
Boston Tea Party Museum – Boston
We figured if we were in Boston, we might as well overload on our American history lessons, so on my last day (Kevin stayed on several more), we took the Boston Tea Party Museum tour.
The tour was an interactive play of sorts and you start out sitting in a church as if you are one of the activists. Then they lead us onto the ship, where we each had a chance to "mock" toss a crate of tea into the water. The actors encouraged you to play along as co-conspirators throughout the whole tour, so there were plenty of laughs, but I certainly leaned quite a bit more, as well.
Interestingly, it was very different from what I remember learning back in school. Or perhaps I should say the teachers spared us the parts about the brutality and difficulty these people endured to gain freedom.
My time was up in Boston, so Kevin drove me to the airport, which only took about 10 minutes once we drove out of the harbor parking lot.
Between the history, the architecture and the friendly people, I fell in love with this city and all it has to offer. I left wishing that my family was from Boston or that we could all move here together. That is how much I loved it. Of course, since the east coast is currently under 10 feet of snow, I might not suggest the group move to the east coast just yet…
Thanks so much for following along on the Taste of New England Tour with me. I hope if you ever have a chance to visit that this tour has given you some ideas of all that there is to see.
See: Taste of New England, Part 1, where we explore Massachusetts, Vermont and New Hampshire.
See: Taste of New England, Part 2, where we visit the coast of Maine and get stuck in a snow storm.
Happy weekend ~ Amy