After I put together a mood board and looked at how much everything would cost, if, hypothetically I purchased it all, I had to stop and regroup. Yikes!! It was way over any budget I could dream of at this time, if ever.
I made the board for inspiration purposes anyway, but I knew even if I found some similar items at a lesser price, I would still need to cut the budget quite a bit more. In addition, I still wasn't satisfied with the dining nook area, or the cool and very comfy retro sofa chair because the pieces just weren't fitting the space.
So it took several weeks of shopping around to find some thrifted items that would work, that I could makeover and that would ultimately qualify as space savers in our small living room.
Long term goals:
– Wood type floors throughout living room and kitchen.
– Built in banquette seating along dining nook back wall.
– Half-wall added between living room and kitchen to create more counter top space.
– Hang T.V. on wall and add diy a faux fireplace to hide speakers.
Current goals
– Resize length of and dye newly hung white curtains.
– Add a variety of new lighting fixtures.
– Accessorize living room with art, photos, pillows, blankets and more. All to replace what is shown in these photos.
– Paint, stain, and or slightly modify all thrifted pieces below.
Hall area: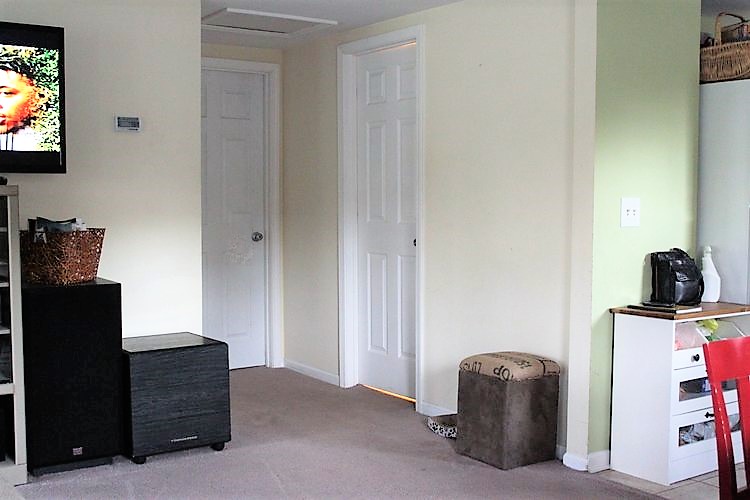 Before – and Ugh!
Ken's subwoofer was edging close to the walkway to the bedrooms, among other issues, lol.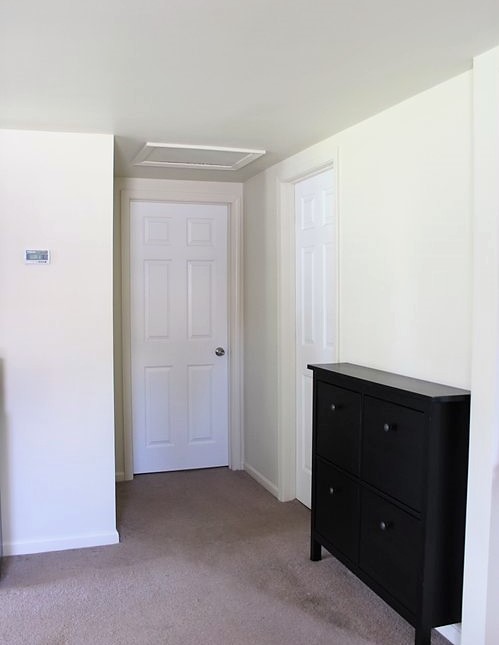 After –
We've moved the subwoofer into the opposite corner which entailed re-wiring on Ken's part.
I also purchased a used Ikea shoe cabinet for $25.00. See how I finished it here: Ikea shoe cabinet hack.
Makeover plan: Ikea cabinet to be painted and attached to the wall for non-shoe storage. Plans for a mirror, small wall light and a few coat hooks on the wall area above the cabinet. See it finished: Faux built-in Ikea Hack
Kitchen nook area:
Before –
Changed from a rectangular table to a round dining table.
My plan was to use some chairs I had recently painted, but on carpet and with the table in the corner the chairs were too cumbersome and wouldn't slide easily enough to sit in.
After –
Purchased a used round table.
I found two comfy cushion chairs ($21.00) and added the bench I already had (free).
Makeover plan: Stain and paint dining table; Refresh the fabric on the chairs with a caramel colored fabric paint; Cut the bench in two (if I can convince Ken it's a good idea) and paint bench(es). ;P
T.V. area:
Before –
Subwoofer, speakers and computer crammed along the tv wall.
After
After-
Added a narrow wooden crate on the other side of the t.v.
Conveniently, I already had the crate (free), which just so happens to fit nicely along the wall without blocking the walkway.
This crate will hold pillows and blankets when we need to get them out of the way.
Makeover plan: Sand, stain and clear coat crate. See how this crate and this area turned out, here.
Living room seating area:
Before –
Tall back chair, which I love, but was unfortunately taking up too much space;
My old upcycled kitchen cabinet to coffee table, which is way to large for this space, but can go right to the hobby shed for a makeover of its own.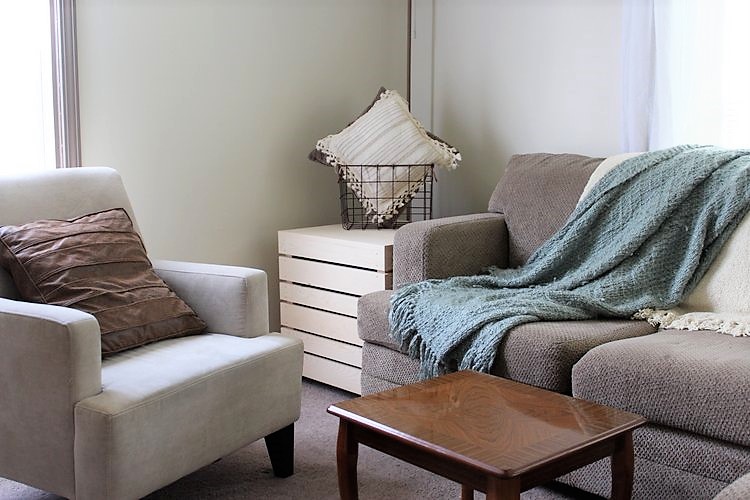 After –
Makeover plan: Refresh fabric on chair with an off white fabric paint; Remove and replace table top on soon-to-be coffee table with a slightly longer, scalloped shape top, fingers crossed.
Lastly, you may have noticed the crate in the corner. Yes, that's a work in progress and the subwoofer just so happens to be hidden underneath.
Working with a small room can be a challenge. We've given this new but unfinished arrangement a few months of living with it and feel pretty sure that it's about the best fit we're going to get without buying all new pieces and breaking the bank.
See living room mood board, here.
See newest art piece for the wall, here.
See what happens when you add an area rug to a room
Have a great weekend ~ Amy