I had been standing in the furniture section of my local thrift store staring at my choices for a coffee table makeover.  It was one of those times when I knew darn well they didn't really have what I was looking for, but my stubborn, unrealistic self wanted to believe that if I stood there long enough, what I wanted would suddenly appear… Do you ever try to will an object to appear like that?
After several minutes of staring, I circled around the store and brought myself right back to where I had been standing when suddenly, just like magic, this vintage kitchen cabinet appeared…with a price tag of $12.
I rushed over to the cabinet before anyone else could claim it.
What if I flipped this cabinet on it's side… added some legs…?
Hail to the thrift store genies!!  I found a coffee table!   
Upcycled kitchen cabinet coffee table
Supplies:
Hanging kitchen wall cabinet
4 pcs of 2″ x 2″ wood cut to 4 inches (10.6 cm), sanded
Power drill
Drill bit that is slightly thinner than screw diameter (to make the pilot holes in cabinet legs)
Drill bit that is same size as screw (to make holes in the cabinet frame)
Countersink bit
Qty 4: #10 Screws (we used 1-3/4″ screws)
Measuring tape
Pencil
Prepping the cabinet
Remove any inside shelves if they are not completely secured to the cabinet.
Unscrew hinges and remove cabinet door.
Clean cabinet and paint cabinet pieces to your liking.  I choose to leave this cabinet as is for the time being because I knew we were moving, but I may give this piece a paint job of some kind once situated at the new house.
Make sure back side of cabinet is sturdy enough to become the bottom of a coffee table.  The back side should have a frame portion and a thin piece of wood or particle board covering the frame.  Make sure the back side is securely attached to the frame, so that when it becomes the "bottom" of the coffee table, it nice and sturdy.
In other words adding more nails or screws to secure the back side to the frame would be a good idea. Ours was pretty sturdy, so we didn't have to do that, but we would have taken this step if needed.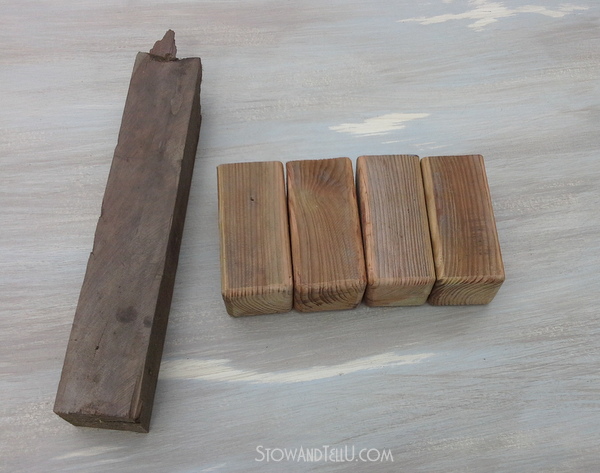 For the cabinet legs
Cut 4 pieces of 2″ x 2″ wood to about 4 inches (10.6 cm) each.  Sand smooth.
Measure and drill one center pilot hole in of the legs.  To find center, make an "x" on the leg and mark the center of the "x".
Drill pilot hole into each leg.  NOTE: Make sure these holes are slightly smaller than the screw diameter.
For the bottom of the cabinet
Flip the cabinet over so that the back side (which will become the bottom of the coffee table) is facing up.
Place a cabinet leg in each corner, making sure that the leg is placed along the frame portion of the cabinet AND that the legs are placed on a level portion of the frame.
Once you have found a flat, solid surface, and you have centered the legs, draw a pencil mark around each leg.  Make an "x" and mark the center for each leg.
Drill a hole for each leg placement and countersink.  NOTE: Make sure these holes are the same size as the screws.
To attach the cabinet legs
Turn the cabinet on it's side and attach each leg by attaching the screw through the inside of the cabinet. The screws should go through the cabinet frame hole and then start pulling the cabinet leg into the bottom of the cabinet because of the pilot hole in the cabinet legs.
Change out the handle  with a diy rope handle (optional)
The original handle of this salvaged cabinet was a little boring, so I decided to change it our for a diy rope handle, like I did recently with this dresser.
We actually finished this kitchen cabinet coffee table back in early June.  It was just in time for when my son came home from Dubai; however, due to the events of the summer, I have just now been able to get this post up.
A kitchen cabinet is made for storage.  When turned into a coffee table, what do ya know, the storage feature is still pretty handy! Now that we're in the new house, this kitchen cabinet coffee table is holding all our board games from the former basement game room.
That is until we can figure out where our next game room is going to be!
Have a great week ~ Amy
This was also one of the Furniture Freshening challenges that I gave myself this Spring/Summer.
Sharing at: