There is one last area in the townhouse basement that I promised to "reveal". Ironically, as I planned the basement open layout with it's exposed beam painted ceiling, this was a part of the basement that I was trying to keep hidden so to speak. I didn't want Ken's workshop to be glaring right at you as you walked down into the basement.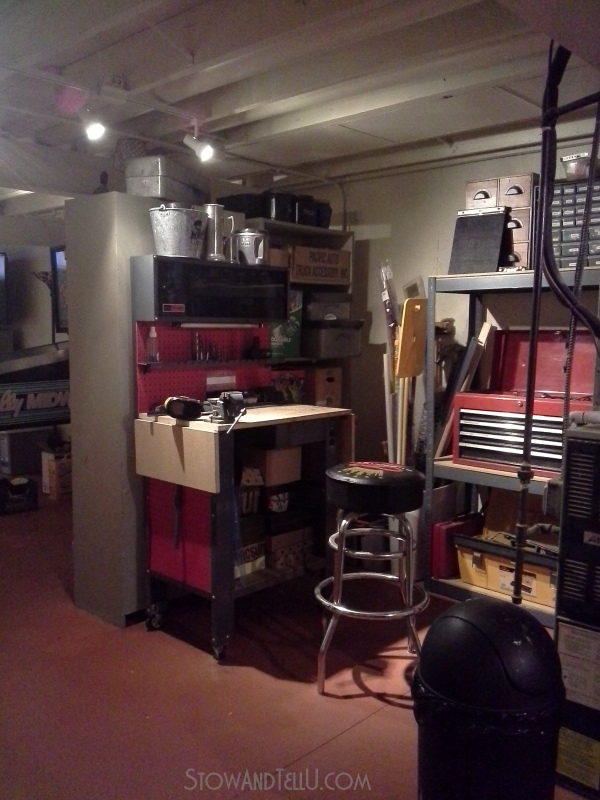 So, a hidden workshop was in order and hiding it behind the two painted Sauder cabinets was the way to go.
Ken's workshop contained plenty of extra junk items that just wasn't as pretty as all of the other junk decor in the townhouse basement.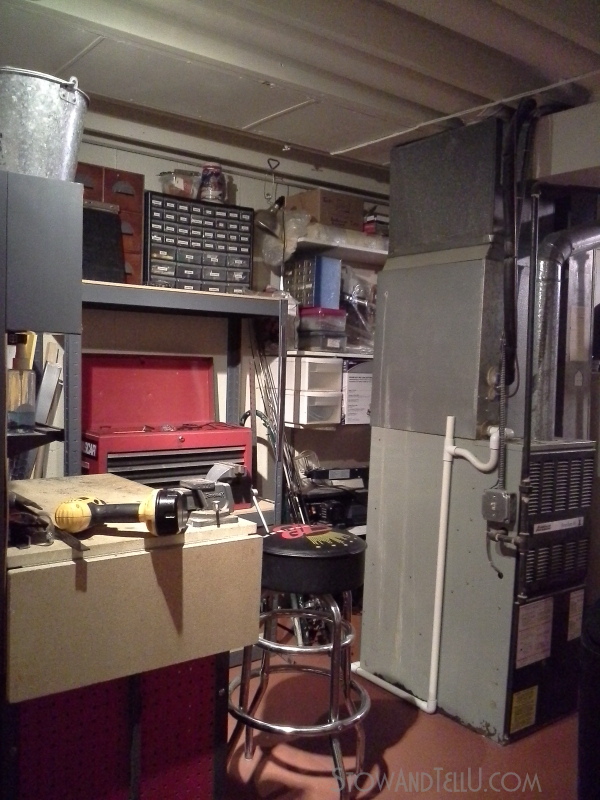 Not to mention scoring the spot right next to the furnace.
Some guys just aren't as picky about location.
Then again, his gaming machines were taking up prime basement real estate, so he didn't have much say about the where of the workshop.
Using both the cabinets as a wall of sorts, the cabinet painted with the grain sack stripe was positioned to face the TV area and the other cabinet placed opposite toward the workshop area. This cabinet didn't have any doors, but it held all of our workshop type stuff in mix-matched boxes that would otherwise be distracting.
In the end, this was the perfect spot for his small space workshop, and Ken made do with it quite well while it lasted (before we moved.)
Keeping this area somewhat hidden in the open basement plan helped to maintain the relaxed, kick-your-shoes-off kind of feel, which I was at least trying to go for.
Then we moved.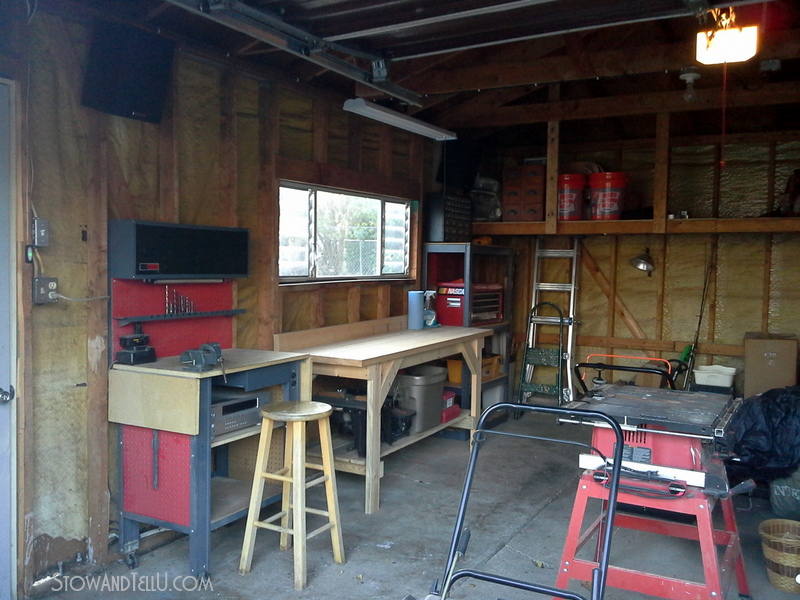 Here is what Ken received at the new house in return for being such a good sport.
You can recognize many of the same pieces that we were able to fit into the nook of a workshop at the townhouse.
Now there's just more room to breath.
As in half (maybe whole, we haven't decided, yet) of the garage, albeit a garage that's going to need lots of work!!
He has already gone and made himself a wooden workbench with a pre-cut wood kit from Menards. Can you believe that kit was only $60.00?
We were looking on Craigslist and most of the pre-made wooden workbenches are going for about $400.00 and that's the cheap ones, yeesh!!
Now we have a lot more workshop space, but I have to admit, it was still pretty fun to have to make the basement space work for us while we had to.
However, I am looking forward to not tasting sawdust floating though the air while trying to watch 48 Hours Mystery.
And speaking of mystery, that my friends is the story of what was hidden in that last little nook of the townhouse basement because I'm sure you were all on the edge of your seats in suspense;)
Hope you have a great week ~ Amy
See more basement update posts:
15 Tips for Painting an Open Beam Basement Ceiling
Repurposed Door to Craft Table