Our exposed basement ceiling has officially been painted and our basement has finally been put back together…okay, almost, but we're working on it. The whole basement project started out over a year ago, and one of the steps that took the longest was these first 5 tips in preparation for painting an open beam ceiling.
Ken and I both agreed, as most anyone probably would, that using a paint sprayer for an open beam or exposed ceiling was in order. So I was very grateful that Homeright was willing to send me a Power-Flo Pro 2800 Airless Paint Sprayer. And although there was still a lot of work that went into preparing the basement to paint spray the ceiling, when it came time to do the actual paint spraying, the Power-Flo Pro 2800 worked very efficiently for us.
Disclaimer: Please note that some of the links below are affiliate links and I may earn a commission (at no additional cost to you) if you purchase through those links.
What kind of paint did we use?
The paint we used was the Glidden Duo, which is paint and primer combined and it worked very well with this paint sprayer.
Here is what I liked about this sprayer:
1) The machine started up right out of the box without any problems and continued to work without issue throughout the whole two-weekend sessions of the painting process.
2) The instruction manual that came in the box provided all of the information needed to assemble, start up, use, and clean the machine. As well as a list of troubleshooting tips, just in case.
3) The sprayer provided a very professional paint finish on our exposed basement ceiling that we would never have been able to accomplish with a paint roller.
Because we had large items in the basement that we could not remove, ie: a pinball machine, we decided to spray half the basement in one step, and the other half a few weekends later.
We learned quite a few things from our first session of painting the ceiling. So we were able to put those new-found tips to use in our second session. Overall I was able to boil it down to around 15 tips that I would recommend, based on our experience and what really ended up working well for us.
Here are our 15 tips for painting an exposed basement ceiling with a paint sprayer:
Prep-work. It's all in the preparation!
The actual paint spraying part of this job, though it is still hard work and rather intensive because you are spraying upwards, against gravity, will go soooo much smoother if you spend the time beforehand prepping everything to make the paint spraying portion organized, safe, and clean.
Once again, if you are starting your exposed basement ceiling project from the very beginning, you'll want to approach these 5 prep steps first. And then consider the remainder of the tips included in this post to keep the painting portion as easy flowing and going as possible.
Read directions and familiarize
We read the directions for the Pro 2800 paint sprayer thoroughly. And although we did not read them front to back cover, we did familiarize ourselves with the sprayer parts, the operating directions, and the cleaning directions, so that we knew what to expect.
Have an assistant
I wouldn't say it's a requirement to have an "assistant" to the person who will be doing the actual paint spraying, but I will say that it definitely made it easier. I was there to assist Ken with everything from cleaning his safety glasses (about 20 times) to helping him clean the machine at the end of the day.
Masking off non-paint areas
No matter how far you strip down a basement for a paint spraying application, there are usually some areas that still need to be masked off. A combination of painter's tape, plastic, and cardboard can cover a multitude of electrical or plumbing equipment.
For the outlets, Ken removed the faceplate, laid a piece of plastic over the outlet, then put the faceplate back on. This helped cover up the outlet but allowed the outer pieces to be painted. We were also able to use this outlet to plug in the paint sprayer and construction light.
This post contains affiliate links for your convenience. See full disclosure, here.
Use paper, not plastic as your drop cloth material when painting
In the first half of the basement, we used plastic tarps on the floor. This did NOT work well. The paint mist that landed on the floor made the plastic very slippery. When we prepped for painting the second half of the basement, we used a roll of masking paper, like this one).
We taped it down with masking tape
rather than painter's tape because the painter's tape didn't hold as well.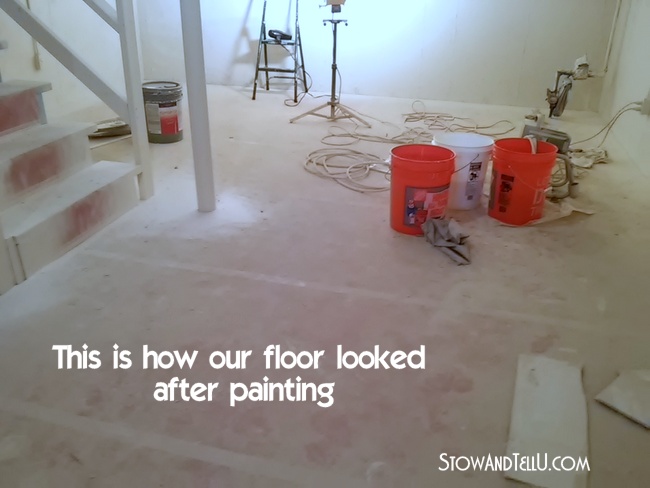 When the paint mist started settling on the floor, we no longer had the problem of slipping or sliding. The paper absorbed the paint mist just enough but didn't seep through at all. It was also a very easy cleanup.
Cover and turn off furnace**
Our furnace has a switch, so we were able to turn our's off and then cover it to protect it from painting. Ken was familiar with the safety requirements for this task, but **seeking the assistance of a professional HVAC person for this task is strongly recommended if you have any questions in this regard.**
Construction light
Since many light fixtures are on the ceiling, and the ceiling is what is being sprayed with paint, having a construction-type light can come in very handy.
We used a halogen work light that was similar to this one.
At the time, LED wasn't as popular, but I see that LED models have become more available. They also throw less heat, so that is certainly a bonus.
Our light did get covered in paint and we had to clean it several times throughout the process. Since the LED-style light does not get as hot, it is possible it could be covered with a clear film of some kind to protect it, but that is only a thought.
Do be sure to read and follow all safety directions for any lighting that you use.
The basement was pitch dark once the ceiling lights were covered and the windows were covered. The construction light was not only our only source of light, but it also provided very good lighting for the painting job.
Protect furniture and other items with tarps
We were able to move all items out of the half of the basement portion that we were painting. But although the furniture was in the other half of the basement that was tarped off, we still covered the items with plastic tarps because the fine mist can work its way over and under the divider. The paint mist wiped off easily enough, but why let it collect, if it doesn't have to?
Wear painting gear
Spraying paint up into the ceiling means the overspray mist will need to go somewhere, and gravity dictates that it will go down, onto the person spraying. Thus a paint suit, safety glasses, and a good safety mask or strongly suggested. Old clothes, including long sleeves and a bandana or hat, will work in a pinch. Keeping several pairs of safety glasses and several safety masks handy to switch out with is also very strongly recommended.
Example: Ken's safety glasses were continually getting fogged over with paint mist, so he had to keep changing out his pair of safety glasses about every 20- 30 minutes. And I had to keep cleaning his spare pairs of glasses. Because the paint was just a light mist, it did clean off the glasses rather easily with a little dish soap and a paper towel.
Cover doorway – Create a walkway
Steps like covering any doorways to other parts of the home, and laying masking paper down to create a walkway for the painter will come in very handy to keep the overspray from reaching the rest of the house. As well as allow the painter to walk outside or in other areas of the house when needing a break, (which they will most likely need, as our painting job took up most of two whole days.)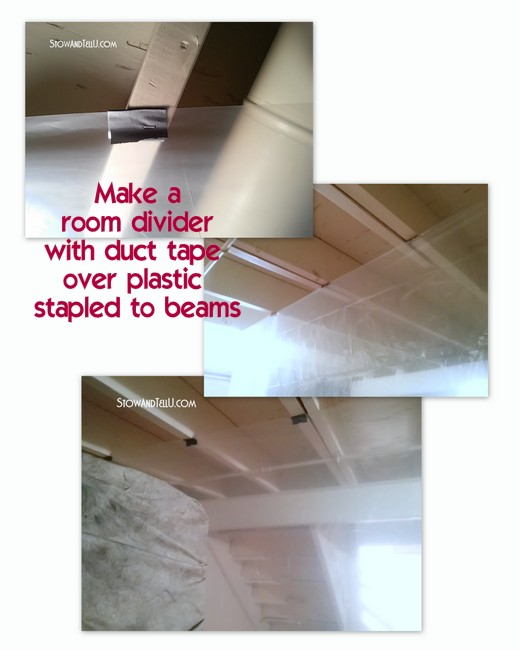 Paint half the room at a time
Because there were some items in the basement we could not remove, we painted half the basement ceiling and walls at a time. Then we rotated everything so that we could paint the other half several weeks later.
Ken used duct tape and made makeshift tabs on the end of the plastic tarping. He then stapled those duct tape tabs to the ceiling beams in order to divide the room in half for painting.
Paint ceiling and walls the same color
Although our primary goal was to paint the exposed basement ceiling, we also decided to paint the cement basement walls the same color. I highly recommend doing this for two reasons.
1) There are a lot of nooks and crannies in the meeting place between an exposed basement ceiling and the cement basement walls.
2) The extra work and cost for tarps to mask off all the walls may not be worth the savings in paint. Having said that, it is a personal design choice, but it did work out very well for us.
During painting
The amount of preparation for painting was a lot, but well worth it, once the paint spraying began. The main challenge during the painting process was keeping a small paint roller and paintbrush handy for any paint drips that happened. This only seemed a problem near the ductwork areas. When drips occurred, we would touch them up with the paintbrush or roller, as needed.
We purchased our paint in 5-gallon buckets and used a total of 12-14 gallons for 1500 square feet of the paintable surface. (We used Glidden Duo, which is a paint and primer combined).
Also remember to: stay hydrated, wear old clothes, and plan for a long day but a successful day of work!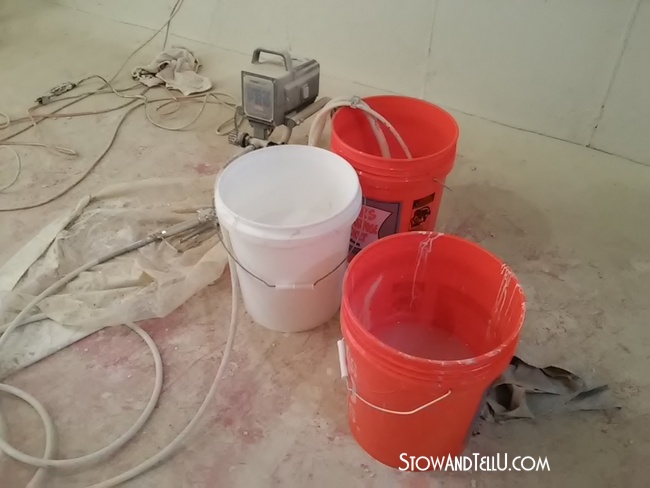 Cleaning after painting
Follow the directions for cleaning the sprayer and have at least 3 clean, large buckets ready for the process of cleaning the machine. This is another time when having that 2nd person (assistant) involved will really come in handy. The cleaning process requires filling the buckets up with clean water, dumping the waste, and then refilling with water several times, as well as moving the hoses from one bucket to the other, while changing the machine's speed and operating dials.
I was worried that we had not cleaned the machine properly, but when we started the machine up for painting the second half of the basement, (several weeks in between both painting sessions) the sprayer started right up, no problem.
Once we were finally done, we cleaned and packed away our Homeright Airless Power-Flo Pro 2800 Paint Sprayer
. Without a doubt, I will be using it again for some other larger paint projects in the near future.
From a poorly cared for man cave to a respectable basement t.v. area
As far as the basement goes, beforehand, there were so many distractions and mismatched ceiling parts, that I got uneasy every time I went into the basement. It was a visual overload of depressing ceiling parts and pieces, blah!!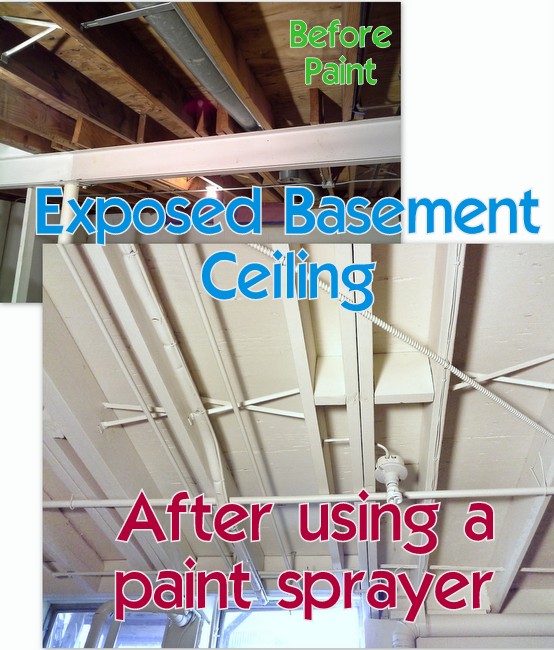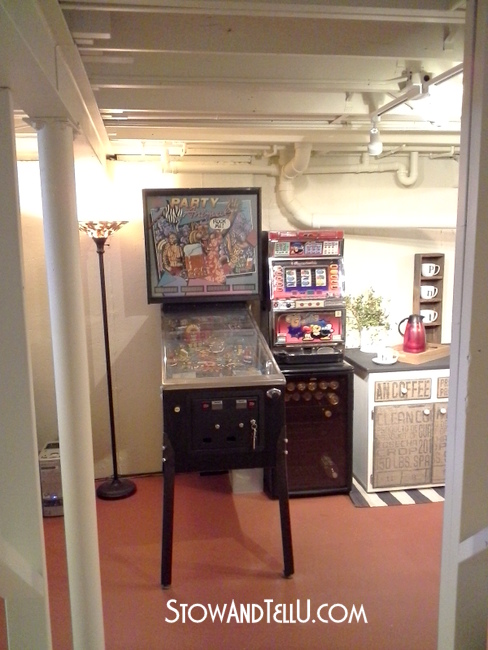 Most useful supplies
Now that all of the ceiling parts match, and in our case the walls, too, the basement has taken on a fresh, clean and unified look. It is much more tranquil to enter the basement without all the distractions from before. It's so much cleaner feeling. The layers of paint have actually insulated the basement and have filled in all the nooks and crannies that were virtual welcome signs to insects and spiders.
Other Recommended Paint Sprayers
Once we were done with all the painting, I was determined to continue to save money, so here are 25 ways that I found to shop my home and use what I already had to bring the decor style in the basement together.
See more Before and Afters and how much the total $$ cost for this basement update was, here.
Frequently Asked Questions (FAQ)
How do you clean the ceiling before painting?
The best way to clean the ceiling before painting is with a shop vac. Depending on how dirty it is, you may need to clean the ceiling several times to get it as clean as possible. Don't be discouraged by this.

An exposed basement ceiling is multi-layered and can be daunting to clean thoroughly in just one pass. You may not be able to reach some areas on the very top of the ductwork, but that should be okay. Make sure to use the brush and crevice tool attachments to get in all the nooks and crannies as best you can.

For the last step fill a bucket full of hot water and vinegar and wipe the ductwork and pipes down.

It will probably be impossible to clean the ceiling impeccably like you would a kitchen or bathroom. That is not necessary, just make sure it's clean of all cobwebs and dust so the paint will adhere.
What is the best type of paint to use for a basement ceiling?
Latex paint works very well on an exposed wood beam basement ceiling. Optionally you can use a paint and primer mix to save time and labor. Avoid a flat or gloss finish and opt for either a satin or matte, instead.

The flat finish will attract more dust and get dirty more easily. The gloss finish may be too reflective and appear dated. Most paint brands make both satin and matte finishes that are easy to clean and have a more modern appearance.
How many coats of paint does an exposed basement ceiling need?
Since an exposed basement ceiling is typically bare wood it will absorb the first coat of paint without question. You will want to apply 2-3 coats of a paint and primer combo for full coverage. If applying primer first, then painting, you may need 2 coats of primer and 2 coats of paint.

Tip: Consider having your primer tinted toward the paint color. The paint will cover the primer much faster.
Should I paint the basement ceiling black or white (dark or light)?
What color you choose to paint the ceiling is optional but there is a basic theory. Painting a basement ceiling black, or a dark color will give the ceiling a more endless appearance, like that of a dark sky. However, black or a dark color will cause the basement area to have a darker appearance. Painting a basement ceiling white, or a light color will brighten the area; however, you won't have that endless sky feeling.
Is it okay to paint the ductwork, pipes, and wires in a basement?
This is a question that may be subject to your village code or ordinance, so I advise you to check the code in your area. Having said that I can tell you that we paint most of the ductwork, black pipe, copper pipe, and wires in our basement and have had no problems.

We did avoid painting any of these items near the furnace, as you can see, here, we taped it off when painting. Do avoid painting shut-off knobs or any hardware that needs to be turned on and off.

Additionally, we recommend taping off the junction boxes, electrical outlets, and the electrical box. (See the question in the comments for more details.)
Should you paint the fiberglass insulation?
We recommend that wherever you can, remove the fiberglass insulation, fill those gaps with expandable foam spray insulation, let it dry, and then trim it down with a sharp edge or razor blade. You may need to apply several coats of the insulation (repeating the steps I mentioned) to get the right coverage, and it may not look perfect, but once you paint over it, it will blend in.
Can I use spray paint to paint my basement ceiling?
No. Absolutely not. Do not use spray paint to paint your basement ceiling. For one, the fumes will be toxic, and two, you would need about 100 – 150 cans of spray paint to do the job. For that cost, you could buy a paint sprayer made specifically to handle this type of job.
Disclosure: I received free products in exchange for writing this post. All of the following tips and opinions in this post are exclusively my own. All suggestions are based on personal, not professional opinion, only. See full disclosure, here.
Post update 9/13/20