Is your TV tray stand taking up too much room? Make this space-saving wall-mounted TV tray holder using a wood scrap and industrial pipe.
I recently took a pair of thrifted tv tables and gave them a makeover with paint and a stencil. While that was all well and good, the tables were second hand, so they did not come with the obligatory wooden tv tray stand. Therefore, Ken and I needed to come up with a way to make our own.
While we were discussing ideas on how to make one, I expressed to Ken that I didn't just want the old garden variety tv table stand.
"Instead, I want a holder that we could mount to the wall so we could hang the tv trays on the wall…for the best possible use of space," of course.
Well, Ken, as he often does, harrumphed at my suggestion, then turned and headed out to the garage mumbling under his breath.
I may have heard the word "difficult" somewhere in that exchange. Not that I haven't heard that from him before, haha.
Nevertheless, a few hours later he came back in with a rather effective, industrial-styled idea for mounting TV tables on the wall. Way to go, Ken!
The following tutorial will show you how he used a piece of wood and industrial pipe floor flanges to make a wooden wall-mounted tv tray holder.
How to make a wall-mounted TV tray stand with industrial pipe
This holder will fit two wooden tv trays. You can opt to use a longer pipe to fit more trays but proceed with caution, as the wooden trays are heavy. Optionally you can make two holders if you have more than two trays and mount them side by side or vertically.
Supplies you will need
1" x 4" x at least 12" wood piece (Actual ¾" x 3-½" x at least 12")
220 grit sandpaper
Brackets: Qty 2 – Industrial pipe brackets – we used 3/8" galvanized floor flanges
Pipe lengths: Qty 2 – Industrial pipe lengths – we used 3/8" x 4" galvanized pipe nipples
End covers: Qty 2 – Industrial pipe end covers – we used ⅜" galvanized pipe caps
Screws – we used #10 x ¾" Phillips flat head wood screws
Heavy-duty wall anchors (and screws) – we used Cobra Triplegrip #10 x 1-½" Plastic Expansion Wall Anchors
Power drill with drill and screwdriver attachments
TSP cleaner and a small brush
Primer spray paint for metal – color gray, if possible
Black Spray paint for metal – matte or flat sheen
Clearcoat matte sealer
White paint (optional for painting the wood)
Pencil and measuring tape
DIY TV Tray Holder Instructions: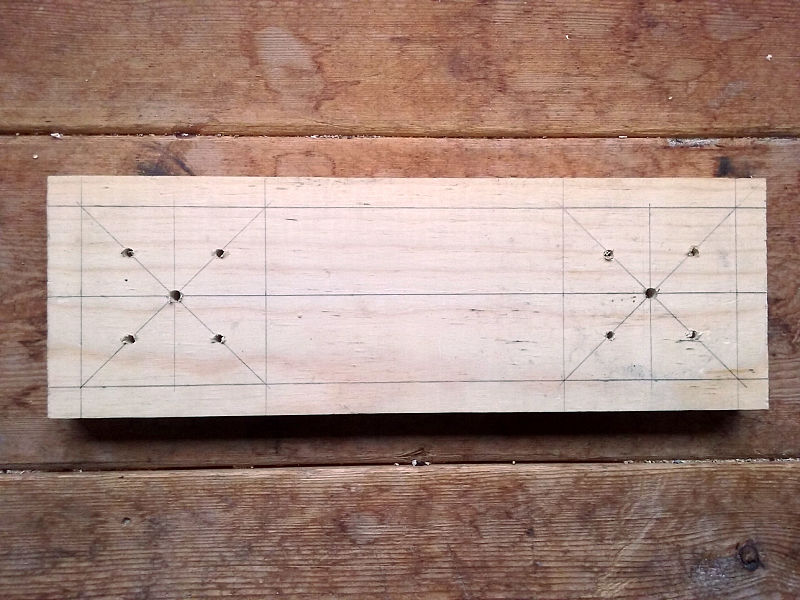 Making the wood piece
Cut the wood piece to the length of 11-⅛" and sand smooth.
Center the ⅜" floor flanges (brackets) a distance of 1" from each end of the wood piece and mark the holes with a pencil for mounting the bracket to the wood. Note: Ken prefers to measure and mark from all sides and angles for complete accuracy. This is optional.
Pre-drill the holes, as well as one hole each in the center to mount the wood piece to the wall.
Give the wood piece a final sanding. Then paint or stain to your preference. We painted ours white and applied a matte clear coat.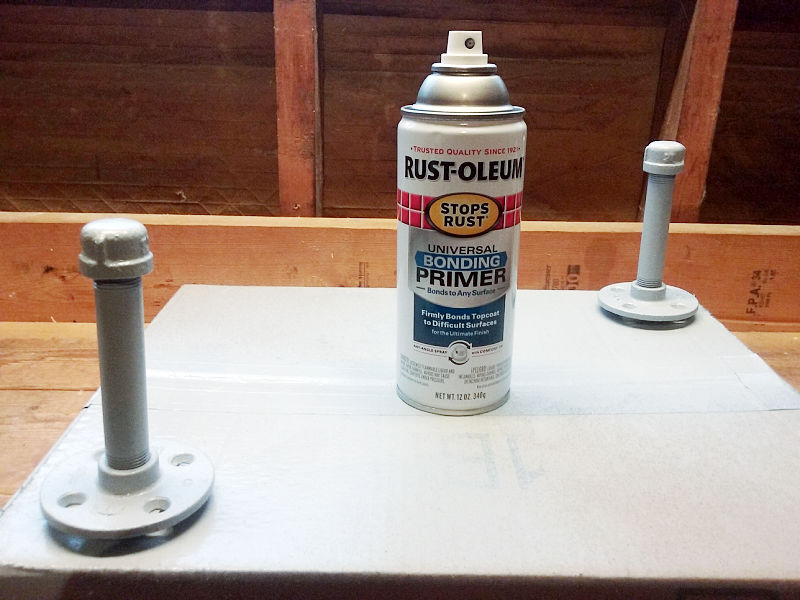 Prepping the industrial pipe pieces
Next, scrub the galvanized pieces down well with TSP and warm water. Let dry completely. This step is important for the best results if spray painting them a different color.
Assemble the floor flange, nipple, and pipe cap for each.
Apply several light coats of the bonding primer to both bracket assemblies. Let dry.
Apply several light coats of black spray paint to both bracket assemblies until fully covered. Let dry.
Mounting the TV tray holder to the wall
Finally, measure and mark where you want to mount the wall hanger. The wood will mount to the wall by the 2 center bracket marks on each side.
Install the wall anchors. Screw the wood piece to the wall lining the center marks up to the holes of the wall anchors. Note: Ken likes to pre-attach the screws through the wood piece so they come out the backside by about ⅛ " or so. This way he can line up the screws to the wall anchors.
Once mount to the wall, Screw each bracket in using a #10 x ¾" Phillips flat head wood screws.
Check to make sure the whole piece feels fully secure to the wall.
Ready? Set? Hang the tv tables on the wall.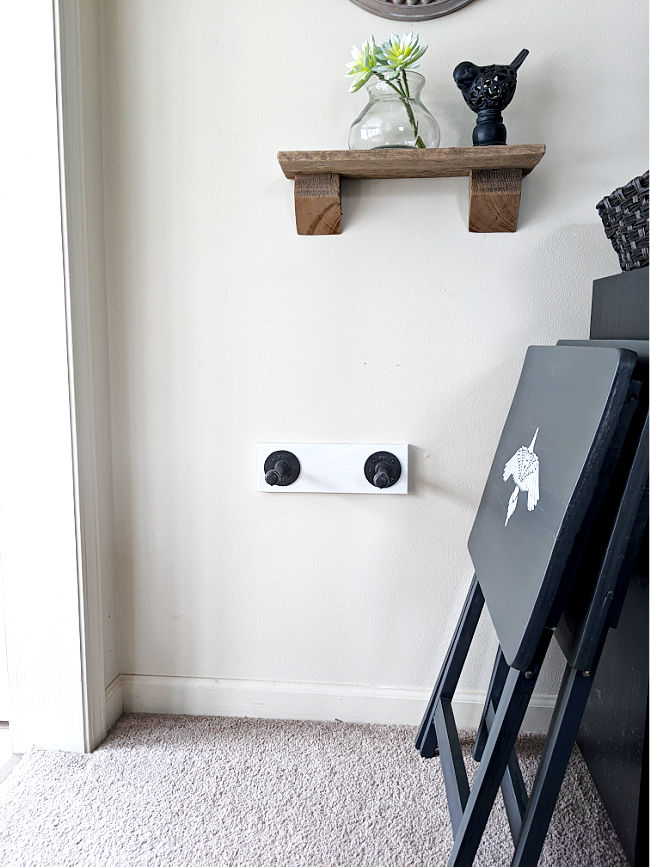 According to Ken, I may be difficult, but I think you'll find this wall-mounted tv tray holder project easy enough to make and install while enjoying the extra floor space you've just gained.
What else can you hang on your walls to create more space in your home?
<<<Pin and save to your favorite space saving Pinterest board>>>