These tribal bird stenciled TV trays make for an easy weekend project that will give your tray tables a fresh, new look and style. Printable steps included.
Where TV Trays are concerned, you don't have many decor options. Let's face it, they're mostly utilitarian. You pull them out when you need
a little extra tabletop space. Then you tuck them away back in a corner and hope that no one notices how fugly they are. But there is really no rule that they have to be plain and boring. Last weekend I painted and stenciled two scroungy TV Trays with a tribal bird pattern stencil from Stencil Revolution.
The tray tables actually turned out looking pretty cool when all was said and done. More like something you might want to show off, rather than hide.
The two TV trays I used were the basic wood style that you can get at most any department store. Mine was originally painted black.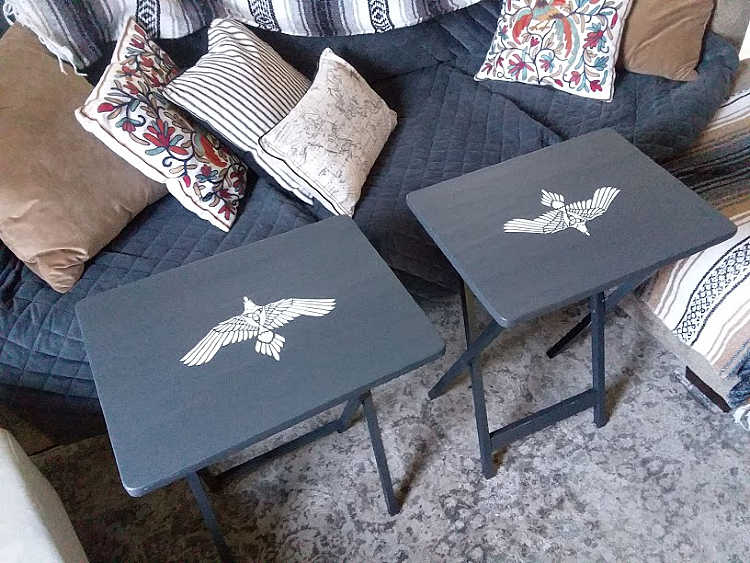 And here is how they look now. Painted and Oxford gray with a tribal bird stencil pattern in white. Trash to treasure considering these tables have surely seen better days.
Furniture Makeover: Chalk Painted and Stenciled TV Trays
This post contains affiliate links. As a participant in Amazon and other affiliate programs, I may receive a small commission from purchases made through those links. Read full disclosure, here.
Alright, so let me show you the process I went through because it was really easy.
Clean and sand
As a first step, I gave the tables a good cleaning and then lightly sanded the surface. Following that up by wiping them down with a damp paper towel to get the dust off.
Paint
Next, using a chalk paintbrush, I gave the trays two coats of Vintage Market Chalk Paint in the color Oxford. Allowing the appropriate dry time in between, which for this brand of paint is two hours.
Stencil
Then I centered and taped down the tribal bird stencil. I used a stencil brush to apply Vintage Market Chalk Paint in the color Cotton, allowing the proper drying time for that, as well.
As a side note, if you like these paint colors, but prefer to use the Deco Art Chalk Finish brand, you can find a similar color match using:
Clearcoat
Lastly, using a good quality varnish brush, I sealed the TV trays with two coats of Rustoleum Chalked Protective Top Coat in Matte. This product is water-based and super easy to use. Very similar to the top coat I used on these spray-painted dining chairs. It has a very low sheen and sets up quite nicely on horizontal surfaces without leaving streaks. It's a handy alternative to a finishing wax because it provides a more durable coat. However, the sealer did drip on the vertical areas (the tray legs). So, in order to get rid of the drips, I dabbed at them with a paper towel after letting the sealer dry for about 5 or 10 minutes. Alternatively, I could have dabbed at the drips with a foam craft brush, but either way, it did not mess up the finish.
Weekend Project?: Yes
This project could be completed in about 8-12 hours allowing for a minimum drying time of about 2 hours between coats. Being that a TV tray is a relatively small piece of furniture, the application time was approximately 15-20 minutes per coat. This could also be completed over a span of several days, allowing for extended drying time between coats.
Use a simple, quality stencil
There are so many stencil choices these days, but I suggest a simple stencil design for updating table trays. I mean, let's face it, you don't want to get too fancy because most of these TV tray tables aren't high-quality pieces of furniture. This was my first time using a stencil from Stencil Revolution and I have to say, it was really great quality and easy to work with. I'm always worried the paint will smear when removing the stencil, but this stencil is thick enough that it didn't flex when I pulled it up. Meaning. No smears. Yay!
Now, when we pull these out for company, they'll have a flow with the rest of the decor in the room and look like they fit in, rather than clash.
I choose the paint colors and stencil to fit in with our style, which has be
en slowly developing since we had the challenge of the wrong paint color in our living room. But the basic process for doing this furniture makeover is the same no matter the paint colors or stencils. Use this tutorial as a guide to give your run of the mill TV tables a makeover with chalk paint and a good quality stencil.

Other Stencil Patterns that would work well on TV Trays
This tribal raven stencil kind of reminded me of a Game of Thrones symbol. Interesting, yet simple. Here are some other simple design stencils that I think would work really well on small folding tables like these.
Related posts