One way to save on any room update is to reuse picture frames to for new artwork, photos or to change up the artwork you already have. The prices on new picture frames, or new artwork for that matter can be costly. And while most of us would like to add at least a few pieces of new artwork to our walls, it sure can help keep the cost down by applying the reuse-recycle-renew approach for creating a fresh, new look in our home.
5 tips to reuse picture frames to update artwork
This picture frame used to be gold. Since I'm not big on gold, I decided to paint it black and I think it has way more impact with the style of my home.
1)Update the color of the frame
Updating a picture frame with paint or stain is probably one of the most popular ideas. Probably because it's one of the easiest to do. One way to update a frame or several frames is to unify them by painting them all the same color, or a similar color.
The frame on the bottom left used to be green. I painted it with a mixture of gray and brown chalk paint to make it more cohesive with the wood frame above it.
Another way to update would be to try to match some frames that aren't in your color scheme to the frames that you are using in your scheme. See the example above.
Yet, another way to update the frames would be to pick three main frame colors, ie: black, brown and metallic. Mixing it up some can be eclectic, if in fact you are not the matchy, matchy type.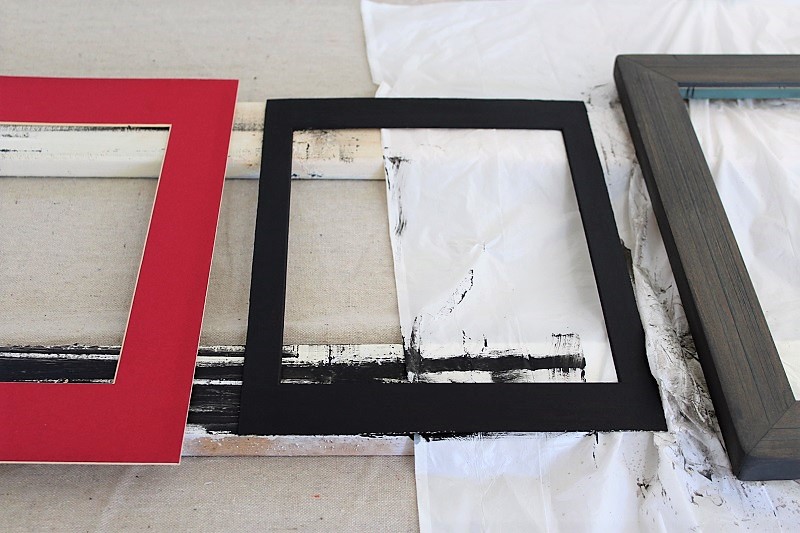 Both of these matte boards started out red. This picture is while I'm in the process of painting both of the black with chalkboard paint.
2)Reuse the matte board (or mat board)
How many times have you come across an older piece of framed art, and the matte is grungy and stained? Ugh…but maybe not
Picture framing mat boards (or matte boards) aren't that costly to replace when you purchase them in the standard sizes, but the cost for new ones can still add up. Consider painting your old picture mattes with chalk paint or chalkboard paint.
I used chalkboard paint on these two matte boards, and it worked really well. Chalk paint is typically very dry, so the chance of warping the cardboard matting is much less.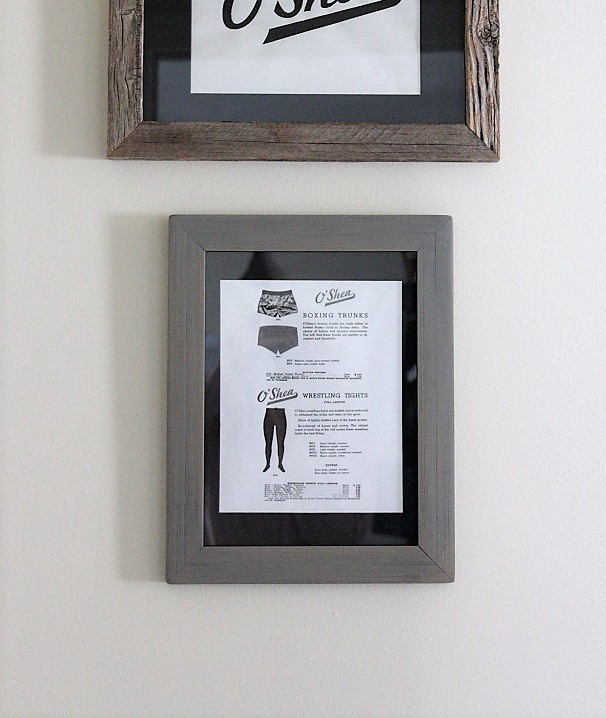 Resizing the matte board is an option, too. You may notice that the matte on the bottom framed picture (shown in the image above) is an odd width size. That is because I cut the frame down with a sharp edge and a metal ruler to fit into the frame. This tactic might not be for everyone (it bothers my husband that it's not even all around,) but if not something that would bother you, it's definitely another way to make an old matte work for a odd sized piece of artwork, a printable, a photo, and more.
Before shot
These two pieces of framed memorabilia are from our great grandfather's knitting mill in Chicago. They aren't originals, just prints I recreated years ago. I wanted to tone the colors down a bit to fit with my updated living room.
3)Update or reuse and image
Sometimes you want to put a new image in an older frame. Other times you want to reuse the same image. And other times, you want to keep the old image, but update or change it. Are you confused, yet? LOL. In this example, I used the same images, but re-scanned them to black and white.
After shot
This is how the same O'Shea Knitting Mill prints look now. re-scanned, reframed, etc..
There are also so many ways you can inexpensively create new artwork for your frame.
A few ideas would be:
4)Turn an old frame into a floating glass frame
If the frame and glass are still in good condition, but everything else is grungy-fied you could make that frame into a floating glass frame easily enough. While your upcycled frame won't have two piece of glass to work with, you could always try a few other ways to use it as artwork, like doing an image glass transfer, making a framed twig craft on glass, or making a framed moss craft on glass, like the mossy shamrock on glass shown above.
5)Update all the unseen picture frame mounting parts and pieces
However you may decide to reuse an old picture frame, the unseen parts and pieces of the frame can easily be updated to revive your frame, as well. Foam board, picture points, and new hanging hardware can make an old frame seem more sturdy and a little fresher, to boot. Plus these items are pretty inexpensive and come in larger quantities, so you can use them to do a bunch at a time. Of course the foam board will need to be cut down with a straight edge knife and metal ruler as well. But, once you have all your stock of supplies, you might find you'll like reusing old frames to make new art for your walls more often than not.
Have you ever reused old picture frames for new artwork or even upcycled one into something else?
I'd love to hear about it.
Pin or share on Facebook for later reference —>