Last weekend I made some stenciled bee jar candles. A honey bee stencil, black paint and several $5 jar candles from the dollar store. Pretty easy peasy for a Saturday afternoon project. I'm going to give them away as Mother's Day gifts to a few of the special moms in my life.
This post contains affiliate links for your convenience. Click here to read my full disclosure policy.
I found several of these vanilla sugar jar candles at the dollar store. Oddly enough they aren't all the same color (and they don't smell the same either??), but they reminded me of bees wax and honey, which made them an easy sell because I was in the market for something else to stencil some cute little bees onto.
I already had my trusty honey bee stencil
which I used on a green and gray side table, not too long ago.
Since I was stenciling the pattern onto a non-flat surface this time, I had a little bit of paint bleed, but I also found a fix-it solution that worked pretty well, at least for me it did.
Removing original candle label
Not all jar candles labels are equal. As many of us know, getting a sticky label of bottles and jars can be a messy challenge.
First try to peel off the label. If sticky residue doesn't come off try this method:
You will need:
Dawn soap, baking soda, hot water, non-abrasive scouring sponge, paper towel, glass cleaner
Lay a paper towel dampened with hot water over the label for a few minutes, the remove
Sprinkle baking soda and a few drops of Dawn soap onto a non-abrasive scouring sponge also dampened with hot water.
Rub label off in circular motion until it comes off completely.
Rinse and dry with paper towel.
Go over the whole jar with glass cleaner and paper towel
Applying the stencil
You will need:
Bee stencil, Multi-Purpose craft paint, color: black, pouncing brush, thin craft brush, painters tape, paper towel, wooden toothpicks.
After removing labels and cleaning candle jars, tape stencil onto jar.
Dip brush in paint, dab off most of the paint onto a paper towel.
Pounce over stencil with black paint. Pounce straight down. Repeat until the entire image is covered completly
Let paint set for 3-5 minutes
Remove stencil
Let paint dry completely (15- 30 minutes)
Note: This bee and honeycomb stencil came as one sheet. I used scissors to cut them into two separate stencils.
Tip: Making sure the stencil is flat to the jar is the trickiest part. Don't use too much tape, just enough to span the size of the stencil. I taped across the top first, then the bottom, and the sizes, re-adjusting as I went.
Cleaning up the stenciled image with a toothpick and touch up paint.
You may say, "hey this must not be too easy to do if you have to clean up the stenciled image…"
I'll admit, I thought, "oh, this isn't going to work", when I first looked at the bee image after I removed then stencil.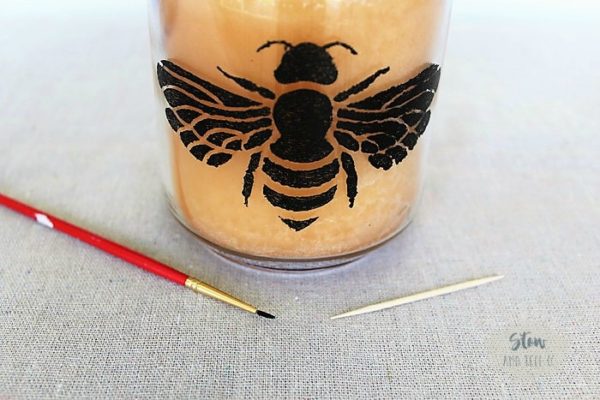 But I let the paint dry, and then used a toothpick to scratch off the little bits of paint that bled over. (I actually sat on the couch with the jar in my lap while I did this. It was kind of relaxing, although that's beside the point.)
Last step done on as needed basis. I touched up a few spots with the small thin craft brush. This can also be used to darken the image for more contrast. I did some touch up on two of the three candles I made. You may notice that two of the bee images are darker than one of the other.
All in all, though, I think they ended up looking quite similar similar to each other. Maybe, not perfect but handmade with charm:)
I have found that jar candles are pretty easy to decorate and they make for an inexpensive gift idea, as well. For other examples, you can see these Jar Jack-o-Lanterns or these Easy Pine Tree Jar Candles.
Bonus: I always like making my own gift bags. I stenciled the honey comb onto a few brown paper lunch bags just to see how they would look. This would probably be even cuter on white paper bags.
Don't you just love the honeycomb pattern? Such a great texture, right?
I didn't light these candles up, because I'm giving them as gifts, but I was thinking how pretty a bunch of these would be all lit up.
Happy day ~ Amy
Pin or share of Facebook for later reference —>