Has this happened to you? You finish painting a room and the new paint color looks too blue, or too purple, or too…off somehow. The paint doesn't look like the color you thought you chose. We finished painting our living room over a year ago. However, once it was done and we put all the furniture back, I just shook my head. It was obvious to me that I had picked the wrong paint color, yet again!
Which one of the following applies?
You really, really hate the color, or if the paint store mixed it wrong, read this.
You've just started painting the walls and you're not sure if you want to finish painting with the same color, read this.
You have already painted your walls and you want to see what you can do to fix it, keep reading below.
How to change the wrong paint color without having to repaint your walls.
I had chosen the color Antique White, hoping to get light, creamy white walls. But what I ended up with was more of a Dijon mustard. Of course, it goes without saying that the clashing of our mix-matched furniture and decor was not helping.
But let's jump forward to a photo of the same room, after we made several changes, none of them fancy, yet all the while keeping the same wall color.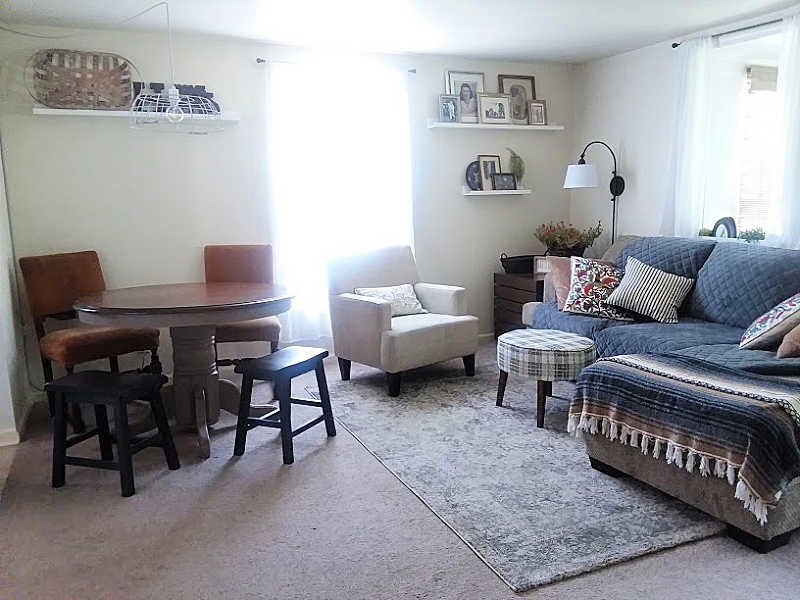 Quite a difference in the way the wall color looks, right?
As you can see this room is not expensively re-done. We mostly got creative and made changes to the other colors in the room that are helping to bring out more of the white and gray tones in the same Antique White paint color.
Listed below are some changes that you can make to slightly tweak the color/hue/tone of your walls without repainting.
These changes did include having to update some of the decor. Because often what happens when you are repainting a room without intending to do an entire room remodel, is that some of the items that were in the room before, no longer seem to match. Sometimes they even throw off the new paint color, and you, therefore, have to change, update or rearrange a few things in the room to make it all look right, again.
I had put together an inspiration mood board in advance of painting, mostly to keep a focus on the style I was going for. My plan wasn't to purchase a whole new room full of furniture. Instead, I intended to combine some DIY furniture updates with some newly purchased accessories to finish updating the room. Of course, once I realized the paint color looked different than I had expected, I had to slightly change up my color scheme from what I had in the mood board plan.
1) Ask the question: What is throwing off the color, now that the room is painted?
To start off, you want to analyze the room to see what is making it appear less like the paint color you thought you choose.
If you cannot tell what looks off, ask a friend, or try taking a few photos of the room. When you look at the photos you'll get a different perspective and probably be able to point out what is causing the room to look too bright, too dark, the wrong hue (ie: more hints of blue or yellow than you expected), etc…
2) Test your theory by covering or removing some of the items in the room
For this step, you want to try removing some of those items or temporarily covering them up to see if that changes the way the paint color looks.
In our case, I put a neutral table cloth over the dining table and a neutral colored blanket on the couch. By doing this and then walking in and out of the room several times, I could tell the paint color didn't look quite so yellowy. Those two pieces were definitely sore spots that needed to be changed.
Temporarily removing or covering pieces that appear to clash with the new paint color will help you narrow down what may need to be changed.
3) Tweak the color of the walls with light reflection
At this point, you want to start changing up your decor to reflect more of the right color hue into the room
Large furniture, horizontal surfaces, adjoining rooms, and even the trees outside can reflect the wrong color hue into your room. While you don't want to cut down the trees in your yard, what else can you do? As mentioned above, our honey pine dining table top was one of the culprits. With the sun shining in on it, the color of the table top was reflecting more yellow into the room. And not in a good way.
By re-staining, the color of the table top to a darker, cooler shade, the light that bounces off this table now reflects a cooler tone into the room. While this new walnut stain still has some warmer tones, it's so much darker than the paint color on the walls that it brightens the paint and reflects a cooler hue throughout the room.
In our case, we also repainted the kitchen from lime green to gray. Undoubtedly that also contributed to reflecting less green and more of a neutral color into our living room.
4) Use neutral furniture and accessories to tone down some of the color
Adding more neutral accessories and decor to the room with white, black, and gray will help absorb and neutralize the hue. You are basically toning down the color in the room. This could be done with larger pieces like furniture or smaller accessory items.
As an example, in our living room, we used accents of white, black, and gray.
Here is a list of items and how they were added:
White: IKEA Picture Ledges, white in the pillows, framed photos, and a white lamp shade.

Black: New stools, the lamp frame and touches of black in the pillows, throw blanket, and framed photos.

Gray: A cooler toned gray quilted blanket and splashes of gray in the blanket throw.
5) Experiment with other colors to emphasize warmer or cooler hues in the paint
All colors have different hues. For example, an off-white color may have greenish, blueish, or brownish hues within the paint. When you place a selection of off-whites next to your main paint color you should be able to tell which of those off-whites brings out more of the hue you'd prefer to see on the wall.
The best way to experiment is by placing paint samples and accessories in the room or even right up against the wall. Ask yourself, which of these brightens, darkens, or changes the color hue more toward your liking?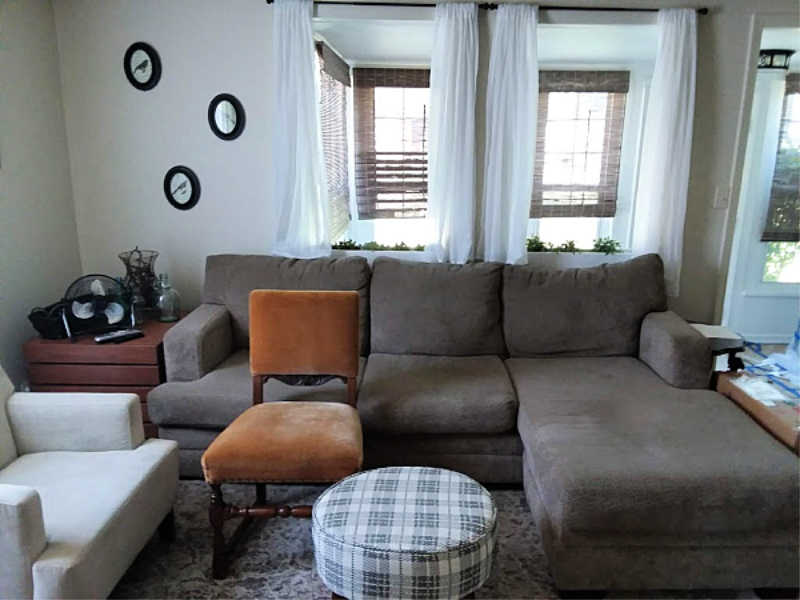 Also, try using complementary colors and wood tones to see which of those transform the way the wall color appears in the room.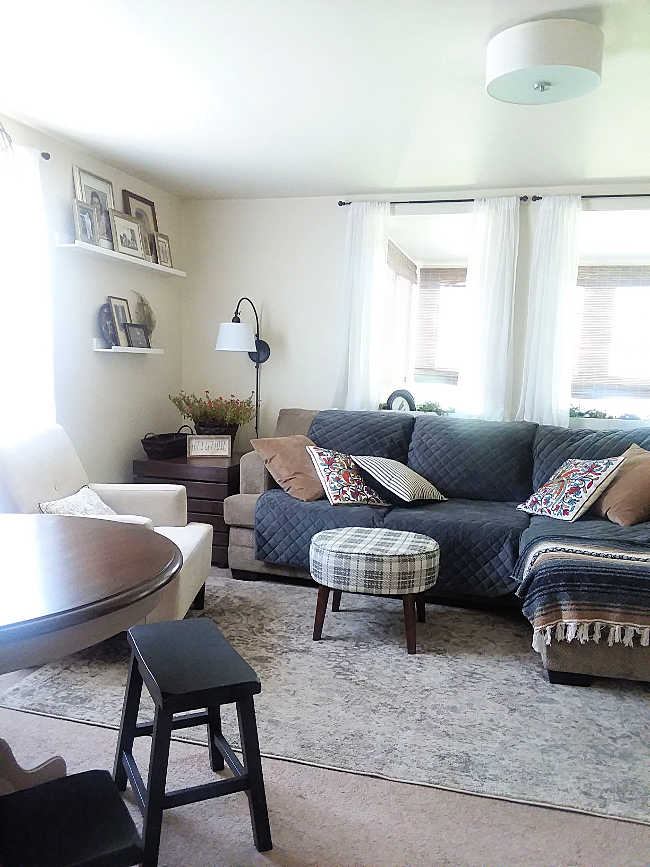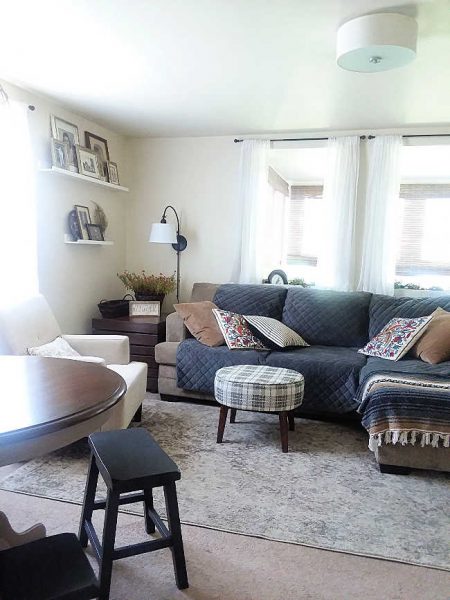 Finally, once you have found colors that work better with the paint, bring those colors into your room's design. You can do this by repainting the trim; painting or re-staining your furniture pieces; adding decor to the walls; lying down area rugs; and using any other accessories that make your wall color look more cohesive. More toward the paint color you were hoping to see on your walls.
If you've just repainted your room only to find it's the wrong paint color, use these ideas to analyze and get creative. Then decide what changes would work best to fix the hue and tone of your paint color. By doing this, you'll have a much better chance of really coming to like your new wall color without having to repaint.
Like and want to use this idea later?
Pin or share on Facebook for later!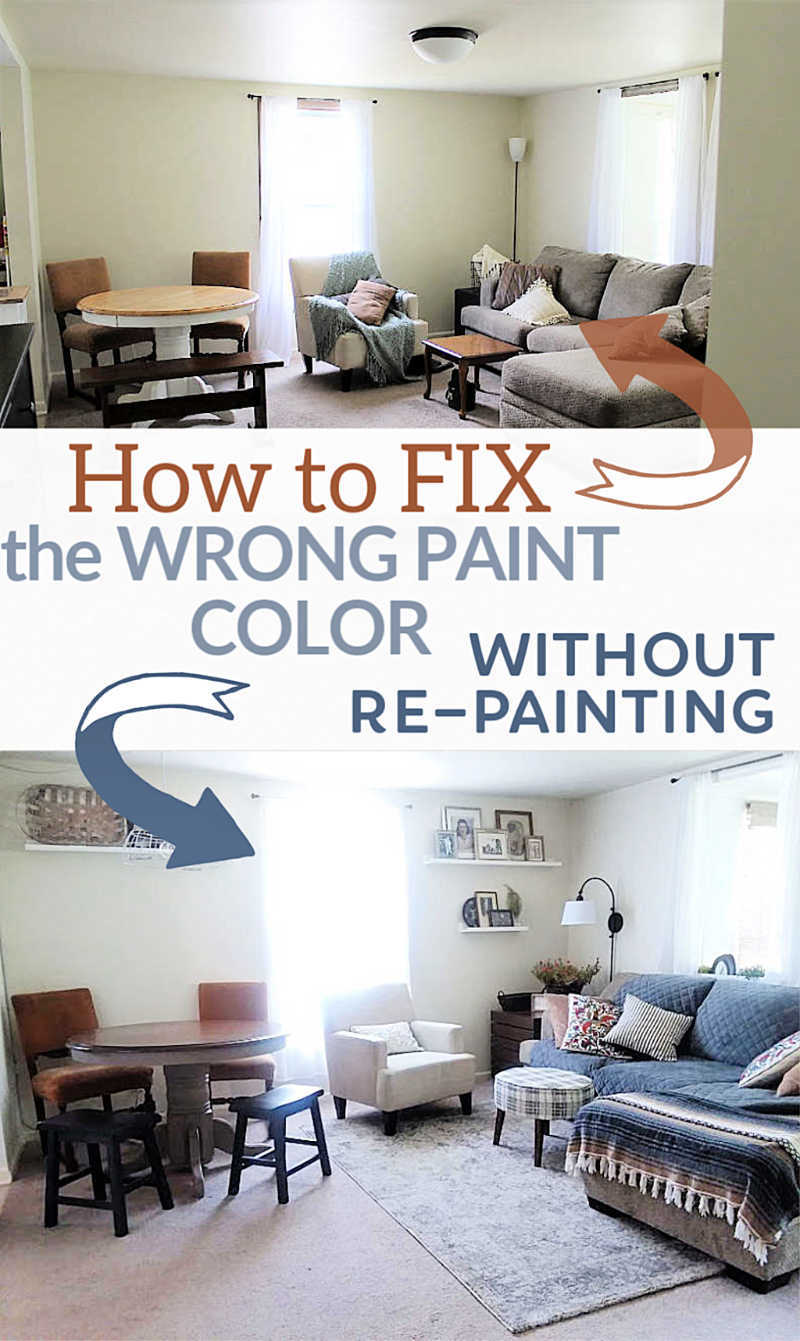 More Ways to Fix Up Your Decor
Originally posted March 4, 2016
Have a great weekend ~ Amy
10 SIMPLE DECOR TIPS for updating most any room without having to paint your walls.
Complete this form to opt-in and your freebie will be on it's way to your inbox. View our privacy policy, here.