If you want to fix the wrong stain color, a bad stain color, an ugly, outdated or boring stain color, there is an easier way to do it without having to strip the piece of furniture back down to bare wood. In fact with this technique, in most cases, you won't even have to remove the top coat.
What are we talking about, here? We're talking about gel stain.
Gel stain is an oil based stain that is thicker than basic wood stain. I won't dare get technical on the chemical makeup of this product. But I will tell you that I used this method. I found it very easy to work with and found it to be a great solution for keeping Ken's crate style side table/subwoofer cover looking like wood, yet in a completely different stain color.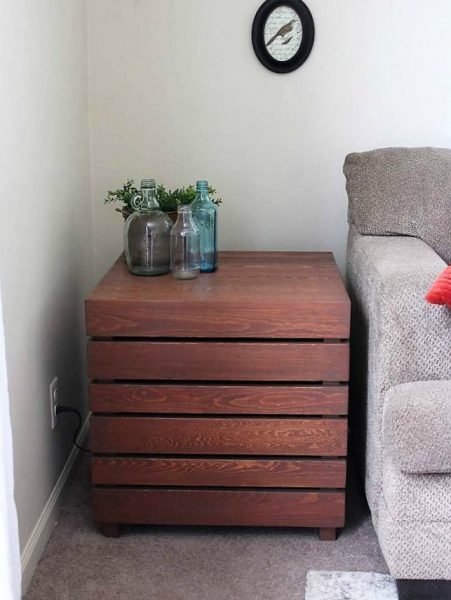 The original stain color, also stained by your's truly, was just so totally wrong for the paint color in this room. Not to mention that it didn't really coordinate with any of the other stained wood pieces in this space. In addition, at certain times of the day (and in most photos), the stain looked almost salmon colored. LOL.
It just wasn't working for me.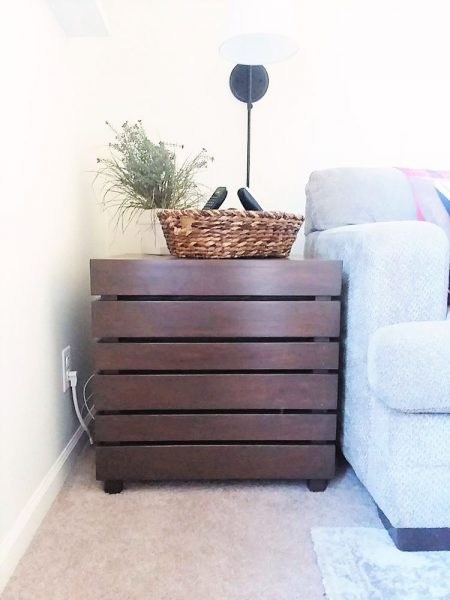 I can't tell you how much better I like this piece in our living room, now. It's a dark walnut tone that actually compliments our antique white wall color, and pairs so much better with some of the other wood tones in the room. Woohoo!
How to fix the wrong stain color with gel stain
This post contains affiliate links. If you make a purchase by clicking on one of the links, I may receive a small commission, but you will not pay a penny more. Read full disclosure, here.
There are a few basic recommended guidelines for using gel stain.
Here are a few of them:
Choosing at least a shade or two darker than the original finish you are trying to fix. One example would be changing golden oak to a cherry finish.
Applying several coats of this product for it to really change the original color, tone or shade. What this does is build layers of pigment.
Allowing each coat to dry completely before applying the next coat. Gel stain does not penetrate as deeply into the wood like regular stain. Rather, It sits on top of the old finish, so it can more easily be rubbed off if not dry.
Protecting the gel stain finish with a top coat sealer. Once again, since it sit's on top of the old finish, it needs protection.
There are various brands of gel stain on the market. For the project in this example, I used General Finishes Oil Based Gel Stain in the color, Walnut. I cannot say one way or the other, which is the best gel stain to use, but I will say this brand was very easy to use and worked really well for me. I purchased mine at the local paint store, but you can also find it online, here
.
Basic tools you need to apply gel stain over existing stain (even clear coats).
The stain color I was trying to change. While it's not bad, it was too orange and pink against the antique white walls in our living room.
Lightly sanding down the original top coat
Basic steps to apply gel stain over existing stain and/or clear coats
Clean all furniture surfaces with the degreaser cleaner
Lightly sand all areas that will receive the gel stain application. In this case, my original finish was Mini-Wax Tung Oil Finish. I was a little nervous that the gel color would not take nicely over the old finish, but it actually took like a charm.
Wipe down sanded areas with damp cloth and let dry
Gently rub tack cloth over surface just before applying the stain
Dip foam paint brush into gel stain and dab generously over the one section of the wood furniture.
Use the foam brush to smooth and even out the stain over the surface of that section.
Repeat the process over all areas of the furniture moving from one section to the section right next to it, and so on.
Let the stain sit for 5 to 10 minutes. It could be a little more of less, it will depend on the humidity and temperature individually.
Starting with the first area that you applied the stain to, use the rag (or place your hand inside the tube sock) and rub the stain into the wood going along the grain. Continue following the same pattern that you used to lay down the stain. Once again, try not to jump around, but rather work section next to section.
Once the whole piece has been treated, allow the furniture piece to dry according to the gel stain label's directions. The General Finish's directions called for a drying period of 24 hours.
For the second coat, there is no need to sand. Simple start with the staining process and repeat all the steps.
Repeat the whole staining process again to apply a third coat, and fourth if necessary. I'll mention again, I found that I did not have to sand in between coats.
Once you are happy with the new stain finish, apply a top coat as per the label on your top coat of choice. I used this wipe on gel top coat and it was a delight to apply and work with.
Wiping crate table down with tack cloth
Applying General Finishes Antique Walnut (with a few dabs of the same brand in color: Gray) I only added the gray to the first coat. Nevertheless, the application is as simple as dabbing on some of the stain and then using a brush to smooth it over the surface.
If you don't believe this transformation, you can see how different our golden pine dining table looks after re-staining it with gel stain.
Alternative options for applying the gel stain:
For a more opaque finish, apply the gel stain, but do not rub the stain in, simply let it dry as is. Next, lightly sand the finish, and repeat 2 more coats, dying and sanding in between. Then apply a top coat as mentioned above.
Another option is using a softening paint brush. This type of application might be good if you'd like more of a layered look, or some of the original stain to show through.
One other way to apply the gel stain would be to apply the first coat with the rubbing in technique and then the following coats with the softening paint brush.
Watch this video for applying GF Finish Gel Stain over existing cabinetry
Subwoofer/Crate Table BEFORE photo
Crate table AFTER photo with the Antique Walnut finish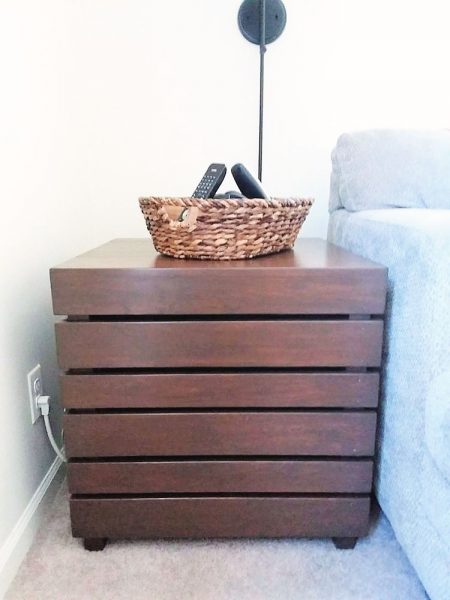 Now the crate table matches some of the other stained wood in the living room.
Remember with any new paint or staining project, it is always helpful to try the product out on a test piece of wood or something small with a similar original "bad" finish. Consider a picture frame, small stool or old shelf for testing. While this is not necessary, doing this helps you get a feel for using the product before you start applying it on the actual piece you are trying to improve.
Fixing a really bad stain color or the wrong stain color with gel stain is a great alternative to stripping furniture back down to bare wood. Consider using it on outdated end tables, coffee tables, dressers, benches, trunks, shelves, outdated wood cabinetry and more.
Whatever you do, don't be afraid to use gel stain to spruce up older or outdated furniture or cabinets. Even if you mess it up, gel stain can be stripped off or painted over, just the same as the original finish.
Do you like this idea? Pin to your favorite board for later reference ->>
More Wood Stain Inspired Projects