Sometimes it takes a lot of gumption to tackle a bigger project, like refinishing a dining table. To start with one would most likely anticipate the process of removing the original finish. This step alone could deter even the most enthusiastic diyer. Now, I know that there are some people who can work their wood stripping magic, and they don't find that task too difficult. Me, on the other hand, and perhaps you, too, might not agree. Umm. I'll take the easier method behind curtain number two, please. This post shows you an easier way to successfully refinish a wood dining table without having to strip-off the original finish.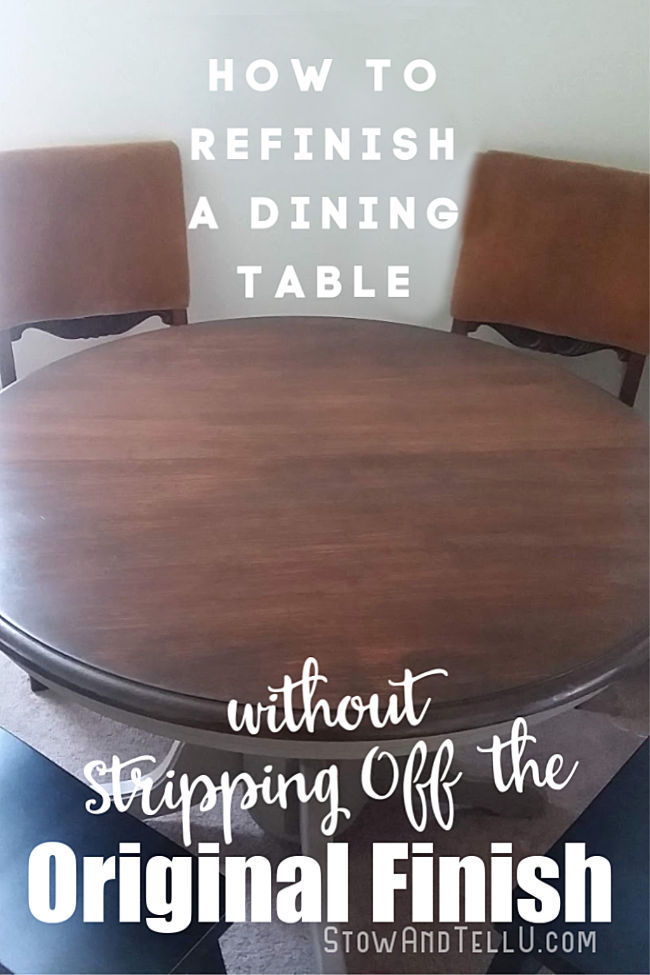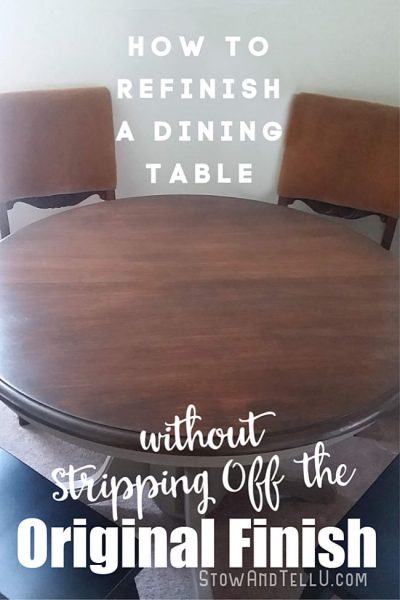 The key to re-staining a wood dining table top without having to strip off the original factory finish is to create a soft, faux wood grain appearance with gel stain. Followed by several coats of a durable clear sealer. It's actually not that hard to do. The main thing you will need, beside supplies is TIME. It will take several days to let each coat dry and several more days to let the sealer coats dry.
I have used a similar process in the past for fixing the awfully bad stain color on our wood crate side table. The result has been amazing, honestly. The surface of our crate table has held up so extremely well that I knew the same would work for our golden pine wood dining table.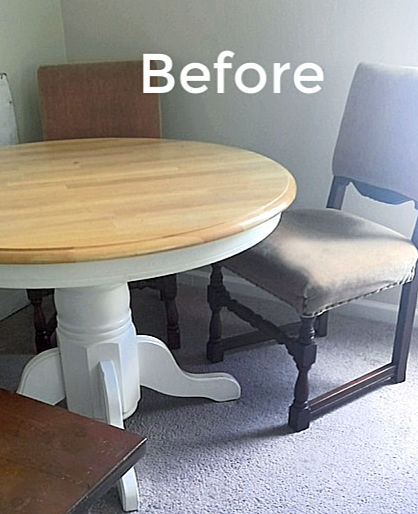 Following is the step by step process for refinishing a circa 1980-1990 era pine wood dining table top with gel stain. Without stripping the original factory coat, (See my "additional tips" below before you use this method on older, antique type tables). This gel stain process can also be used on any other parts of a table, as long as the original coat is stain and not paint. In our case the base of the table was painted, so I simply chose to repaint the base part with chalk paint. Note: gel stain can be applied over paint, but this post will not cover any specifics on that subject. See "additional tips" below.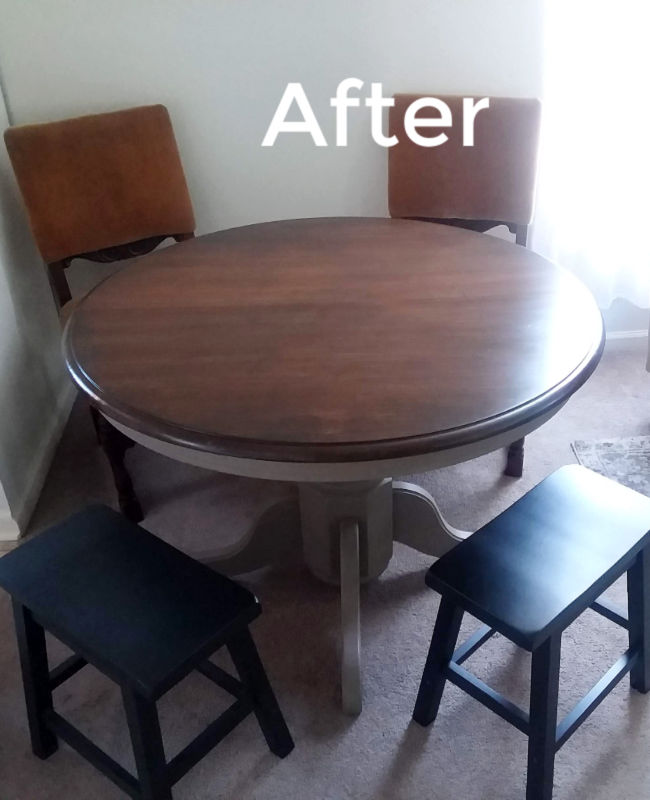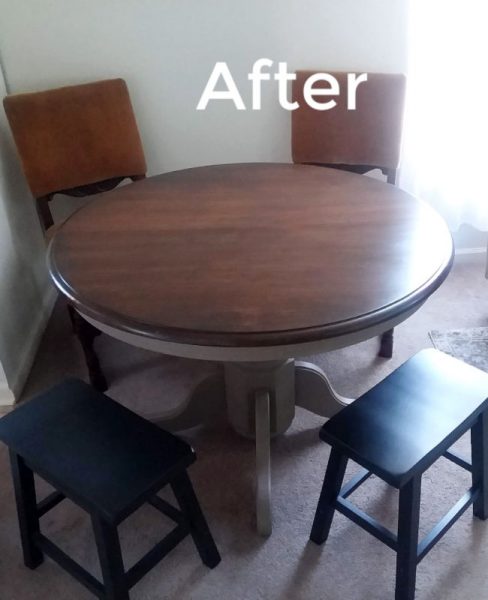 How to Refinish a Dining Table without Stripping Off the Original Coat
There are really only 4 main steps to this process. Prepping the top coat, applying the first coat, using a faux wood staining technique on the next few coats, and lastly, applying the sealer.
This post contains affiliate links. See full disclosure, here.
Supplies to Refinish Wood Dining Table Top
Basic items
Gel Stain – I used General Finishes Antique Walnut, plus a few dabs of General Finishes Gray
Clear coat sealer for oil based stain – I used MinWax Tung Oil Finish
Sand paper: 150-220 grit and 400-600 grit
Large chip brush – 4″ (or a General staining brush)
Lint free cloth, I used Viva paper towels
Also needed
Optional
Step 1) Prepping the original top coat for gel stain
In order for the gel stain to adhere nicely you want to create a clean oil-free, lightly sanded surface. Follow these steps below: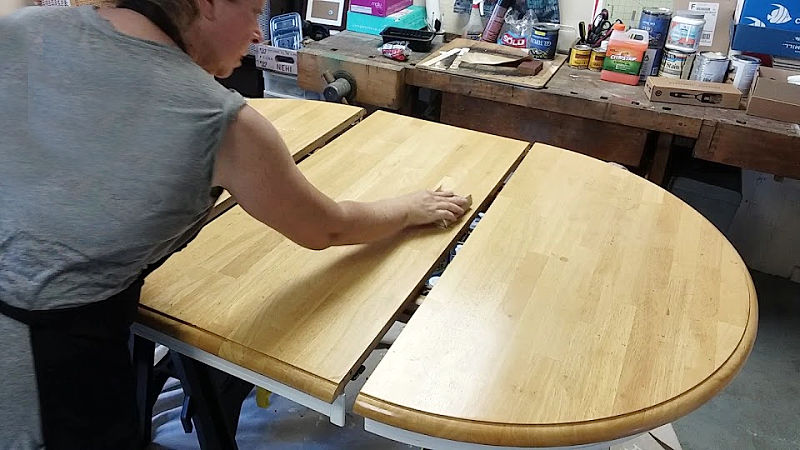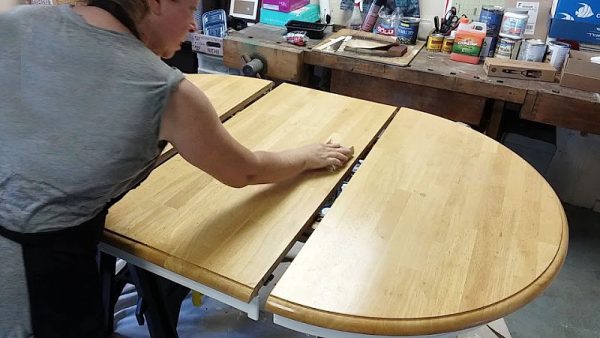 Clean the table with a good degreaser product.
Gently sand the surface with 150 to 220 grit sandpaper.
Wipe the surface down with a tack cloth.
Optionally, Apply a deglosser per the product label directions (this step is optional, I did not do it, but if your table top has had lots of use, this will cut additional oils and residue that may be harder to clean off.
Step 2) Applying and the first coat of gel stain to the table top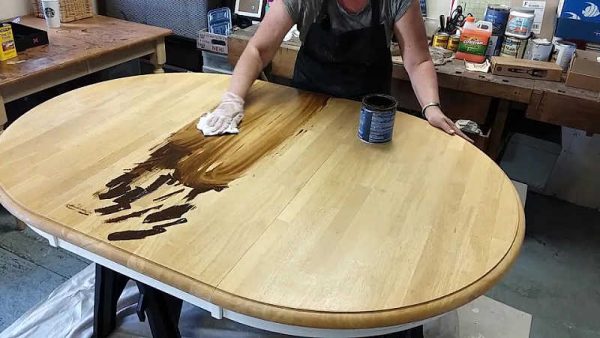 In regard to the first coat of gel stain, you will want to apply it all over the table, let it sit for a few minutes, and then rub it in with a soft cloth. This will give the table an overall slight change of color. Make sure to work in one section of the table at a time, but don't worry about being too perfect because this coat will be rubbed into the surface. To do this follow these steps:
Use a foam brush to dab the gel stain onto the surface.
With the 4″ chip brush, smooth the gel stain out over the surface.
Move on to the next section of the table and repeat.
Lastly use a soft, lint-free cloth to rub the gel stain in evenly all over the table.
Allow the gel stain to dry per the brand's recommended directions.
Step 3) Adding a second and third coat of gel stain using a soft, faux wood grain application.
When applying the next two coats of gel stain, you will want to use two additional paint brushes. A 3″chip brush and a softening brush. These two brushes will help you to create a soft faux wood grain appearance over the first coat. Follow the steps below by applying a second coat, allowing it to dry and then a third coat:
Gently sand the surface with 400-600 grit sandpaper, or extra fine steel wool. Then remove the dust with a tack cloth.
Use the 4″ chip brush to apply the gel stain in straight back and forth strokes across the width of the table top.
Next pull the 3″ chip brush through the gel stain in the same back and forth strokes. Trying to go all the way across in one sweep (as best you can. Remember wood grain is not perfectly straight). You should see lines that show through to the coat underneath.
Then sweep the softening brush across the gel stain surface in a very light gentle motion. The idea here is to soften and blend those lines so it looks more natural. Allow the second coat to dry per label directions.
Repeat steps 1-4 for the third and potential forth coat. Each coat will darken the appearance.
Step 4) Sealing the surface with a durable top coat
Applying a top coat, especially for a dining table is of utmost importance. I suggest using a wipe-on type top coat because this type has a longer open time for application then the brush-on types, in my opinion. I like to use this tung oil finish by Minwax because I have used it on other projects with great success. It works wonderfully over gel stained wood and once it's cured, it is extremely durable. Better than some factory top coats, in my opinion. Another similar product is the General Finishes Arm-R-Seal.
Which ever top coat you choose, make sure to follow the product label directions for usage and safety. Also make sure to allow for drying and curing time (which can be up to 20 days, but should be listed on the product specs).
Additional tips to follow for success when you refinish a dining table with gel stain
For the absolute best success, keep the following tips in mind:
Make sure to wear all recommended safety protection, such as latex gloves and follow all of the other safety instructions, per product.
If your dining table has a leaf insert, keep the table and leaf pushed together while applying the gel stain and top coat. Then to prevent the pieces from sticking to each other, pull it apart while it is drying. You can gently sand the inner edges after it is dry, if you have any drips and such.
This gel stain technique can also be used over a painted surface, however I would recommend giving the surface a base coat of paint in a neutral color that would mimic the lightest shade of wood you are trying to achieve, like ecru, tan or off white.
If any layer of your surface has paint, make sure to use a sealer top coat that can be applied over paint. Some top coats are for wood surfaces only because they penetrate the wood.
To clean the gel stain product off the staining brushes, make sure to use mineral spirits or some type of cleaner for oil based stain.
For older and antique tables: Gel stain may not be the solution for all wood tables. If you have an older, antique table, some of the more traditional refinishing solutions may be a better option. See this Updated Sears and Roebuck Side Cabinet for tips on refinishing older wood furniture.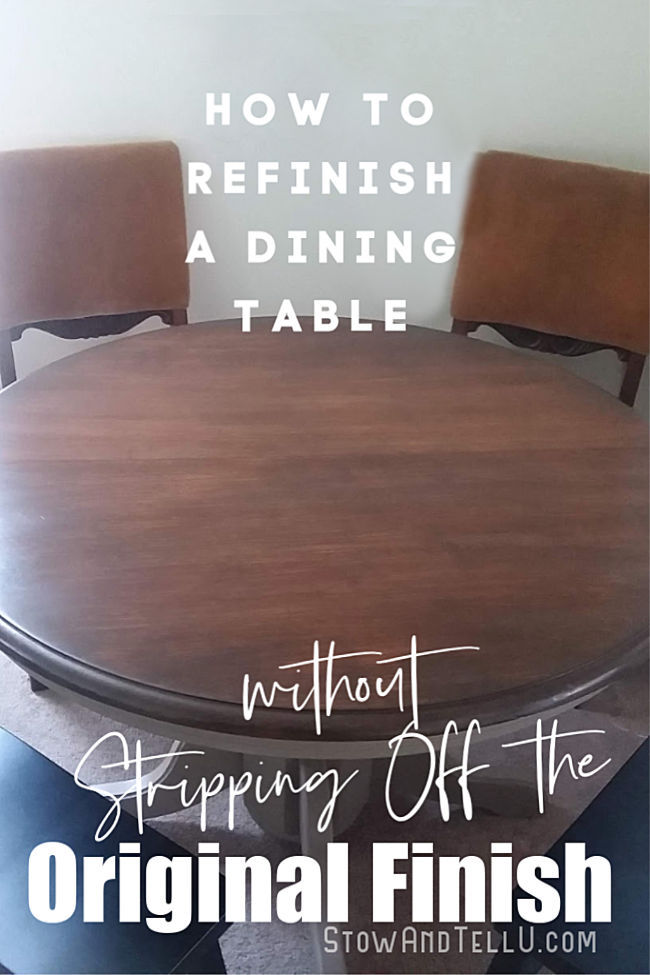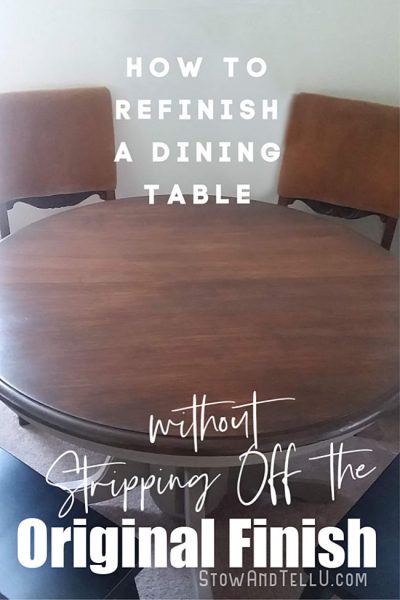 This dining table project took me over a year to finally refinish because I was so avoiding the process of stripping off the original coat. I'm so grateful now, that I finally considered this gel stain method. The table update has made a HUGE improvement in the cohesiveness of our living room / dining area.
If you have a wood dining table that you'd like to refinish, I highly recommend you consider re-staining it with gel stain. Follow the 4 step process of prep, base coat, faux wood grain application, and finally applying a durable top coat finish. You will have skipped the whole messy act of stripping off the original stain, yet your table will look undetectably re-stained. It will fool even you.