This project was made with product provided by Hickory Hardware and Pittsburgh Paints and Stains, but all opinions and project design are 100% my own.
One piece I've always wanted in my kitchen was a potato and vegetable bin. Maybe it's because growing up, my mom always stored the potatoes and onions in plain old plastic storage bins in our utility room, and while that was quite practical, it just wasn't very…celebratory. I mean, don't these vegetables deserve a little more kitchen cred? Sorry mom, you know I still loved your cooking.
Having just moved, I have a new kitchen to work with and a lot more space. So with all the new kitchen area to fill and the clean slate of a brand new IKEA Rast 3 Drawer Chest, I'm finally able to make my potato bin dream a reality.
The chest was fairly easy to assemble, which we did in complete, only to partially disassemble for the modifications we made to turn it into a vegetable bin.
The following supplies were also used for this project and I was able to purchase most of these at our local Menard's.
Trim, Door and Furniture Paint by Pittsburgh Paints & Stains, Color: Antique White
Stain, Color: I used a medium brown mix I had on hand
High quality paint brush
Spackle and putty knife
Drill
Jigsaw with a 14 t.p.i. blade
Band saw
1-/4″ Mesh hardware cloth
Staple gun and 3/8″ staples
Hickory Hardware knobs and drawer pulls
Furniture grade pine 1/2″ x 2′ x 4′ (cut down)
Four 3/8″ screws
Sand paper #150
Wood glue
Several small finishing nails
Several clean cloths
Blue painters tape
Step 1 – Cutting the two bottom drawers
With the drawer fronts disassembled from the rest of the drawer
Measure and lay out blue painters tape at 2″ in along all four sides.
Drill a starter hole on the blue tape near one of the corners.
Beginning at the starter hole, cut out the rectangular opening on the drawer front with a jigsaw by following the outside edge of the blue painters tape. (You may also find it easier to add a starter hole in each corner before you start cutting.)
Note that wire mesh will be attached after drawer fronts have been painted.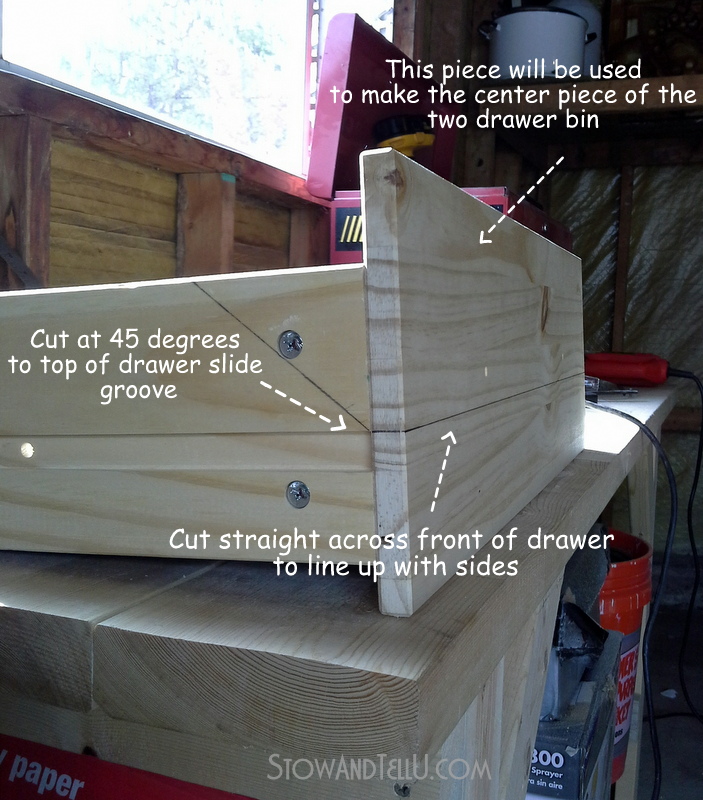 Step 2 – Cutting the top drawer
-With the drawer front disassembled, start a 45 degree angle cut with jigsaw from the top of the drawer slide back (the cut will go about 3″ back.) Complete this step for both sides.
-For the drawer front, measure and cut up from the bottom of the drawer at about 2-7/8″ with jigsaw. This measurement should line up very closely with the drawer side cuts.
-Reassemble drawer.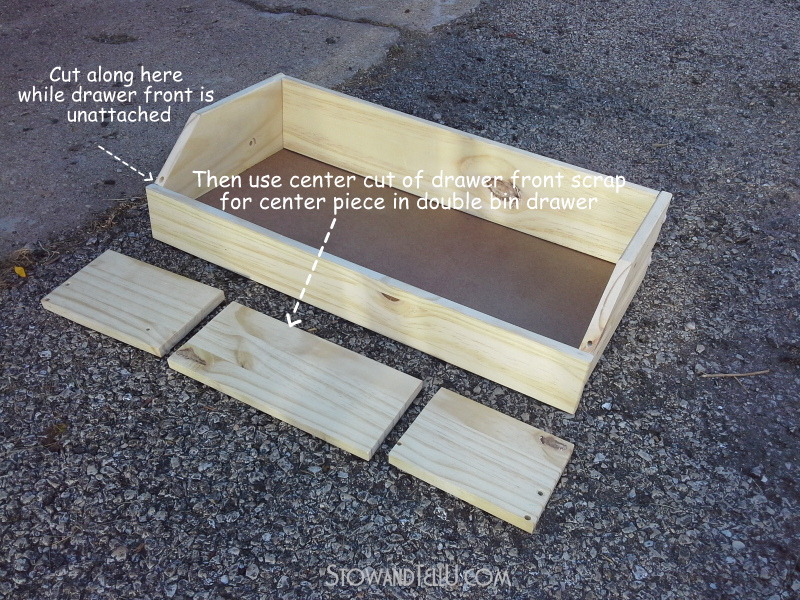 Step 2a – Adding the wood piece for the two-bin drawer
-With left over wood piece from the front of the top drawer, cut off both ends and cut the center piece at the same dimensions as the two side drawer pieces to create a double bin look.
-Center extra wood piece, and then nail and wood glue into place. Allow to dry.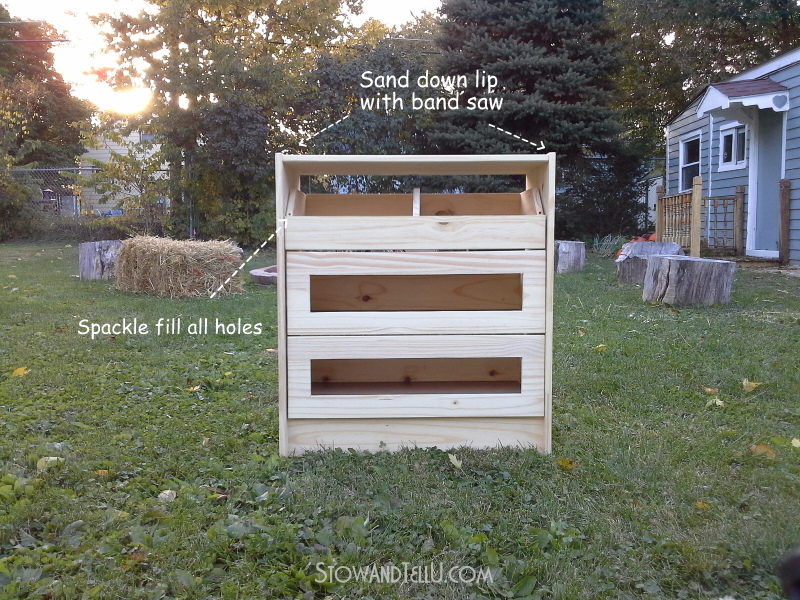 Step 3 – Sand down the top
This step is optional, but what we did was sand down the two top lips of the chest with a band saw, using a very light touch, I might add. It doesn't take much sanding to grind those edges down to make the top of the chest completely flat.
Step 4 – Spackle and sand
Spackle fill any nail holes or connection tabs, including the two holes on the front of the double bin drawer. Allow to dry, then sand and repeat if needed.
Give all pieces a gentle sanding and then wipe down with clean cloth.
Step 5 – Paint
I used Pittsburgh Paints and Stains brand Trim, Door and Furniture Paint, in color Antique white, which is an oil based, interior/ exterior gel paint. This paint claims "no drips" and remarkably, I found this to be true. It's a gel paint, so it's very thick and I found that stirring the paint occasionally kept the paint flow going quite nicely. It also has a nice open time, which allows for brushing back and forth to smooth, without creating smudging and smearing. The paint also self leveled, as it claims, whether I painted on a top surface or on a vertical surface.
Apply one coat to all parts, including the insides of drawers and to the smooth side of the mdf piece that attaches to the back. The smooth side should be attached facing inward when re-assembling takes place. Allow to dry
Apply paint to the underside and backside of the drawers, if desire and allow to dry.
Apply a second coat of paint, same as above
Step 6 – Cut and attach wire mesh, reassemble two bottom drawers
Using a pair of wire cutters, cut wire mesh for the two bottom drawers at +1″ all on all sides. Tip: Place a piece of wood board along an open stretch of the wire mesh to keep it from rolling back up.
Using a staple gun, attach the wire mesh to the backside of the two bottom drawer fronts.
Reassemble two bottom drawers
Step 7 – Attach top board
We added a stained pine wood top board. To attach we drilled four holes and then attached the board from the underside of the top of the chest.
Step 8 – Attach hardware
I did a little research on vintage potato bin hardware, see Pinterest board, here , and was able to find just what I was looking for from the wide selection available from Hickory Hardware.
I went with the Eclipse Vintage Bronze Cabinet Knob for the top two-bin drawer and the Southwest Lodge Black Nickel Vibed Cabinet Pulls for the two bottom meshed drawers.
When it was all said and done, I was really excited at how much this piece had the look of a vintage potato bin, but with that twist of contemporary that I would like to incorporate into the style of my yet-to-come kitchen makeover.
I'd like to give a special thanks to Pittsburgh Paints and Stains, Hickory Hardware and Menards for providing the opportunity to be in the contest and materials for this project.
SHOP OTHER VEGETABLE STORAGE IDEAS
Burlap Potato Storage Sack
Stoneware Garlic Keeper
Hanging Vegetable Storage Bags
Stacking White Veggie Storage Bins
Additional Kitchen Storage Ideas to Help You Get Organized?
If you've got Ikea Hack Love, check out this hack from and IKEA shoe cabinet