What would you do for extra kitchen counter space? When we bought our current house, it only had 8 square feet of counter space. Could you imagine squeezing in a coffee pot, a double sink, and re-creating Aunt Dorothy's famous lasagna in a workspace smaller than your average kitchen table?!
There are two main ways you can create extra counter space in your kitchen.
Add more horizontal workspace by way of furniture pieces in or near your kitchen area.
Get clever with your kitchen storage fixtures to make more room on the workspace you already have.
While our kitchen is hardly magazine-worthy in style (future upgrades to come), we've made quite a few budget-friendly changes that have added over 18 sq. ft. of horizontal workspace and 16 sq. ft. of horizontal storage space.
This post contains affiliate links. Read our full disclosure and privacy policy.
How to Eke out Extra Counter Space in Your Kitchen without Remodeling
Check out the following list which includes a variety of ways that you can add extra counter space in your kitchen, no matter the shape or style.
Add More Horizontal Workspace to Your Kitchen with Furniture Pieces In or Near the Kitchen Area.
#1 Measure all areas of your kitchen
Before you make any changes, find out how much space you currently have to work with. If your kitchen is small, include the areas nearest to the kitchen, as well.
Grab a measuring tape, pen, and paper.
Measure your counter space, the room size, and any other areas of the kitchen that can work in your favor.
Draw a rough layout or simply jot the area names (ie: wall near pantry) and all the measurements in inches (rather than feet).
Use a square foot calculator set to inches to figure your square footage.
These measurements will be your starting point for the amount of counter space you have and how you can improve the space.
#2 Change the kitchen layout, if possible
Can you easily change the layout of the kitchen? What I mean is, can you do this without knocking down walls, or having to go to great lengths to re-arrange the room? There is nothing wrong with knocking out walls, however, consider approaching this idea with the least amount of effort before you take a sledgehammer to anything.
Using our kitchen as an example, the first thing we did was move the fridge from its original space to the opposing wall.
Note: We didn't have an outlet behind the new fridge location, yet, so I used a good quality extension cord temporarily until we could put a new outlet behind the fridge.
#3 Add a counter extension cabinet or sideboard (even if it's temporary)
The bonus space from a counter extension cabinet or sideboard – even a temporary one, until you remodel – can be used as extra counter space, a coffee station, storage and more.
In our kitchen example, Ken built a temporary counter extension cabinet from an old bookcase. Then, we placed the extension cabinet where the fridge used to be. Voila! We had 5 additional square feet of counter space.
Next, we set this Ikea hack potato bin to the left of the fridge as a sideboard for placing items down that are either going into the fridge or coming out. (+3 sq ft)
Finally, we positioned an old kitchen cabinet unit with a wallpapered countertop against the wall in the back area of the kitchen, which previously and awkwardly contained a kitchen table. Eventually, we'll add a breakfast bar in this spot. (+9 sq ft)
#4 Incorporate a Kitchen Cart or Kitchen Island into the Room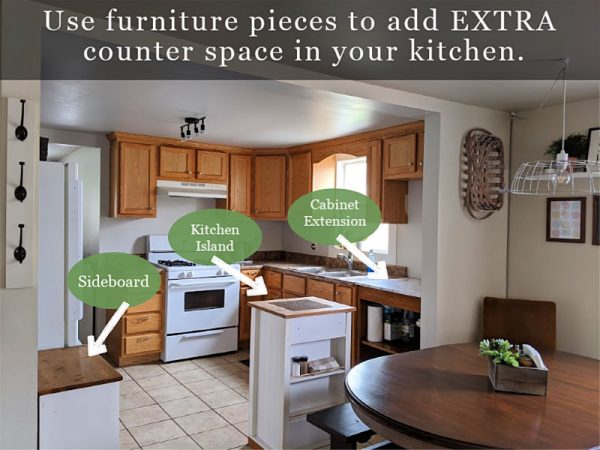 If you can find room to add a kitchen cart or island, you will hands-down have more counter space. We often think we have to place this in the center of the kitchen, but think outside-the-box to see if you can fit one in, even if it's off to the side or reaching into the adjacent room. Many of these carts have locking wheels allowing you to move the cart around as needed.
We currently have a small (second-hand) kitchen cart, which has a tilt-out garbage bin. While this piece isn't the end-all solution for our unfinished kitchen, it has come in very handy as an extra horizontal workspace that we can move around to fit our needs. (+2 sq ft)
Total extra horizontal counter space added = approximately 18 sq ft.
Make More Room On Your Existing Kitchen Counters with Clever Storage Fixtures
#5 Bring in a Tall Shelving Unit
Taller shelving creates multiple layers of horizontal space, which, like a sideboard can hold small appliances, a mail holder, or those vintage basset hound salt and pepper shakers that always seem in the way. Based on your kitchen's layout, and the area nearby, do you have a spot where you can place a tall shelf?
In our humble kitchen, we placed a tall shelf on the other side of our refrigerator. We use it for our overflow, so the items held here are always rotating. Bottom-line, it keeps the workspace areas clutter-free.
And if that's not enough, we used the shelf as a make-shift pie safe to hold all the drool-worthy desserts our family brought over for Christmas dinner.
Related: 5 Space-saving tips for styling open shelf storage
#6 Make Use of Tiered Trays
Stack items upwards with a tiered tray, or two. Tiered trays can hold anything from fruits, vegetables, spice jars, coffee fixings, and so much more. As a bonus, most tiered trays have a top handle, which makes it easy to temporarily move the tray to another location when you need that area to prep for dinner.
#7 Under Cabinet Trash and Recycling Bins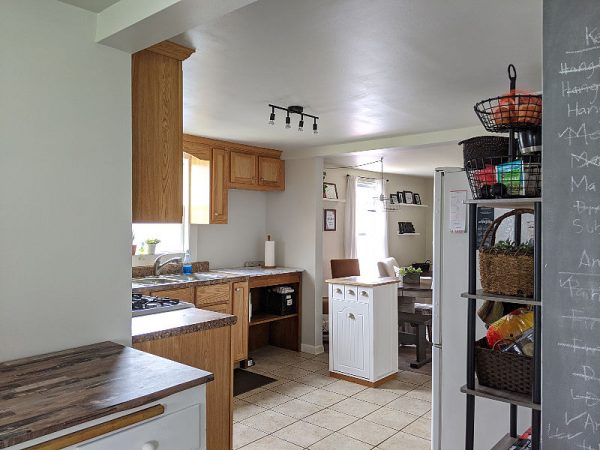 Moving your garbage and recycling under your counter area can free up additional floor space. Which can then leave you room for a sideboard, a vertical shelf, etc… Do check to make sure that you have clearance under the cabinet to allow for one. If you do, go for it. You won't be disappointed.
Our mini-kitchen-island has a tilt-out garbage bin. Even that small change gave us more floor space to work with. Consider a tilt-out garbage cabinet, a pull-out garbage set-up, or the cabinet mounted garbage can.
#8 Stove Top Covers
Prosumer's Choice Bamboo Stovetop Cover and Countertop Cutting Board w/Adjustable Legs – Large

Turn the top of your stove into a usable worktop or serving space. While Dear Aunt Dorothy used one to keep her stovetop clean, covers for your stovetop have come along way in style and usability. If you are really pressed for counter space, it's an instant win for eking out more workspace or serving space in your kitchen.
We have been using a wooden DIY stove top cover for years. You can easily make your own with a 1″ thick piece board cut to your stovetop size, sanded, and then coated with polyurethane or butcher block oil.
Related: 7 Pre-planning tips for getting your kitchen ready for the holidays.
#9 Vertical Wall Mount Fixtures
One of the most practical solutions for gaining more counter space is to use the wall for storage. Think about it this way, when you hang pots and pans, that used to be in one of your cabinets, onto the wall, you've just freed up a bundle of cabinet space. Now that cabinet space can house a medley of items you were previously keeping on the counter.
As our kitchen remodel moves forward, we plan to add a wall-mounted pot rack, a kitchen rail with hooks, and several other vertical storage gizmos to free up more countertop space.
#10 Kitchen Cabinet Mounted (or Refridgerator Mounted) Fixtures
Similar to using your wall space, mounting storage fixtures to your inner cabinet doors (or your refrigerator) will create more space for you. Once again, you can move gadgets you normally store on your countertops to that extra space gained by using cabinet or fridge mounted storage.
Three of my favorites are the cabinet mounted spice rack, the cabinet door organizer and the cabinet mounted paper towel holder.
Total horizontal storage space added =16 sq. ft.
Related: 20 Kitchen pantry Ideas for a small kitchen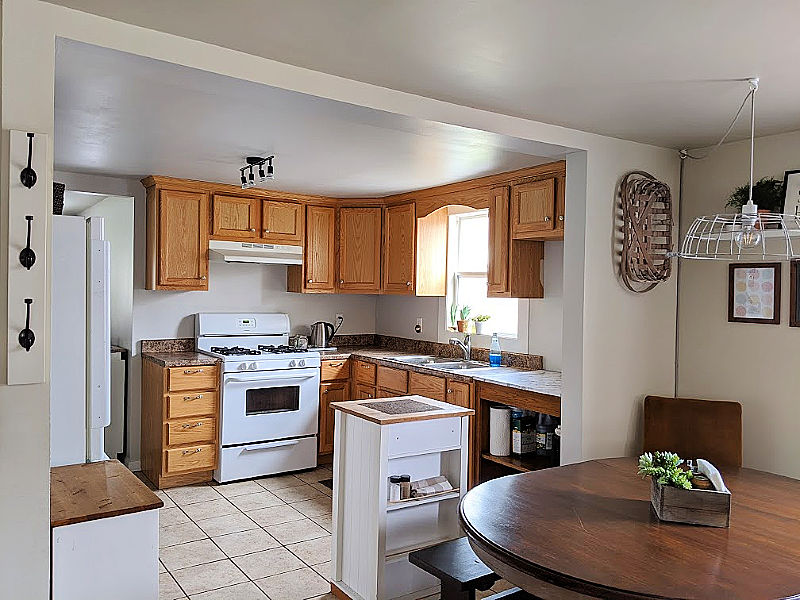 Have you been wishing for extra counter space in your kitchen, or is your countertop situation a-okay?
Don't be afraid to envision something new and try it out. If it doesn't seem to be working, you can always put it back the way it was. That's at least the approach I like to take.
I wish I could say that it's a delight to make Aunt Dorothy's lasagna now, but truthfully, Ken's is the designated cook in our house. For me. I'm just glad we have more countertop space for dirty dishes.
You might also like:
~ xo Amy
Post updated 4/10/2020