Because every heart is different, these individual heart shaped sugar cookies might make an interesting statement for a Valentine's Day treat. Each heart cookie has its own heart shape. Sounds difficult to make, but they're actually quite easy, and you wont' need a cookie cutter, rolling pin or floured surface. You may have seen my posts on ghost shaped cookies or football shaped cookies, and these are very similar.
Valentine Individual Heart Shaped Cookies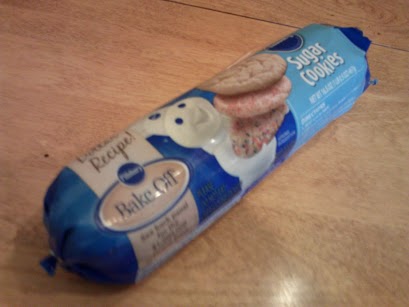 Ingredients:
1 Roll Pillsbury Sugar Cookie Dough
Pourable Icing:
2 cups powdered sugar (sift if desired)
4 tsp light corn syrup
4 tbsp milk
1 tsp vanilla extract
Food coloring and sprinkles of your choice
Note: There are a few trick to making "no cookie cutter" shaped cookies, so please make sure to follow these directions, as they will vary from the directions on your package of sugar cookie dough.
Preheat oven to 350
Put sugar cookie dough in the freezer for about 15 minutes
Remove cookie dough from freezer and cut into 32 slices
Break each slice in half and roll both pieces into balls
Lay both ball pieces next to each other and flatten into a heart shape. Shape the bottom portion of the heart first, and then start to shape the top, making sure to create a ¼" separation in between the two round parts of the top of the heart.
Here is where you can get creative and make each heart its own individual heart shape. Just make sure to leave the ¼" space at the top on each heart.
Bake in oven 7-9 minutes, until edges are golden brown.
Remove from oven and only let cookies cool 45 seconds, and then loosen with a spatula and place on a cookie rack to cool.
Place wax paper under cookie racks.
Make pourable icing from directions above. If you need to thin a little more, add additional milk, 1 teaspoon at a time, until seems easy to pour. Add food coloring if desired.
Apply icing to cookies with a basting brush and allow icing to drip over sides of cookies.
Apply drizzles or sprinkles on top of icing.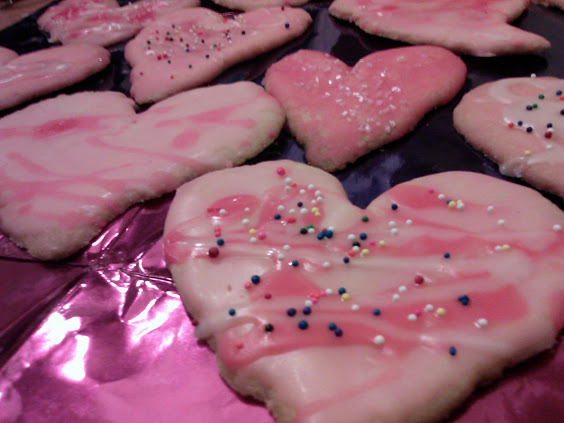 When done, these cookies will look like they were shaped with a cookie cutter; yet individual enough to make anyone who eats them feel special on Valentine's Day:)
More Valentine's craft projects
Valentine's Day Trail Sign (Great for a rustic wedding)
More Cookie Shapes without the use of a cookie cutter
Enjoy the Day!! ~ Amy