I have been looking for a divided basket to use as a remote control storage organizer, and you know what? I could not find one basket that would fit my needs. Every divided basket that I found while shopping was either too small, too short, the wrong color, or the wrong shape. So, I asked Ken if he could make me my very own wicker divided basket. And while he was as it could he make me several..? Because I was pretty darn sure I could find more than one use for a wicker basket with dividers. Hopefully you can, too, so we're sharing a tutorial.
DIY wicker divided basket
My main goal was finding a basket large enough and smooth enough to slide back and forth on the carpet underneath our diy coffee table for a small home. I found a black, polypropylene (aka: fancy plastic) basket, that would do the trick. But I picked out a two other basket styles to try, as well, for a total of three baskets.
All three are different in shape, color and style giving Ken three slightly different approaches to making a divided basket. For all three dividers, we used 1/4" x 4" x 4' Solid Aspen, pre-finished on all sides, meaning the wood is nice and smooth from the get-go. Ken likes to work with new lumber whenever he can, so that is what we went with. But I would think leftover scrap wood could work, as well, provided it's thin enough, and the right size for your basket. The key would be to make sure the wood for the dividers is sanded smooth when finished so that no one will get a sliver when grabbing for something from the basket. Ouch!
Here is what the divided baskets looked like before I painted and stained them. Honestly, I was kind of liking the look of the raw wood, but decided to paint and stain in the end.
Disclosure: The items below are affiliate links. If you purchase any of these products through the links, I receive a small commission, that way I can continue to provide you with helpful content. There is no extra charge to you for purchasing through my affiliate links.
These divided baskets were made in 4 basic steps:
Gather supplies
Measure
Cut wood slats to size and notching out the slots
Sand, paint and/or stain, and top coat
1)Gather supplies
Basket (new or one you already have)
Aspen wood 1/4" x 4" x 4' (or similar sized scrap wood)
Sandpaper 150 grit and 220 grit
Jigsaw
Jigsaw blade size: 10 tpi minimum / 20 tpi is ideal (The more tpi, the smoother the cut.)
Circle stencil – or a shot glass (to make the radial cut-out on the slats, which is optional)
Paint or stain
Clear top coat of some kind: Spray sealer, Mod Podge, tung oil, coconut oil, or Cutting Board Oil
2)Measure
We went with divider openings that were about 3" to 5" in size. The smaller baskets used 3 slats to make 6 openings. The larger basket required 4 slats to make 9 openings.
Measuring slat size length and width: For a basket with angles, it is important to measure both the top and bottom of the inside of the basket. If it's a basket with straight sides, then this would not apply.
Measuring slot placement: Ken went with a slot placement that was equally divided between the slats. He measured the overall length of each slat from the bottom and divided the measurement by the amount of cross slats. In this example, The long slat needed two slots. The two shorter slats needed one slot each.
Example:
Top of slat measured 12.25 inches
12.25 divided by 3 = 4.08 inch
4.08 inch rounded down = 4.125 inches (4-1/8")
Pencil marks made at 4-1/8" in from both of the ends (from top of slat), then a straight line was drawn from top to bottom on the slat, so that the measured marks are visible whether the notch is a top or bottom cut. This measurement can also be rounded up instead of down, just do the same for both sides.
Note: Not all openings per basket measure the exact same size. The key is to mark the slots or notches an equal distance from the end of the slat. If the slats are angled, then it should be measured from the top of the slat, so it appears even from both ends visually, as top portion will be visible when the basket divider is finished.
Marking slot thickness: Lastly, the notched slot should be the same size as the wood thickness. In this case, our slot sizes were cut to 1/4". For example, to mark out the slot for a 1/4" wood thickness, measure and mark 1/8" to the left and right of the original mark.
Slot height measurement: Lastly, the slot height measurement should be half the size of the overall slat height. Our wood slats were 4" height, so Ken made the slot length 2".
3)Cutting wood slats and notching out wood slots
Once Ken marked off the measurements of the slats and made the markings for the notches, he started cutting the lumber. He cut the slats first and test fit them into the baskets. Once happy with the size of the slats, he began cutting out the notches (aka slots).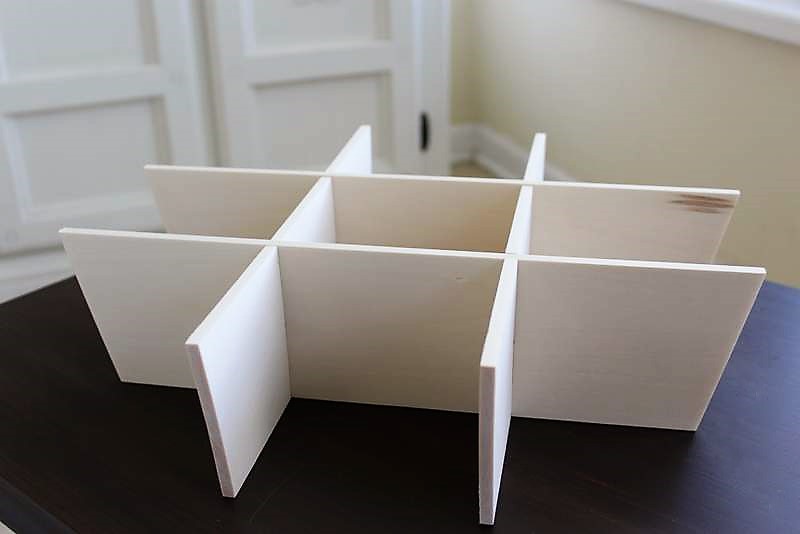 Ken's tips for making the wood cuts:
The more tpi, the smoother the cut. Maximum tpi to cut wood is 21. A 20 tpi jigsaw blade is ideal for this project, especially if you want to make radial (round cuts). But do note that the higher the tpi, the longer it will take to make the cuts.
Make some test cuts on scrap pieces, especially for the slot cuts.
At this point it was a matter of cutting the slats and notching out the slots with a jigsaw.
Important!!! Test fit pieces together. Make sure there is a little wiggle room. We figured it's easier to use a bit of E6000 glue to hold the slats together after painting or staining, than it is to have to go back and re-cut the notches because they no longer fit together.
Watch this YouTube video to lean how to make a notch cut with a jigsaw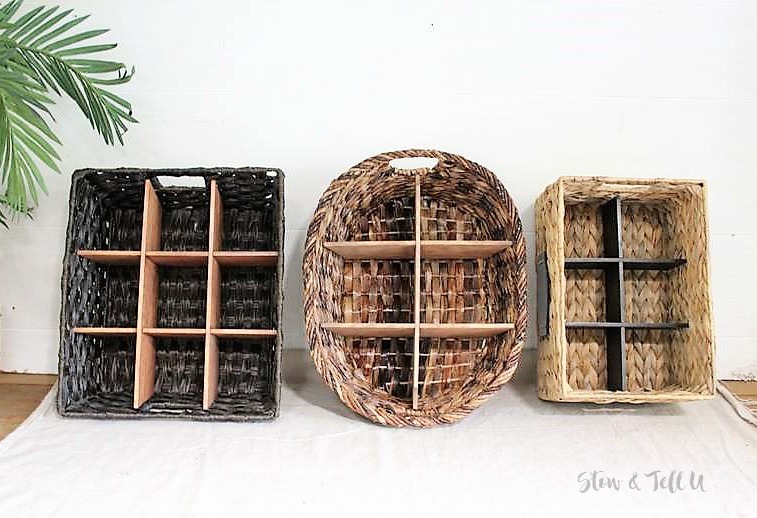 4)Sand, staining and or painting
Disassemble: Separate slats by pulling them apart, so that it will be easier to sand to smooth and start painting.
Paint or stain: With slats separated and laying flat on a surface, apply 1 or 2 coats of paint or stain; rub off any excess stain, if going the staining route. Let all pieces dry enough to touch.
Re-assemble: Put the slats back together. If for some reason, they're not fitting, sand the slots just a bit. I did not have this problem, but I was worried that the paint or stain could make the wood expand; however, it did not. Add a final coat of paint or stain. Let dry completely.
Clear coat and seal: Last step, add the clear coat. You can use a brush on, spray on, or wipe on finish. Alternatively, I would have considered using a couple layers of coconut oil over the stain as a simple, yet safe protectant.
I used oil-based stain, because I was afraid the wood might swell with a water-based stain. I don't know if that would happen, I just didn't want to try it out on this batch of basket dividers. I would have also considered using natural dye or stain if I was going to make one of these as a utensil caddy.
I used clear coat spray, because I was out of my favorite, easy to use clear coat, but the main point is that I recommend some kind of top coat for extra protection.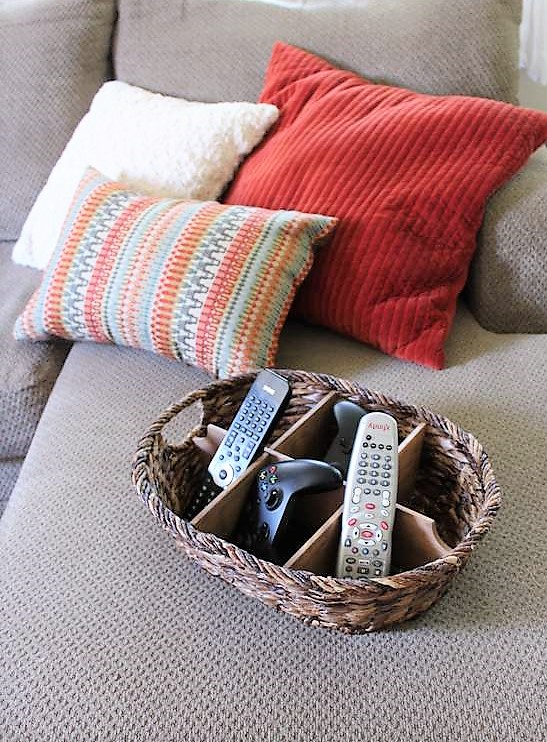 And now we have several. By the way, you might like this wood crate portable office caddy, if you like ideas for keeping your office essentials in one place, yet transportable throughout your home.
Wicker baskets with dividers for diy remote control storage
Basket #1
Finish used: black spray paint
Divider styling approach: Basket divider was cut to a height of 3″ to accommodate for the basket handle.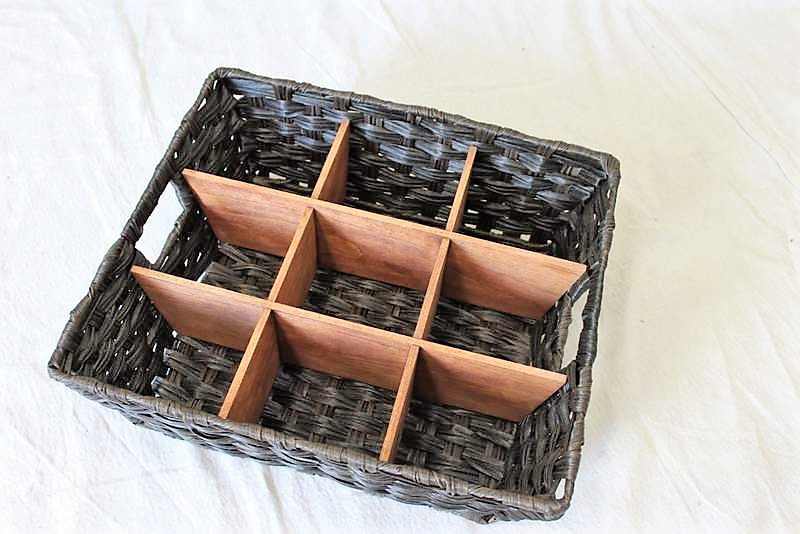 Basket #2
Finish used: Oil based stain in colors: American Walnut, Driftwood and Early American
Divider styling approach: Slats were cut on an angle to accommodate the shape of the basket. Two slats were used on the cross-length to accommodate for the handle, as well as the larger size of the basket.
Basket #3
Finished used: Oil based stain in colors: Clear, Driftwood and Early American
Divider styling approach: Slats were cut on an angle due to the basket shape. A circle stencil was used to mark off the end of the slats and a radial cut was made with a jigsaw. Ken widened the radial cut just a little, so the cut flattened out near the top of the slat.
The black basket fits perfectly under the table. It slides out when needed, but for the most part, we can just reach down and toss any one of our dozen remote control gadgets into our new organizer. We've even been placing our cell phones in there so they're out of the way when we're watching tv.
Of course, I had to try out the other divided baskets in various areas on and around the couch, just for fun. I'm super happy because we now have one less area in our small home that is haphazardly messy looking due to items that we use constantly but always seem to get in the way.
Funny thing, though, was after these were made, the only thing I could think of to use one for was a remote control organizer, it's like I was so zero'd in on that. But now I've started making Ken use one as a catch-all for his keys, wallet, glasses and that kind of stuff that he is always leaving on the counter top. And since then I've had more ideas for how to use them.
How about you. What would you use one for?