Have you ever challenged yourself to makeover a room on a $100.00 budget? I updated my office – guest bedroom last year for $100.00. I can tell you that if you like to do-it-yourself and re-use items you already have, that $100.00 can go a long way towards achieving a new look.
I'm really excited to start this makeover because this time around, I've joined a group of very passionate diy bloggers for the $100.00 Room Challenge. We are going to be sharing our progress every week through the month of January.
I will show you what I'm up to each week and then you can scroll on down to the linkup at the bottom of each post to see how everyone else is coming along.
Some of the rooms being updated in the challenge will be bedrooms and bathrooms. Oh, how I long to update my master bedroom. I can't wait to follow everyone's progress and get some ideas for the future.
I want to send a special thanks out to Erin from Lemons, Lavender and Laundry for starting this series a few years ago. You can read more about her series, here.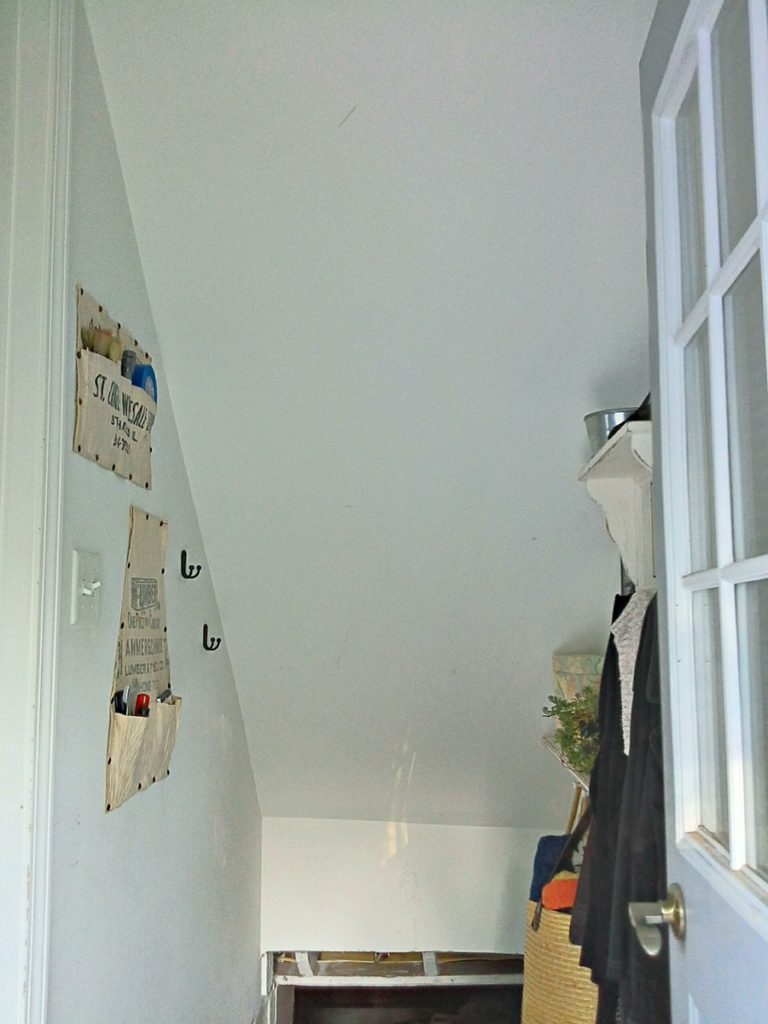 Entryway stairway makeover
The room I'm going to be making over is a little out of the ordinary, but since we bought this fixer-upper cottage I figured a good place to start and set the tone is with my entryway stairway.
The stairway entryway is the most passed through room on any given day since we enter through the back door. With the kitchen on the left and the laundry room to the right it's a regular grand central station in our little world.
I gave this space a mini update when I added these painted white coat rack shelves.
I also hung vintage work aprons for additional storage, as shown on the left.
At the time, I didn't paint the walls or the stairs, or the trim. Ugh!! It's time.
With the biggest eyesore of all being the unfinished drywall piece where the wall meets the basement opening.
Fortunately, we came up with a cheap solution for hiding that jagged mess until we really dig into a basement makeover.
The budget is $100.00.
The plan is to add or improve the following:
Paint the stairs, wall, trim
Angled wall coat rack
New blind for the door
Catch all baskets
Durable throw rug for the entry
The objective is
To keep the space uncluttered while increasing it's storage value.
And because my husband intends to restore pinball machines in the basement after we update it, I need to keep the stairway clearance as open as possible.
So there you have it. A grungy entryway stairwell. By the end of this month I hope to impress you with a new and improved version for about $100.
Thanks so much for stopping by.
Following room makeovers can be kind of addicting. Indulge yourself and head on over to see what the others are up to –> Follow linkup below.