I believe that it is only after you have redecorated a room that you ask yourself, how did I ever live with it the way it was before? Of course this probably isn't true for everyone, or every room. But in the case of my entryway stairway, that statement couldn't be hitting closer to home with each swipe of my paint roller.
Stairway painting progress which includes a DIY painted stair runner with an edge in trimmed out in another color
Welcome to week#2 and the painting phase of project entryway stairway makeover in the $100 Room Challenge.
In week#1 of the challenge, all of the participants showed off the room they want to update on a $100 budget. There were a variety of rooms, decorating styles and creative ideas shared last week for getting more bang for your buck when you want to re-do a room while trying not to spend more than $100.
This week, we will all be sharing our first week of progress, and once again you will find a link-up of all the participants at the bottom of this post.
Covering the scraggly drywall edge
BEFORE
While I had spiffed up the walls of the entryway last spring, I did not paint them. And because we have so many other more important tasks to work on, I probably could have just left it for a while, but for that jagged piece of drywall that cried "this place looks like a dump," every time I walked in the house.
Note: the wood going across the top threshold was not done correctly and will eventually be corrected, but until them, it does still show, even after the drywall repair.
AFTER
I asked Ken to cut a piece of wood from our wood pile that would fit over the drywall edge to cover it up until he gets to working on the basement, which is still a few years down the road.
In my opinion, with that one fairly easy upgrade, we now have a more finished look instead of the scraggly-drywall, "home owner was too lazy to finish a project" look.
Painting the entryway walls
The next step was painting the entryway walls and trim. To save a few dollars I used Dutch Boy Dura Clean tinted to Benjamin Moore color: White Sand. While I think that BM paint is better quality, I couldn't justify the price for this area since it's connected to the currently unfinished basement.
Here is the entryway before the new paint.
Here is the same space after.
I painted the trim and the drywall areas and the cement block walls all the way down to the basement floor. What do you think? Better?
How to add a painted edge to a painted stair runner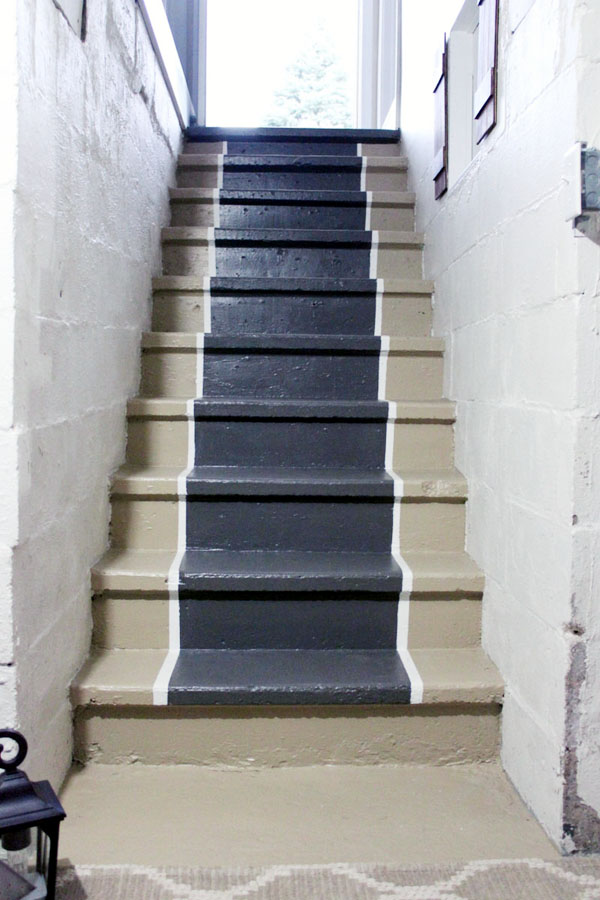 When this house was built in 1948, this entryway was not closed in, but an open stairwell down to an exterior basement door. This stairway is solid concrete and none too fancy.
Last fall I painted our porch stoop. That project is what made me want to carry the painting into the entry.
I had plenty of leftover paint from the porch, so to paint the stair runner inside, I carried the same paint color into the entry and right down the stairs.
Find a time saving tip for painting stairs, HERE.
Next, I taped the stairs off to with a strip of tape going down both the left and right side of the stairs (see tips taping the stairs further down). Then I painted the gray paint down the center of the stairs and allowed it to dry for about 24 hours.
The next step was adding a double tape line on both the left and right side of the gray painted center. I laid a line of painters tape just inside the gray area on each side. Allowing about 1/2″ of the gray paint to show on the edge. Then I laid a line of the painters tape just outside of the edge of the gray paint. Allowing about 1/2″ of the taupe paint to show.
This created about a 1″ strip of paintable area on both sides. With a foam paint brush, I painted 3 coats of white paint along the two edge strips. Allowing each coat to dry for a few hours. After I painted the last coat, I allowed about 15 minutes of drying time, and then pulled all the tape up. There were a few areas that needed touch up but for the most part, it was straight forward.
I followed a few tutorials on painting stair runners that I found online.
If there are 3 tips I can share from my own experience they would be:
Apply the tape in 8″ to 10″ pieces at a time. This makes it way easier to move a small piece of tape that is crooked and so forth, rather than having to pull up much longer pieces. Less waste. Saves time. Saves frustration.
Leave time for touch up painting. While you hope that your paint won't bleed through the tape, splash or smudge. And you hope that your lines are even enough to flow, I found that with a few touch ups here and there, the overall job looked better after the touch-ups.
Finally, you don't have to be an expert to tape off a stair runner. And the impact of a decorative stair runner stands our more than the small imperfections that you are worried will stick out like sore thumbs.
New painted stair runner with paint-trimmed edge
There's a small possibility I will change this up a little because I'm not sure if it looks too busy for the area, but for now we really like it.
Ain't it amazing what paint can do?
Cost and materials so far:
Piece of wood and nails for drywall repair —-$0.00 (We already had the materials)
Wall paint ——$20.86 (includes sales price and $2.58 rebate)
White paint for trim and stair runner— $0.00 (I already had the paint)
Floor paint tan —-$0.00 (I already had the paint)
Floor paint dark gray —$13.99 (Dutch Boy Porch and Paint – BM color: Iron Mountain)
Total to date: —————-$ 34.85
Do you like this idea? Pin or save on Facebook for later reference —->>>
week 2 (this post)
Making faux shutters out of plywood: week 3
See the full reveal of the Entryway Stairway Makeover
Thanks so much for stopping by.
See our small sun porch makeover done for $800 – which includes small sun porch makeover done for $800
Scroll on down to see what all the others are up to in week#2 of the $100 Room Challenge —->