How to make lightweight large garden containers or planters that you can use for planting, holiday and party displays. This simple tip can be used in a variety of ways whether you are gardening or planning a bash.
I spied a super cool large garden container tip most recently when I was helping my friend Judy move. Among her many talents, she's quite the green thumb. When she gave me the chore of emptying the dirt and summer blooms out one of her large plant containers, "but leave the plastic bottles in the bottom," I came back with a, "say what?"
How to easily make lightweight large garden containers and planters
Did you know that there's a benefit to filling a large planter, bucket, or barrel with empty plastic bottles before you fill it with the intended items? You not only save on the cost of filler material (ie: planting soil), but it helps keep the container more light weight?
This was a new one on me. Is this a new one on you? Or have you been using this trick in your garden, too?
Since I felt like I just had an a-ha moment, and since Judy sent me home with this awesome rustic bushel barrel…
I thought I'd make a fall vignette pumpkin display knowing I'd be using much less hay than it appeared.
And my barrel would be much lighter weight. Because now, I was privy to one of the secrets of creating fall displays with large garden containers!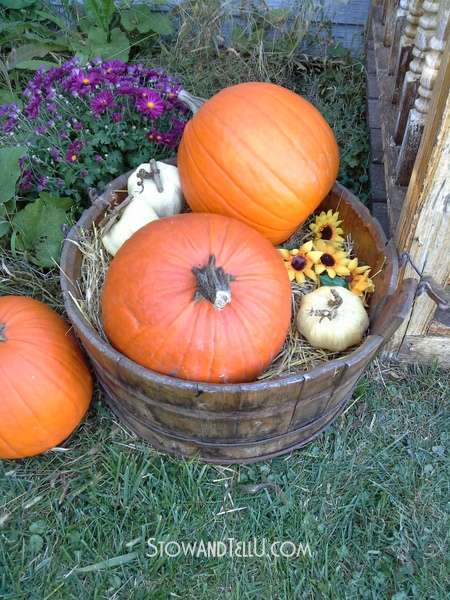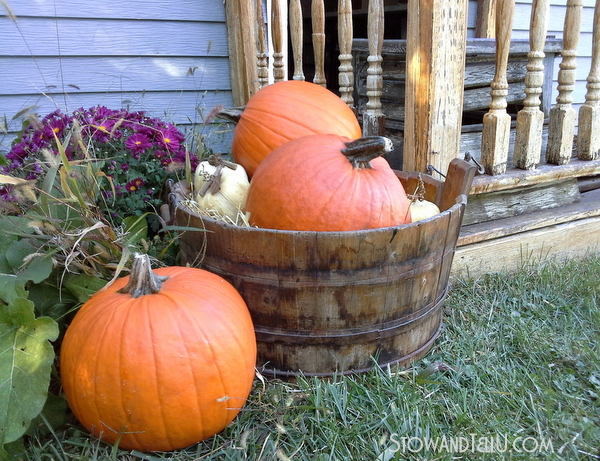 Not just for seasonal, wedding, and party displays either. But gardening container's, too.
I was amazed at how well my summer planter did using the plastic bottle trick.
I stated out with so few plants for this 4th of July summer container.
"Crowd the pot", is the saying, but I didn't buy enough plants for a crowd.
Nevertheless, the flowers liked sharing the container with the bottles.
I had to water daily the first week or two. After that, I've only had to water it a few times a week.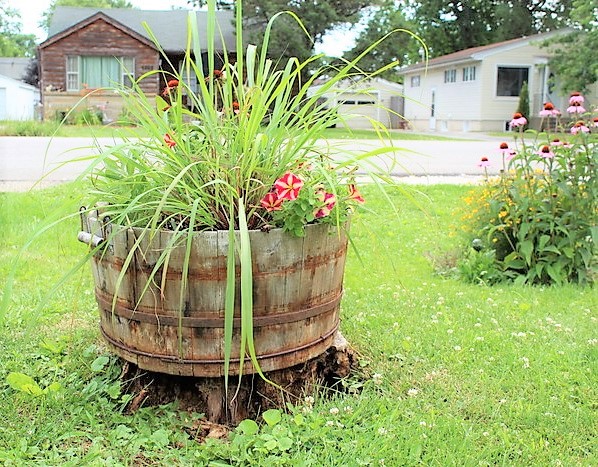 And again, the planter and plastic bottles were used for our flower and herb container planting for 2017.
Right on Judy, thanks for the tip!
This post was update on 8/21/19
More Garden and Outdoor Decorating Ideas