In my quest to find to perfect faux speckled egg texture, I have reached another threshold of speckled egg texture bliss. I won't call this perfection, no siree, but I tried a little something different from the splatter paint texture technique of last year. After making the paint dipped soup cans a few months ago, I knew that I wasn't quite done with speckling, I just needed a new angle. I think think this new method may be an overall improvement in trying to achieve the look of speckled eggs that I so love to see in abundance come springtime.
Speaking of abundance, mason jars are something I always have a boat load of, as we seem to collect an additional one every time we have spaghetti for dinner. Thus, a mason jar was my object of choice to try and speckle this time along my speckling journey.
I don't know how mother nature does it, making those speckles on eggs? But trying to mimic that look (to the best of my ability) onto mason jars was not as simple as I thought it would be, at least not at first.
My first attempt at this came in the form of drippy, blotch-ed mason jars that looked more like a finger painting by a muddy-pawed dog who decided to do a little splatter painting while he was at it.
(Sorry I don't have a picture of said attempt, as I was too busy banging my head against the wall asking myself why the laws of gravity didn't come to mind when I decided to drip wet paint over curvy mason jars).
So let me start at the beginning and…
I'll show you how I finally figured out a way to make a speckled egg texture on mason jar:
Supplies to Make Robin's Egg Decougpaged Covered Jars
Mason jars, or any kind (these used to be filled with spaghetti sauce)
Craft paints –
For the egg colors, I used Americana DecoArt in Blue Spa, Indian Turquoise, Buttermilk, White
For the speckled colors – I used Medium Grey and Burnt Umber
Baby powder
Wax paper
Decoupage – I used

Mod Podge

Matte.
Couple pieces of card board for testing colors
A few plastic trays to hold the paints and decoupage
Mix paint, add baby powder
Mix up paint colors for eggs. I made a 4 different colors for the jars: Blue Spa only; Blue Spa + dab of Indian Turquoise; Blue Spa + dab of Buttermilk; Buttermilk + dab Blue Spa.
Next I mixed up a small bowl with the ration of 1:1 part water/ part baby powder and added a teaspoon to each color, mixing well.
Next I painted three coats each to a bunch of jars and let dry (I did more jars than the pictures show).
Note: There are probably some craft paints that would give you the same holding power, such as DecoArt Multi-Surface Satin, but I did not have all the colors available to me so I went with the baby powder (chalk) paint recipe option. Straight craft acrylic paint probably won't work for this project. Make sure to mix in some kind of chalk base.
Testing out the speckles
Before I committed to anything, I practiced making speckles on cardboard.
I made small white speckles, and than larger ones with 2 colors mixes:
The first was a ratio of 3:1 Medium Grey and Burnt Umber. The second mix was a ratio of 3:1 Burnt Umber and Medium Grey. (Making sure to add the baby powder mixture in to these colors, as well).
To obtain speckles, simply dip the silicone basting brush into the paint, dab off the excess, and then hold the basting brush over a flat surface and let the paint drip. You may need to shake the brush a little, as well.
Sample the colors and speckles
This next step is optional, I sampled the colors on card board and added the speckles to make sure I was getting close. This helped me determine that the few drops of white made it look more realistic.
Crumple wax paper
Next, I ripped off pieces of wax paper large enough to cover a mason jar. Then I crumpled up the wax paper pieces, un-crumpled them, and then laid them on a piece of card board.
Note: I found that a standard roll of wax paper will cover a jar width-wise, so I only had to measure for the height.
Drip speckles on crinkled wax paper
Since I was more sure of the speckles, by now, I went ahead and dripped speckles over the wax paper, and then let it dry.
Prepare to decoupage jars
Using a sponge roller and Mod Podge, I prepared my area for the big decoupage application.
Decoupage and rip off excess
I rolled the Mod Podge onto the jar, and then on the back side of part of the wax paper, and then very gently began to apply the wax paper to the jar, and very gently patted the wax paper around the jars. Note: I did not put any decoupage on the outside until jars were completely dry.
I continued these steps until the jar was completely covered, tearing off any overlapping pieces, but leaving just a little overlap. Note: some speckles will fall off the wax paper as you are applying it to the jars, but most will stay on and become glued to the wax paper and decoupage as it dries.

I let the jars dry completely, and then applied 2 coats Mod Podge to the outside. This step will help adhere the speckles down to the surface even more.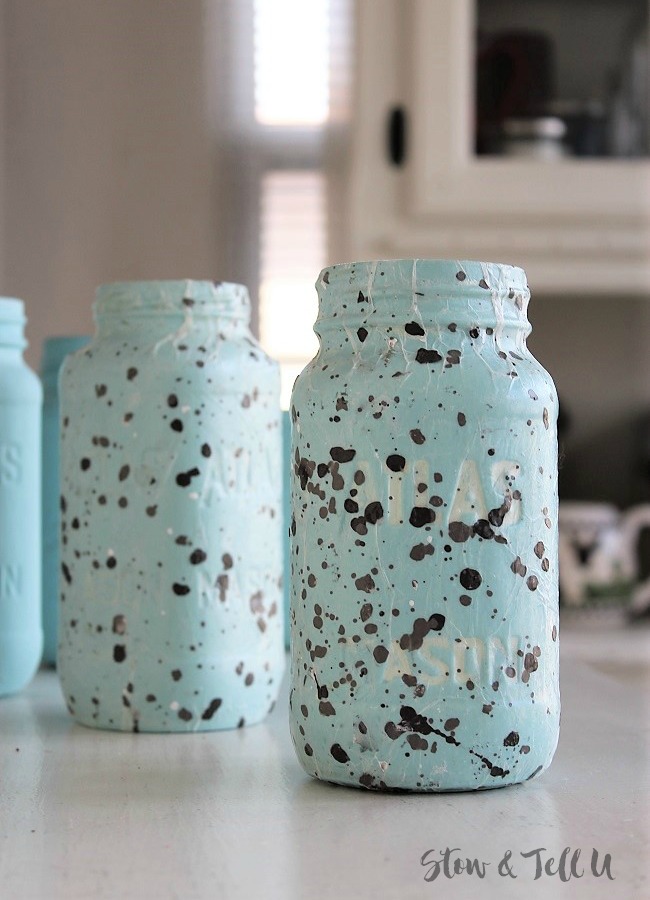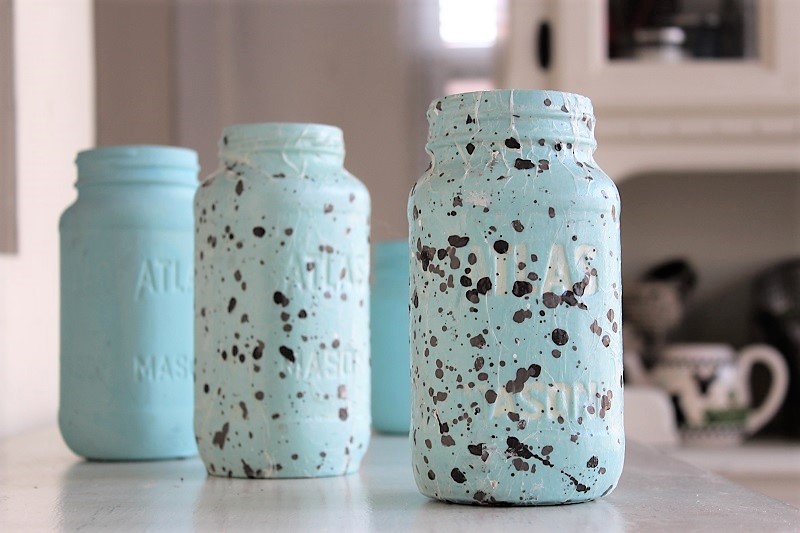 These faux speckled egg jars will be cute to have around for Spring. Filled with candy, I might be able to bring one as a hostess gift to Easter brunch.
Grab this FREE collection of Spring and Easter Inspired Printable Art Work —>
Modern Speckled Easter Egg FREE Printable Artwork
More Crafty Farmhouse Projects
Thank you for stopping by ~ Amy
Sharing at:
Pin or share on Facebook for later –>