I hope everyone is enjoying the holiday season. Ken and I have been working away on bringing the basement up to snuff. I can't say "back up to snuff" because I don't think there was ever a snuff before now. We have managed to create a cozier little TV area, and we have been enjoying it, but there is still a bit more to do before I show it off.
2014 has been quite a crafty year, here on the blog, and although I hope to do more than just crafty stuff in 2015, I wanted to share the 10 best craft diys from this year.
These are the ones that got the most pins, comments or shares, which I can only assume
means they are the best of the bunch!
An old pair of blue jeans becomes hanging storage.
A soda can gets a faux hammered copper treatment.
Mason jars get the look of speckled robin's eggs with a faux decoupage technique.
A salvaged and very dated lamp gets a whole new life when it's wrapped in cozy, new yarn.
Used jars and thrifted glass plates become ornamental (and usable) bird feeders.
Chalkboard paint gives shiny new chicken wire and aged and weathered look.
Chicken wire and old pallet wood make for pretty vertical hanging moss planters.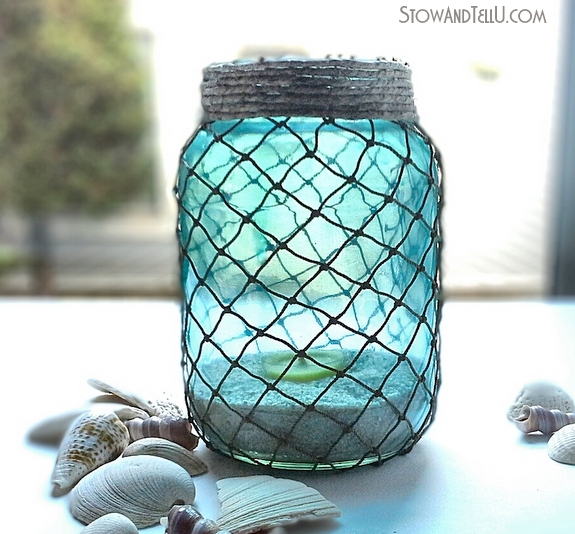 Another batch of used jars get wrapped with fishermans netting for a cozy coastal setting.
Used box lids and chalkboard paint make for cheap and easy signage.
A thrifted dome cake plate and vase get transformed into a friendly (or spooky) ghost.
Thanks for stopping by.
Please have a safe and Happy New Year and I'll see ya on the backside ;} ~ Amy
Linking up at: