It's amazing what the magic of a faux treatment can do to a countertop for a lot less money. If that method includes going over existing laminate countertops, we're probably talking about saving even more. Upon perusing the web for faux countertop ideas, my attention seemed to be drawn to the more rustic styled methods. Here is a collection of 5 that caught my eye and said, "I think I could do this!"
A few of these can be applied right over any old, new or outdated laminate coutertops. The others are a little more labor intensive and involve using new materials, but they really pack a punch and end up saving lots of money when you compare then with the cost of the real thing.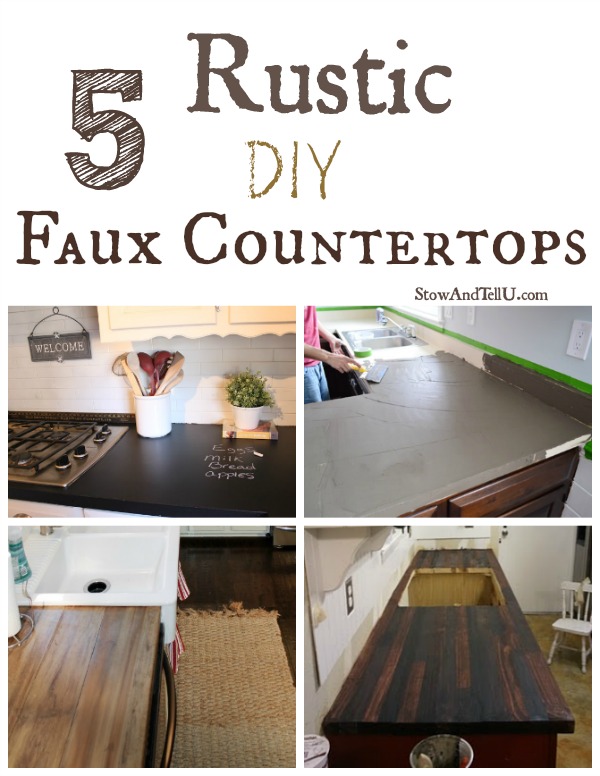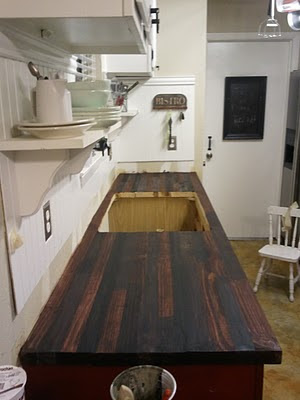 Can you guess how she got those butcher block stripes?
From Breakfast for Dinner, this dark stained faux butcher block really wowed me. It is a very detailed tutorial that includes using new wood but at a much lower price tag than real butcher block.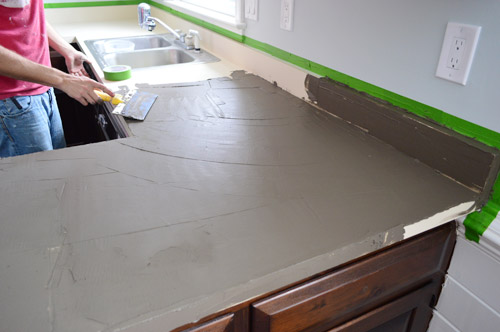 Good bye laminate. Good bye forever…
From Young House Love, a faux cement countertop treatment that can be applied right over your laminate. The tutorial gives you all the steps on how to use a product called Ardex with plenty of photos that show you the finished result.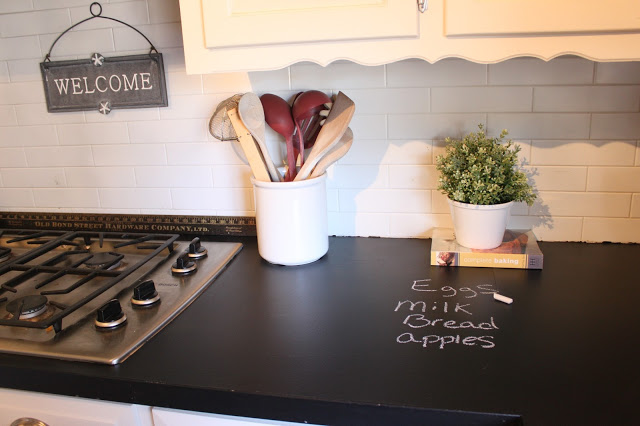 How fun would it be to write notes to your family right on the countertop? See how painted the counter top of a burlap decoupaged furniture side cabinet.
March Orchid went with a faux soapstone look using chalkboard paint and countertop paint right over her existing laminate. She didn't give it a finish coat of any kind, so she has been able to write on it, just like a chalkboard. She even gives a 2 year update on how it's held up since she first applied the treatment.
Sleek, yet rustic. Hard to believe this isn't real soapstone.
All Things New Interiors has another rendition of a faux soapstone countertop treatment that is a little pricier, and it does include a top coat which gives her countertops more durability and a sleeker look.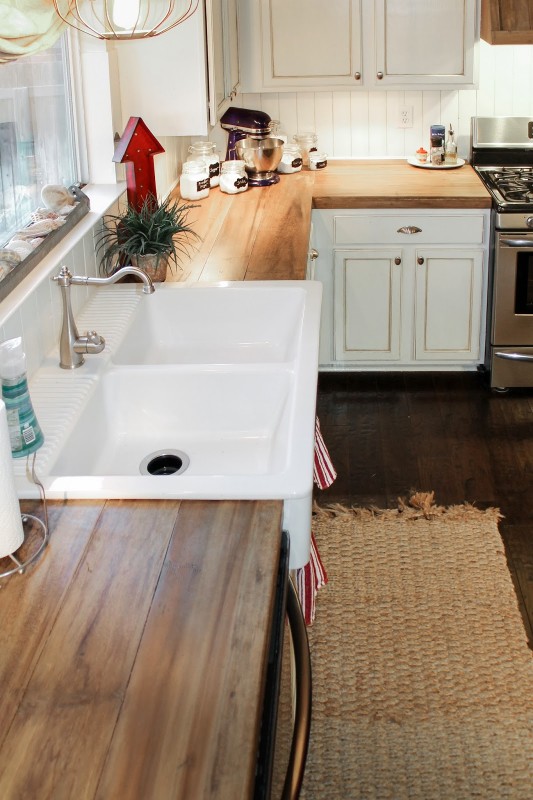 The BEST faux tips ever on making new wood look like reclaimed!
The Ragged Wren chose to go with faux reclaimed wood countertops. She even shares her creative tricks on how to make the new wood look like reclaimed wood which had me saying, "hmmm, pretty clever!"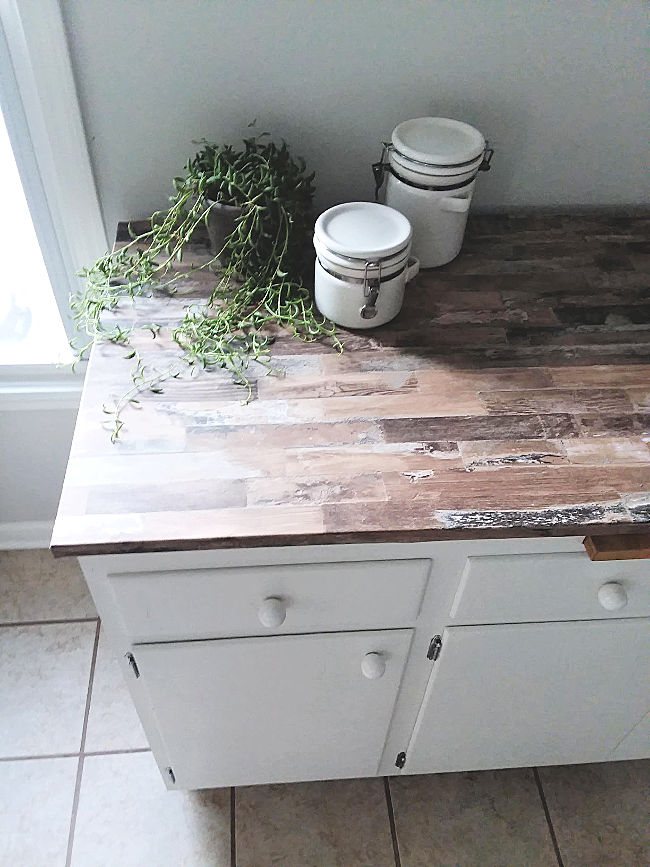 Here's one last idea using Removable Peel and Stick Wallpaper.
How to make a wallpaper covered wood look counter top
All of these have well explained tutorials that gave me a good idea of what I'd be up against if I wanted to try them out.
Rather than going for a shinier countertop look, that is certainly lovely, all of these faux countertop ideas would work well to accent a more rusticly designed kitchen or home.
The fact that they're all diy applications makes then a little more appealing to the wallet, but of course that comes with the task of doing it yourself.
If you had to re-do your countertops right now, which one of these would you choose to do?
We recently bought a new home and had virtually no counter top space. See how we created more kitchen counter space by moving our fridge.
Have a fauxbulous weekend ;D ~ Amy
More DIY Room Renovation Ideas
20 Make-Shift Kitchen Pantry Ideas
15 Tips for Painting an Exposed Basement Ceiling
Small Sun Room Update on an $800 Budget
DIY Over the Kitchen Sink Shelf