Looking for a quick and easy way to mount or hang board games on the wall as artwork? This idea cost almost nothing and allows you to take the game boards down at any time and use them for game playing.
As I rummaged through my stowaway stash of board games that had previously been hiding underneath our basement stairs, I came across several game boards that I wanted to hang up as artwork. I didn't want to frame them, however because there's always a chance that we may want to actually play one of the board games, and then we'd be out of luck. As it stands, I need all the luck I can get if I'm going to be playing Monopoly. I don't think I've ever won at that game, yet!!!
Easy way to hang board game art
Our collection of vintage board games. While some parts or pieces might be missing, we get by and still want to use them from time to time.
This post contains affiliate links. Read full disclosure, here.
Since I had used command strips to hang the coffee sack art, I began to wonder if I could somehow use that same idea to hang the board games. After some thinking on it, bulldog clips
came to mind and then Ken pulled out his stash of 3M Command Clear Decorating Clips
and we were in business. We did not want to drill holes in the cement wall for this project, but if you have drywall, paneling or wood walls, then nails could be used in place of the 3M Command Clips.
Simple game board mounting hangers
I used 2.25 inch sized metal clips. The clip size can vary, but I would suggest using a medium to heavy duty size and strength-rated clip. I painted my clips with a coat of spray paint and this is, of course, optional, but I didn't like the look of plain silver for this project.
I have since found bulldog clips come in many colors and finishes, like this 4 color finish collection of metallic finished clips which includes black. These are great to have around for everything from clipping chip bags to organizing paperwork or mounting artwork.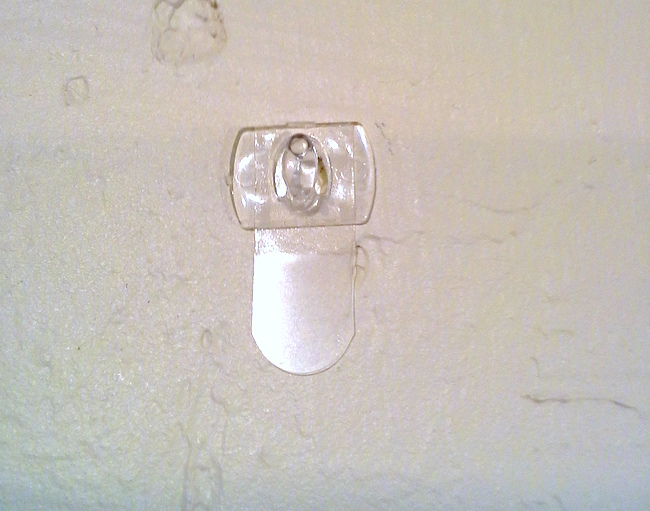 I attached the 3M Command Decorating Clip to the wall, and used the hole in the bulldog clip to create a hanger for the board game. As I mentioned, nails could be used in place of the plastic clips for non-cement walls.
Tip: You can heat up Command Strip with a blow dryer before you attach to the wall. Allow strip to fully cool down before attaching the bulldog clip.
Note: I did have to use my finger to wiggle the plastic hook of the decorating clip around a bit to kind of loosen it so the bulldog clip would hook on, but that was the only adjustment I had to make.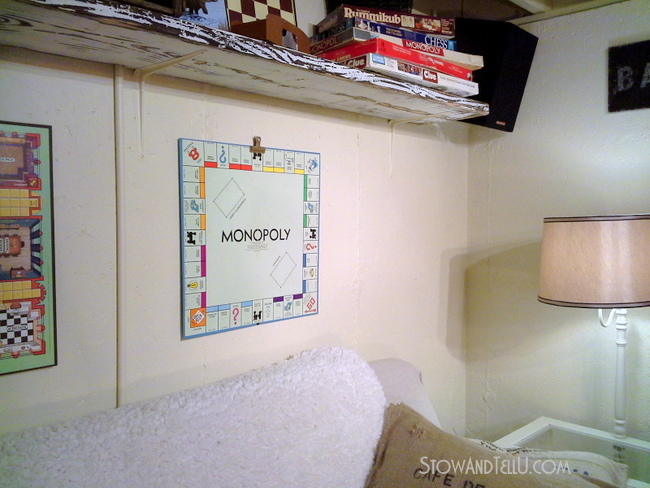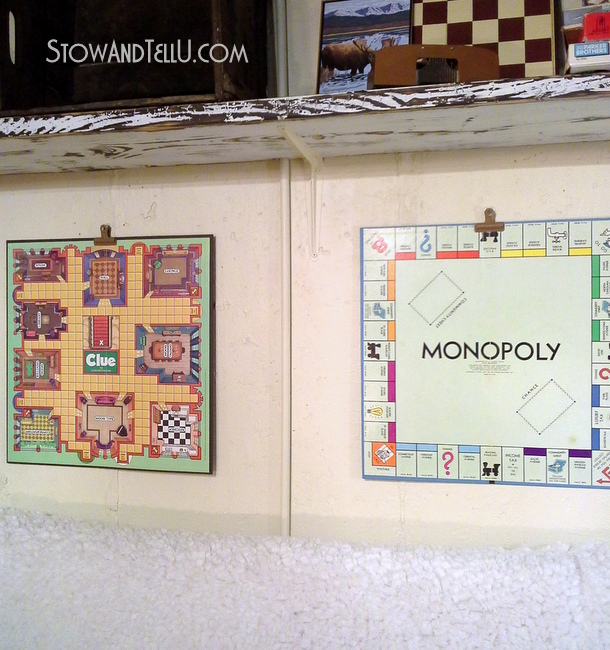 What I like about this is that the game board can be removed at any time to be used for play and the board games can be switched out based on decor.
Who knows, maybe I'll find some older, more vintage ones along the way and switch these out.
I also like that this doesn't harm the board game in any way because, hey, since computerized gaming has come along, these board games may become fewer and far between.
Do you still have your old board games? Are you missing any of the game pieces or have you managed to keep a complete game set?
Somehow, I think I have extra pieces of some, while other pieces are missing completely.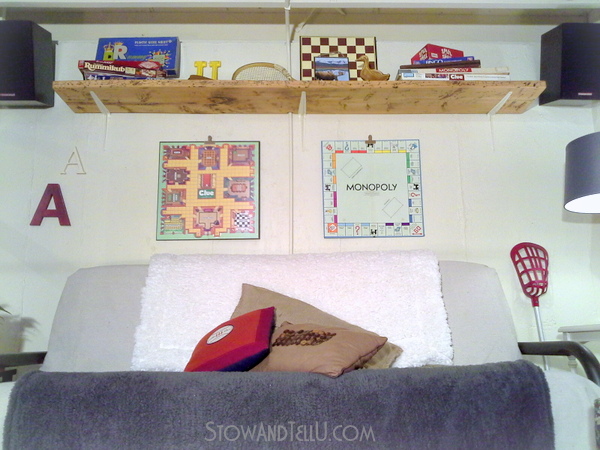 You can see more basement update posts, here.
Save for later!! Click here, to pin and save this idea for later reference!
Additional Game Room Inspired DIY Ideas
Hope you roll doubles! ~ Amy
Linking up at: