The basement is morphing into a game room one little project at a time. Just as well considering when you walk down the stairs, one of the first things you see is a standard sized pinball game. That baby takes up a lot of room. But it's one of Ken's babies, so it's a keeper… although a pub table would fit in that spot SO well…just kidding, honey;)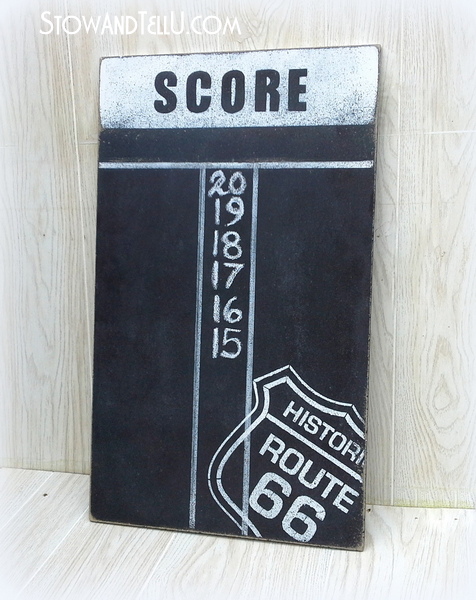 Black and White Route 66 DIY Dartboard Score Board
I am a big Route 66 fan, and so I was excited when Donna at Funky Junk Interiors created a several Route 66 stencils and made them available for purchase through her new line of Old Sign Stencils.
Route 66 Stencil
I purchased one, asap and received it in the mail very soon after, which was cool because I was pretty psyched!
My first inclination was to start stenciling Route 66 on everything!!!
How fun that would be? Route 66 kitchen cabinets, Route 66 refrigerator, Rte 66 curtains, Rt 66 sidewalk…
But I reigned myself in (for now) and made a Route 66 DIY dartboard scoreboard for the basement to add the the gaming gala that is going on down there.
Is started with an old, grungy piece of particle board that was just about the right size for a scoreboard.
I painted it with chalkboard paint.
Using store bought stencils for the word "score"
I used basic stencil letters to create the word "score".
I added some lines similar to that of an actual dartboard scoreboard with a paint pen, ruler and the eyeball method.
Applying the stencil art
Then I got out my new Route 66 stencil and some white craft paint.
And I followed the Funky Junk tutorial on the basics of how to stencil, here.
Once dry, I gave the whole thing a good sanding and that was it.
It now hangs in the basement near the Route 66 shelf, the Route 66 swivel chair and the hanging, but usable game board art.
Additional Game Room Inspired DIY Ideas
Linking up at: