Living in Illinois, most of my small garden patch is made up of native prairie plants which thrive each year come whatever unpredictable weather our climate may surprise us with. Thing is, once you plant a native, and it takes hold, it just keeps coming back from year to year. There isn't much more to it. That is why I like to add container gardens to my yard for an added boost of color. This year I made chicken wire planters, or containers if you will which was a project in and of itself. I think they turned out pretty darn cool if I do say so myself.
Now, it was another step altogether to actually fill the chicken wire containers with flowers and moss.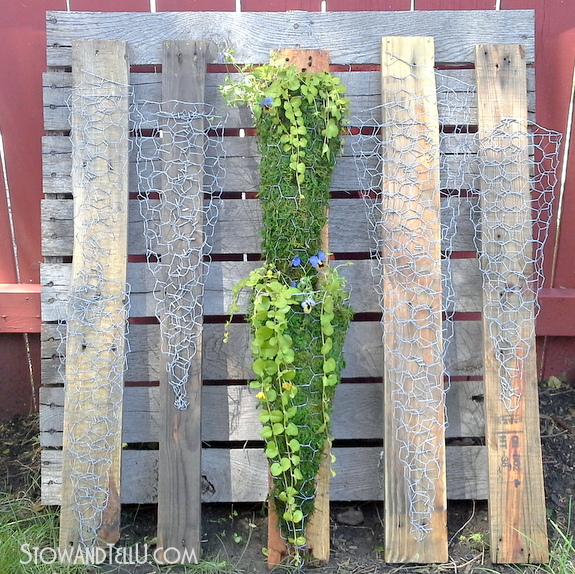 These are the planters I made recently with pallet wood scraps and chicken wire.
The following example is for how to plant cone-shaped chicken wire containers with moss and flowers, but the same concept will apply to any shape of a chicken wire planter.
Supplies
Chicken wire container (see how to make your own on pallet wood scraps, here)
Container planting soil
Vermiculite
Peat moss (optional)
Moss sheets
Moss
Screen material, or natural burlap, or a plastic liner (best option)
Scissors
Trailing annuals or plants that do well in container gardens and in your zone,
Here are some suggestions from plantersplace.com
Cut a square moss sheet in half diagonally.
Form the moss sheet into a cone shape and insert it inside the cone-shaped, seam side down. To get the moss down into the bottom section reach fingers in through the chicken wire and pull down.
Cut the screen material, burlap, or plastic liner into a trapezoid shape.
I went with screen material because that is what I had, but alifeofwhimsy.com has a very helpful tutorial using a plastic liner, such as a plastic bag. The plastic liner will keep moisture in the container longer and is probably the best option for most climates.
Alternatively, Roger's Gardens also shares a very helpful video using sphagnum moss.
Form into a cone shape, fold, and pinch the bottom.
Insert into the chicken wire frame inside the moss sheet, seam side up. To get the liner down into the planter all the way reach inside the container and push down, making sure the bottom stays folded.
Trim off the excess of both the screen liner and the moss sheet.
Add soil mixed with vermiculite to 7/8 full in the container, and then start adding plants.
Crowd the pot.
Make sure the roots are fully covered.
Water according to the planting instructions on the plant containers.
Top off the plants with natural moss pieces.
The natural moss placed at the top works as a mulch of sorts to protect the base of the plants, hold the soil in place, and keep moisture in.
I tried to choose plants that would work well in my climate and with the proper sun/ shade exposure.
I think I made a few too many for my small yard, but I do have a few friends with birthdays coming up.
I'll consider my gift shopping done, for now.
Hope your day is moss-tly sunny ~ Amy
Other Moss and Chicken Wire Projects You Might Like: