We finally reached the phase in our basement update where we could use our under the stairs area as a storage space again, but the challenge was how to cover the view of the storage space that was keeping all of those household items that just don't look pretty in plain sight.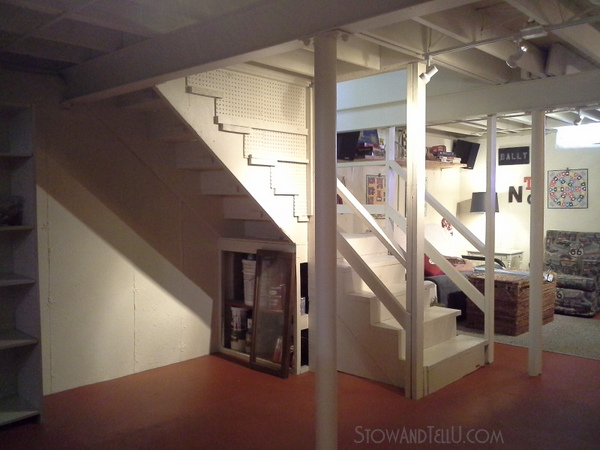 The items that we only need to pull out occasionally like camping gear and house paint went back under the landing section, as that is the area that is most awkward to reach.
I kept the items that are used more often or are too large to go under the landing more accessible by storing them right under the section of stairs that leads down from the main level.
The dual challenge was 1) that I wanted to cover the view of these items either fully or partially, and 2) can I apply the "use what you have" decorating method, because I really didn't want to spend any money, or very little at the most?
One thing I have found is that if I just give an idea some time to jumble around in my brain, something workable arises, at least often enough.
My first thought was to hang two curtains, one along the backside and one along the run of the stairs as they lead down. Great idea, I'm sure not original, but it would work for me, no problem.
So I hit the local thrift, and I found one brand new, dark gray Nate Berkus curtain panel for $8 , but just the one. I went ahead and bought it, because the dark gray matched the table lamp with the new look and a few other items.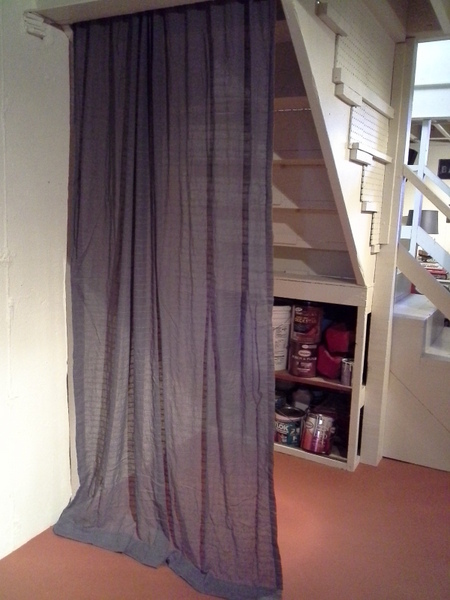 The NB panel was hang along the backside with a tension curtain rod ($2).
Now I was still left with the front side, so I hemmed and hawed until it just made sense, at least for the time being, to place a wooden door that I already had over the front facing section.
It's pretty heavy, so I may add handles to the door, and we will add two hook and latch jobbers to the top left and right side to keep it from falling in the event of an earthquake –> or a family party.
This isn't finished just yet!
I'm thinking the door needs either a few coats of white paint, a white wash or a gray barn wood stain. Maybe I'll even add a few hooks for hanging items like plants, coats, photo frames, etc..
I'm also thinking I could pack more storage under the stairs with the use of hooks for hanging items, etc.., but as it goes right now, this covered under the stairs space is doing a good job of buffering my lovely basement from looking like an all out storage area.
Meanwhile, and working my way toward the laundry area, I've gathered all of my craft drawers and have another "use what you have" idea coming up to make these no-nonsense plastic bins blend into the basement scene.
More inexpensive basement update ideas:
15 Tips for painting an open beam ceiling
How to save time when painting your stairs
Grain sack Sauder cabinet makeover