This simple charging station basket is something ANYONE can quickly make to tidy up their charging station area and hide all that techy mess of mobile charging cords.
How to make your own DIY Charging Station Basket
Choosing the right basket
First, consider basket shape and size. There's a variety of basket shapes you can use, so be creative, but avoid baskets that are too large and too deep. If you find a basket that's the right size and shape, but the wrong color. Fear, not. You can always paint it with spray paint, chalk paint or even chalkboard paint like these baskets.
I had this somewhat shallow and elongated basket in my stash and it works quite well for lining up several phones or tablets. It also fits nicely on our side table in the living room.
This basket shape is also great if you'd like to get the hidden charging station effect by laying the phones or tablets down into the basket.
How to hide the phone charging cords
Next you want to consider how to thread the cords into the basket so it doesn't look like a phone charging station.
Some baskets have a wide or pliable weave that allows you to feed the charging cords through one of the weave openings. Other baskets have natural weave openings that with a little finger pressure you can squeeze the cord heads through. And if the basket has tighter weave and is of a rigid material, you can use a pair of scissors or a garden snips to cut off a piece of the weave material near the bottom of the basket.
The basket I used happened to have a piece broken off near the bottom. Which is where I fed the cords through for mine. But do note: the basket I'm using for this example is made of a rigid fiber that will not start to unravel from one small missing section. So be a little cautious with the type of basket you would consider cutting a notch out of. Thrift stores have boat loads of baskets and for a few dollars you could probably find one that will work for you.
Tip: Touch up any blemishes on the basket with a stain marker or paint marker that is similar in color.
The best place to put a phone charging station
Lastly, you want to consider where to place your phone charging station. You want it to be in a spot that is out of the way, but has easy access for everyone who will be using it. You also want to locate an area that gives you access to either multiple outlets, or an electrical power strip. If you can find a spot that keeps the cords and the outlet out of view even better.
We ran the cords through the back of the basket and then down to a power strip on the floor located behind our crate style side table that's just been recently refinished with gel stain.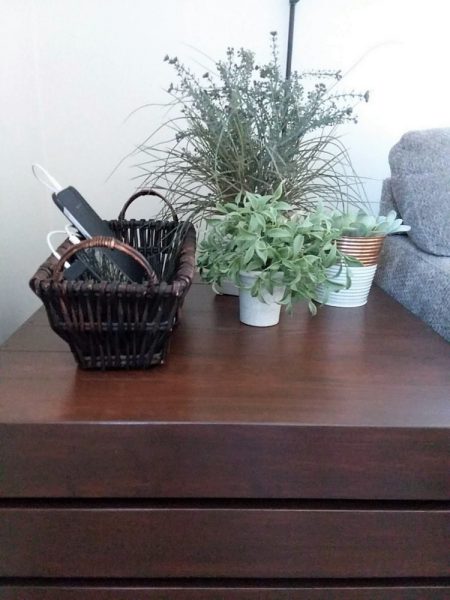 As you can see, our charging station in a basket is very discreet and unobtrusive. You don't see a jumble of charging cords and it's definitely not an eyesore.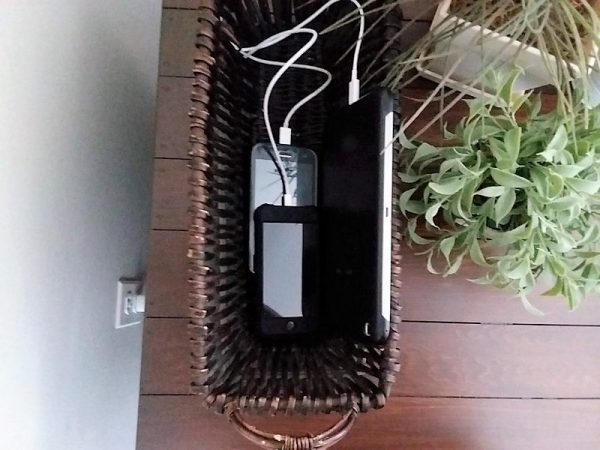 Using a basket as a phone charger is just one more way to declutter an area in your home and make it appear a little more cozy and organized. Don't have a basket? Consider using a desk organizer, an old dining utensil holder, or a hanging mail organizer, or these other alternatives.
More space saving crate and basket ideas
DIY Basket Divider and Remote Control Holder
Chalkboard Spray Painted Basket Upcycle
Storage Tips for an Open Kitchen Rack