I've got some FREE Winter Printables that are ready to download, print, and use for the holidays and beyond? This print set is a collection of two winter scenes, a winter botanical, and two gift tag options. And because it is coordinated in color and pattern, you can combine various pieces of this bundle together to help you decorate, not only for Christmas but throughout the rest of the winter.
The whole kit and caboodle is complimentary to our email subscribers. Thank you so much for your readership. Get the details to join our Free Resource Library, here, and we will the secret password to your inbox, asap.
Already a member? Click here, to log in.
FREE Winter Printables Artwork and Gift Tag Set
As noted above, these are all color-coordinated to mix and match. You can easily place them in picture frames, add to a clipboard, use them as name place tags in your table settings, and more.
Winter Printable Artwork
You can print out all three and hang them together as a set, or place them around your home as a sort of evergreen and botanical Christmas theme. Alternatively, you could print them in various sizes for variety. And of course, you don't have to frame them at all, especially if you have a clipboard frame.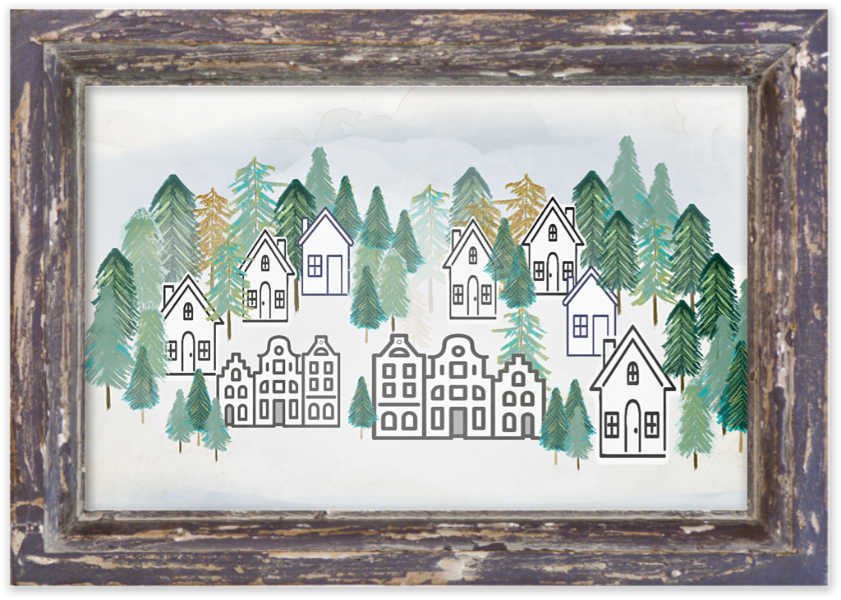 Winter Village Scene
We have a Winter Village Scene that has the appearance of being set on a hill with white houses and town buildings, surrounded by lots and lots of pine trees.
Winter Forest Scene
There is also a Winter Forest Scene, which is a cluster of evergreens with a modern touch of metallic gold.
Winter Botanical Print
And then there's the Winter Botanical Print that is pattern style and complimentary to the winter scenes. See our Summer-Fall Botanical Set, here.
Winter-Christmas Gift Tags
Both of these tags have the vintage luggage tag shape.
Winter Botanical Gift Tag

Christmas Gift Tags with Cheerful Holiday Sayings
Suggested Printing Options for Best Results:
Consider printing the artwork on 8-1/2″ x 11″ matte photo paper.
The best option for print the gift tags, I suggest printing these on 8-1/2″ x 11″ card stock ( 65lb wt). Tip: Trim down individually with scissors. Use a hole puncher and add tie on a loop of twine. (If you don't have a hole puncher, carefully use a pencil or larger nail to poke the hole.)
The gift tags can be used for more than just Christmas gifts. Turn them into place setting name tags; Make twine napkin rings and attach the tags as an extra touch; bundled wrap silverware sets with twine and add the tags that way.
The winter artwork can easily stay up past Christmas as winter decor that you can take down when the temperature outdoors starts to rise.
I hope you are finding ways to enjoy the Christmas and winter holiday season, and I hope that this art and gift tag set of winter printables will make decorating and gifting a little easier and budget-friendly.
Once again, if you're not already a member, go here for the sign-up details.
Current members, go directly to the Resource Library and enter the passcode, here.
More Holiday Ideas for the season