Dare I say that, Binge TV = Productivity? Well, let's break it down. If a definition of productive is obtaining results or benefits; and if watching your favorite series on Netflix is fun and relaxing; and if relaxation is a positive result. Then wouldn't that mean that binge-watching Netflix is productive behavior?
Yes. I think, yes.
But what else can we do during the winter, once we've binged watched ourselves into oblivion and we need a break? LOL.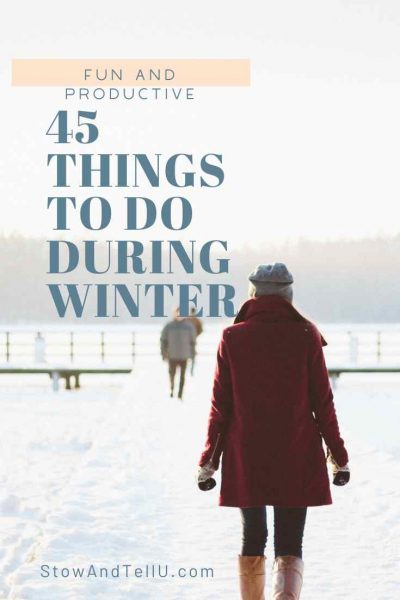 Check out this list of winter fun ideas that are either free, budget-friendly, close to nature, productive, or slightly adventurous.
This post may contain affiliate links. See our full privacy and disclosure policy.
Fun and Productive Things to Do During Winter
Let's start with a few obvious activities, and then move on to some other ideas that may not have crossed your mind
Things to do during winter that will get you movin' and a-shakin'
Take a walk or hike outdoors
Unplug and take a walk in your local forest preserve, woodlands, or walking path.
Take a short walk when the snow is actually falling. This is the ultimate time to capture that moment of peacefulness because falling snow absorbs sounds and noise. Give it a try and see how quiet the world feels.
If you are short on time, simply stroll your own neighborhood to get some fresh air. It might give you that little bump you need to get going on an indoor project that you'd like to accomplish.
Play in the slow
Go sledding. Seek out a sledding hill nearby and let gravity take its course. Following that up with a round of hot cocoa is definitely recommended.
Make snow angels. Or better yet, make snow angels, take photos and vote on the best one.
Build a snowman. Have a snowman-building competition.
Find an outdoor ice rink and go outdoor ice skating. Of course, indoor skating will work, too. If you don't feel like getting cold, opt for roller skating.
Other ideas include cross country skiing, snowshoeing, and tobogganing.
Go indoor swimming:
Although you probably don't want to swim outside, there are plenty of indoor pool options open year-round. Many indoor pools these days have skylight features that let in some of the natural sunlight that we miss by being indoors during the colder seasons.
Consider your local park district pool.
The YMCA
An indoor water park
Or stay just one night at a hotel with an indoor pool.
Sites such as hotwire not only offer great prices, but they also have great search tools when you want to narrow down amenities, such as an indoor pool that really rocks.
Visit your local downtown center
Travel to your local downtown area to peruse the local shops, book stores, or antique stores.
Go window shopping. Window shopping means no buying, just looking. There is plenty to see without spending a penny.
Have lunch or coffee at a casual cafe. If you find one with a fireplace, even better.
Kill a few hours playing board games at your local cafe. As long as it is not busy and you're buying snacks or beverages while you're there, of course.
Don't forget your local library, it's free!!
Related: 53 Ways To Watch TV And Be Productive
Take a tropical day trip
Although the local surrounding may have plenty of cold-weather nature to take in, consider some of these indoor places that house climate control and tropical settings.
A trip to the zoo. (Not all have indoor areas, but some certainly do)
Aquarium
Conservatory
Low budget option: visit the pet store to get a mini tropical boost.
Indoorsy type things to do during winter
Host a winter get together with these party ideas:
Embrace the cold and chill out in good company with family, friends or neighbors by having some kind of get-together that relates to winter.
Host a sledding party. Layout the makings for a hot cocoa bar with various cocoa flavor options and lots of marshmallows.
Have a Chili cook-off. Dare your friends to make their best chili recipe and partake in the challenge. Set up a power strip, so everyone can plug in their crockpot and let the tasting begin. See this scrumptious Tex-Mex chili recipe which can be made with leftover grilled hamburgers or fresh ground beef.
Plan a Mardi Gras dinner. Ask everyone to bring their favorite Mardi Gras dish and surprise each other with what that might be.
Fish Fry Night. Find a local place that holds a fish fry and go out to eat as a group.
Game night. Set up a weekly or monthly game night and ask everyone to bring a snack to share.
Sign up for a winter session class and start learning
Once again, focusing on something other than the cold weather can help pass the time.
Consider taking a class online.
At your local college.
Local township or park district.
Many classes are geared toward continuing education, cooking, crafts, and financial wellness to name a few.
Organize Something:
While on the surface, organizing may not seem fun, we can all agree it's productive. The fact that you will feel so much better when you've finished organizing something is like a shot of B vitamin. And since you're cooped up inside anyway, this will give you a chance to get something checked off your list of to-dos.
Organizing your income tax paperwork is one great place to start.
Clear out and store away last year's bills and receipts.
Set up your filing system for this year.
Create your own portable office tote.
Clear out the photos on your phone. First, make sure to download them all to the cloud and then create albums so your pictures are easier to find later.
Organize a room in your home, or just focus on one area like a closet.
Declutter one of your indoor spaces, or get on a decluttering schedule with this one-hour weekly planner.
Make some awesome plans for the year
Start thinking now about what's up ahead for the year and put some plans into place to make it happen.
What do you really want to accomplish this year? Set some goals and write them down somewhere that you can see the list and refer to it throughout the year.
Where do you want to go on vacation this year, see these tips for planning your trip, and is it in the budget?
What do you need to start a garden this year, and what would you like to plant?
Plan a home improvement project and maybe even get started on it.
Cook or Get Crafty:
Don't just sit there, make something. Getting yourself busy with a small craft project or hobby, or even trying a new recipe can draw your focus onto the matter at hand, rather than the temperature outside.
Do some knitting or hand knitting (which is not as hard to learn,) for example, try hand knitting a blanket.
Try painting your own piece of art that you can use in your home. If you've never done any painting before, for starters, try learning how to make your own drip art.
Grab a sketch pad, an easy drawing lesson book, and learn how to draw. Draw your own winter scene. See how you can draw pine trees, here.
Photograph your own winter scenes, see these tips for best practices, although you may have to actually venture outdoors to do that.
Start making Christmas gifts or cards for next year.
Try a new recipe that you've been drooling over.
Make a trendy sheet pan meal. I made this pork tenderloin recipe. Amazing.
Cook and store your own freezer meals. See this list of 35 meals, from Dinner at the Zoo.
Bake some cookies, brownies, or a beautiful winter cake, like this one.
Find a balance of productive and relaxing things to do this winter
Try to get a bit of exercise. Spend time with your favorite people. Make sure to sit near a cozy fireplace at least one time. Lastly, stop, look and listen to winter. Try to embrace it for what it is and remember that spring is not that far off.
Post updated: 1/11/20
9 Things You Need to Do Now to Save Money and Sanity Next Christmas