Is finding time to do a full-sweep decluttering showdown a problem for you? How about finding others to help you get it done? Or coming up with the cash to pay someone to help you with it?
I can relate because last post-Christmas, I was in a quandary about all of this myself.
The story goes kind of like this.
I had gone down into my basement for something, took a look around and felt defeated. Our junk was never going to go away on its own, but I also knew I didn't have the resources to make it all go bye-bye in one fell swoop. Or even close.
Yet at that particular moment I just couldn't take it anymore. I was in the middle of something else, but I decided to take one hour to sort and remove whatever I could, merely to feel like I'd done SOMETHING to make it better. By the time the hour was up, I had managed to gather about 2 bags of garbage and fill up one box for donation. In addition, I put the items I still wanted to keep aside to deal with later.
Then I went back to whatever I had going on that weekend, but, the point being, I felt accomplished and ever so slightly less encumbered.
FREE Printable One Hour Weekly Decluttering Tracker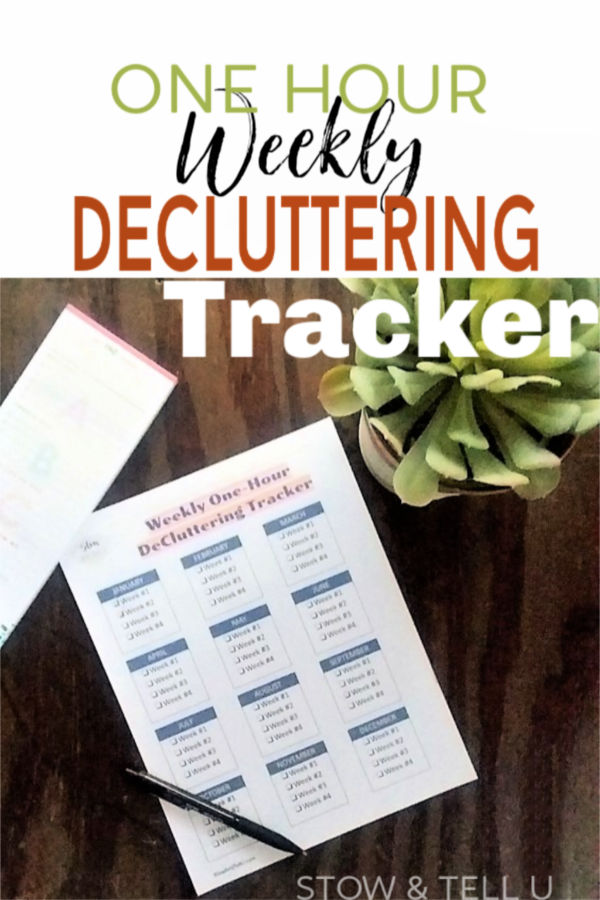 Turn Your One Hour Weekly Decluttering Sessions into a Routine
Moving forward from there, I decided that since I had no one to help me (Ken was working 2nd shift, six days a week), and I couldn't afford to pay someone to assist me, I would try once a week to spend one hour decluttering.
And you know what? While I didn't always complete the one hour decluttering session every single week, or at the exact same time, or on the same day, per se, I did stay consistent enough with the process that it had become a regular practice by the end of 2018.
As 2019 has begun, we're still not totally clutter-free, and I'm not sure we ever will be; however, we are getting rid of our excess slowly but surely.
I originally started clearing out our basement storage room, but since the process has become more of a mindset, I've also tackled many of the more lived-in areas of our home, as well. One example is the removal of excess furniture and belongings on our sun porch. That enabled us to makeover our small sun room with a spacious and fresh new look. I also organized and removed unnecessary items from many other rooms including our living room, kitchen, bathroom, master and office/ guest bedroom.
All of the clearing out and simplifying was done in weekly one hour stints that have become a routine of improvement for a cozier, less cluttered home.
This process has really worked well for me and I know it would help you, too.
The free printable decluttering tracker is available to download from our Resource Library which you can gain access to below—>
If your are already a member, go straight to the Printables Library, here.
Grab this free printable tracker now. (Filed in the Resource Library under Storage, Organizing, Decluttering)
Start with one hour at a time and check off your progress.
Work it and see how habit forming short stints of clearing and organizing can become over time.
Click on this link or on the photo of the tracker calendar below to gain entry to our resource library to download the ONE HOUR WEEKLY DECLUTTER TRACKER. (Filed in the Resource Library under Storage, Organizing, Decluttering)
Set the stage for Success by creating staging areas for the clutter that needs to go
With this decluttering approach, it is helpful to set up a staging area in your home to gather the clutter over several weekly sessions before you actually move it out of your home. Then you could spend one session alone, clearing out the groupings of "junque". Read more on this further below.
Staging the excess in piles over several weeks is a great time saver (and a potential money saver) because the items will be poised and ready to clear out. And at that point you can get help from others or pay someone to remove it for you.
Try grouping off your clutter into piles as such:
Save Pile: There are always items we want to save, sentimental or otherwise. Find a safe place for the sentimental stuff. You can spend one of your hour sessions just finding new places to put those items. In addition, many of your save items could go right back to the focus area of the week, or to another spot in your home.
Sell Pile: Many choose to sell some of the more valuable items. If you'd like to do this, find an area to place these things. When you get a good lot of items that are sellable, then spend one or two of your one-hour sessions doing the work of selling them, ie: photos, Facebook Marketplace listing, etc…
Donate Pile: Plenty of organizations will accept gently used items. If you'd like to donate some of your clutter, locate a spot to stage all of these items. Boxing or bagging the items will make it easier to remove from your home.
Recycle and Trash Pile: Stage an area for your recycles and trash. While the other piles of clutter may sit for a few weeks, hopefully you can remove the trash and recycles on your next garbage day.
Click here, to see 20 Small Space Kitchen Pantry Ideas
Tackling your excess in one hour weekly decluttering sessions can take a while to see results, but it's also very low-stress and great for those of us who are short on time.
Use the tracking calendar to your advantage. If you work at little past an hour, don't sweat it. Maybe you'll do a few one-hour sessions and then feel up to working for a few hours one day. That's okay too. Go easy on yourself if you skip a few weeks or take the summer off. Just get back to it when you're ready to do more and pay attention to how the practice of doing short bouts of sorting through and removing excess will start to become second nature.
Want to get your kitchen organized for the holidays? Check out these 7 easy decluttering tips for a holiday-ready kitchen.
Here's to a happy, healthy, cozier NEW YEAR! ~Amy
<<Grab the FREE Tracker by signing up to gain access to our resource library, here.>>
Find this Weekly Tracker filed in the Resource Library under Storage, Organizing, Decluttering.
If your are already a member, go straight to the Printables Library, here.
DIY Projects to help stay organized