Cover paint sticks with paper and decoupage and turn them into a magnet set for your refrigerator or message board. I made a set using old maps and travel inspired scrapbook paper for my kitchen update. I made an extra set as a house warming gift for my cousin, while I was at it. I went with a travel theme, but of course, one could get daring and use any kind of paper to make up a set of these magnets. I've decoupaged storage boxes, lazy susans and faux canvas photo frames, but I'm pretty sure that this is the easiest decoupage project of have done, to date… and you would probably agree!
How to make decoupage paint stick magnets
This post contains affiliate links for your convenience. (See full disclosure, here.)
Supplies:
Maps, scrapbook or wrapping paper
Paint sticks
Magnets (I went with these heavy duty 1″ round magnets
)
Decoupage (I used Mod Podge Matte
)
Hot glue gun
Sponge craft brush
Optional – foam or chipboard letters
(make sure they are the right size)
Lay paint stick down on the back side of your paper and measure ¼" to ½" around. If you use 12" x 12" scrapbook paper, than you will only need to do this for the sides. Paints sticks are usually 12" long, so the ends will be even up with the length of the paper.
Apply decoupage to one side of the paint stick, to the paper, and then center and lay down paint stick.
Cut out the four corners on the paper (skip this step if you have 12" x 12" scrapbook paper); and then cut slits near the divot in the paint stick and on the ends.
Apply more decoupage to paper and paint stick and wrap the paper around the back side of the paint stick starting with the divot and ends first, and then the rest of the paper.
Apply a coat of decoupage over the backside and smooth with your finger, especially near the divot and ends. Use a little water on your finger if you need to. Let dry.
Flip paint stick to front side and apply a coat of decoupage, smooth and let dry.
Add foam or chip board letters if you would like.
Hot glue magnets to back side. I used three or four per paint stick.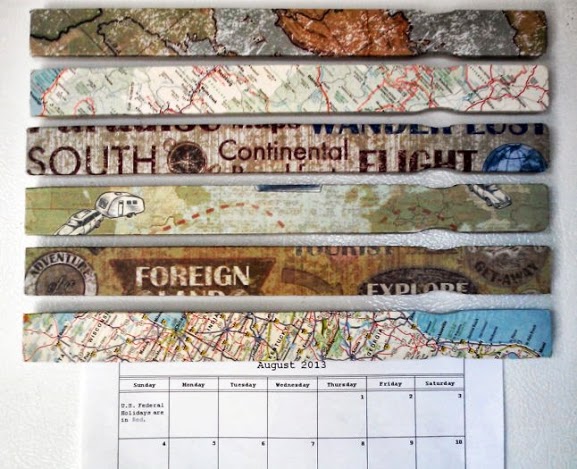 Removing the hodge podge of magnets from my fridge and replacing them with these paint stick magnets has helped me de-clutter my usually-much-avoided message station. Less distraction, know what I mean? That house warming party isn't until mid-August. I'm not going to wish any time away, but at least now I have a gift ready to go!
Another fun and easy magnet gift idea: 5 Minute Craft Bottle Cap Magnets
How many different types of magnets do you have on your fridge at the moment?
Other SIMPLE craft ideas:
Decoupaged Tissue Paper Luminaries
Travel Inspired Decoupage Camping Lantern
Robin's Egg Pattern Decoupaged Mason Jars
Make Your Own Signs Using Chalkboard Painted Shoe Box Lids
Sharing at:
The Best DIY Projects of 2013 Contest
Freaking Awesome Fridays @ Mellywood's Mansion