This is an idea craft that was born from the twig name plate I made for my nephew. I was originally going to use a coloring page as the background for the twig name, but found that the twig name didn't stand out like it did on glass.
Coloring Page Name Plate for a Child's Room
I had some colorful foam letters that I thought would be fun, instead.
Since this was just an idea craft, I'll be throwing out random alternatives to how I made these, I hope you don't mind.
I used card board to make these, but a piece of wood would be more durable, no doubt.
Another way to get this effect would be to use the coloring page as the backing on a picture frame.
Supplies used to make a Coloring Page Name Plate
Card board – Corrugated type – approximate size 12″ x 10″
Coloring pages – Either printed from web or from an Adult Coloring Page Book
Self Adhesive Multi-Colored Foam Letters
Decoupage
Colored Twine – Like this type or learn to make your own diy colored twine
Scissors
Pencil
Steps to follow to make a Coloring Page Name Plate
To make a few interesting shapes, I used a serving plate and the top of a tin can traced onto a piece of card board.
I cut out each shape, then traced that onto the backside of a free coloring page printed from the web.
Next, I cut out the coloring page shape, crumpled it up, flattened it back out, and then attached it to the card board shape by applying Mod Podge to the back side only.
Then I smoothed down on the paper on the front side until it was all attached, then I let dry.
Note that I didn't apply any of the decoupage to the front because I didn't want it to smear, which will happen with a standard ink jet copy. (If you spray paper with hairspray, the ink should not bleed, but make sure to test that out first.)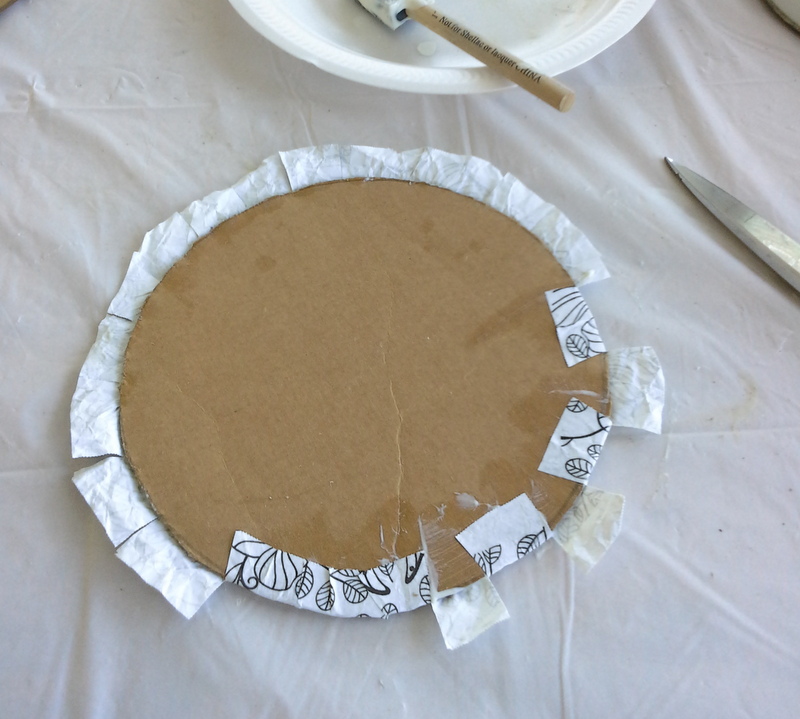 Alternatively, the paper could be cut larger and wrapped around the back of the card board by cutting slits along the edge, making sure to apply decoupage to back side only, once again.
I lined up and centered the foam peel-and-stick letters by eyeballing it, and then laid each one in place. The stickiness of foam letters had an open time, so I was able to move them around a little to get them just right.
A paint and letter transfer method, like this message on a plate project, would also work and could be made with one color, rather than the whole rainbow look.
I glued some

paint-dyed twine

to the front of the name plate for hanging. This step was a little tricky because I knotted the twine and then had to center it on the front.
Another way would be to glue the twine without the knots to the back side of the card board.
Last step, I ran a black ink pad along the edges of the card board to make it stand out more.
Stan (who just turned six) received his and gave me the thumbs up.
The other two haven't received their's yet, so the jury is still out on just how kid-approved this project is.
The adults in my family have been getting into doing these coloring pages as an R&R activity, I on the other hand think a coloring page, particularly uncolored, makes for an interesting background for kid's decor. What do you think?
More Easy Kid and Budget Friendly Craft Ideas
~ Amy