The objective was to update a room on a budget of 100 dollars. And I'm excited to say, we've accomplished just that in our entryway stairway. Now it's fresh and clean with a touch of gatehouse inspiration, too boot!
Welcome to the final reveal week in our $100 Room Challenge. I'm going to show you how we got this space in shape for about $100 and there is a linkup at the bottom with all of the other reveals.
Gatehouse inspired basement entryway and stairwell update
We made changes to complete this update
Made a shutter for the crawlspace entry
Adhered the shutter to a cement wall with specialty moisture proof hanger
Installed an angled wall stairwell coat rack
Updated a coat rack shelf with a faux grain chalkboard
Painted the cement stairs with a stair runner
Added a rug to the entryway landing
Board and batten faux shutter for crawl space entry
The basement walls are cinder block. Which is the closest I'll get to a stone wall of any kind in the near future. But these cinder block walls always make me think of a dungeon, so I thought I'd have some fun with a gatehouse theme.
Some of the images that came to mind were of Gothic stone walls, candles, lanterns, keys, rusty locks and latches, and rustic wood. While I don't have all of those, I have made a few changes that give this space a hint at an old gate house. So I hope you enjoy.
There is a crawl space entry on one of the stairwell walls. And I'm hoping I never have to crawl through that little door but since it kind of looked like a window, I thought a set of rustic wood faux shutters would be ideal.
We used 1/8″ plywood and made dado cuts with a table saw to faux the slats. The slats could also be cut in using a scratch awl
and metal ruler.
And after the shutters were put together, I stained the wood with Miniwax color: Early American
See more detailed directions of these plywood board and batten shutters, here.
Cost $0
This post contains affiliate links for your convenience. (See full disclosure, here.)
How to adhere decor items to cement basement walls without screws or nails
The Shutters were attached to the wall with Scotch 1″ x 1″ Extreme Fasteners.
These fasteners work on cement walls even with moisture. (I bought this 6pk count and they work great.)
Cost for fasteners $ 3.77 (at the time of purchase)
A black decorative hook and eye latch was attached to the doors. (I choose this Gothic style latch.)
Cost for latch $ 6.97
Cost $ 10.74
Stairway wall coat rack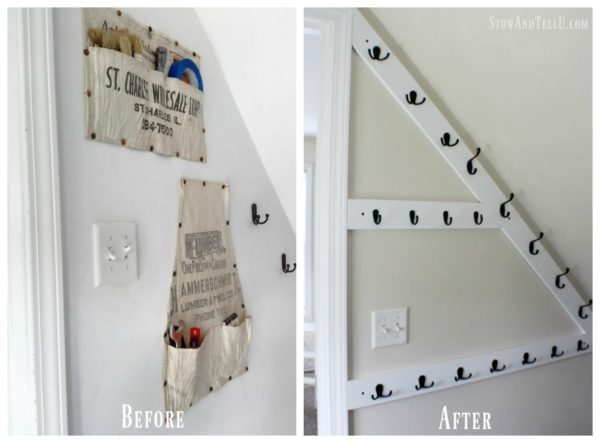 Holy coat rack Batman!!
Related: DIY Vertical Wall Mounted Coat Rack
Do you think I over did it with the coat hooks? I just may have, but I don't doubt that at certain times, every hook will be in use.
Wood $ 15.30
Coat hooks $ 33.98 (at time of purchase)
I used single and double flat black robe hooks (like this one and this one.)
And a 3-1/2″ coat hook pack in black (like this one.)
Wall paint $20.86
Cost $70.14
Coat rack shelf update with a faux wood chalkboard
A while back, I updated these two 1990's coat rack shelves with chalk paint. One of the coat rack shelves has a bicycle print that I wanted to cover up temporarily during colder seasons.
In week three I showed you what I salvaged to cover it up.
I painted the piece with a couple coats of chalkboard paint, then I brushed over that with a mix of dark brown/chalkboard paint and a few dabs of beige to get a faux wood grain look.
For more on this topic check out my DIY Woodgrain Chalkboards
I attached it with 3M command strips, so it can be removed at any time.
It still works as a chalkboard but in keeping with my rustic gatehouse feel, it's just a little more subtle than straight black paint.
I already had all supplies for this update.
Cost $0.00
Painted stair runner
I've always wanted to try painting a stair runner.
Read the tips and details for the painted stair runner with paint trimmed edge: week 2. I'm not a perfectionist but as you can see. The runner came out pretty straight with a little bit of concentration and a few touch ups.
I used some paint I already had, but purchased the dark gray floor paint.
Cost $13.99
Bottom of stairwell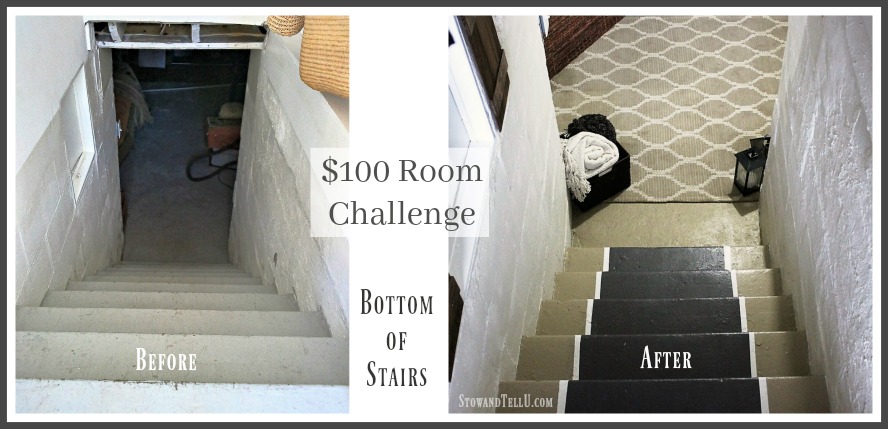 I place a rug I already had at the bottom of the stairwell. Along with a basket of blankets for keeping warm around the fire pit.
Related: Easy Way to Paint Your Basement Stairs while you keep working on your other basement projects.
I borrowed a few lanterns from several outdoor projects I did last summer.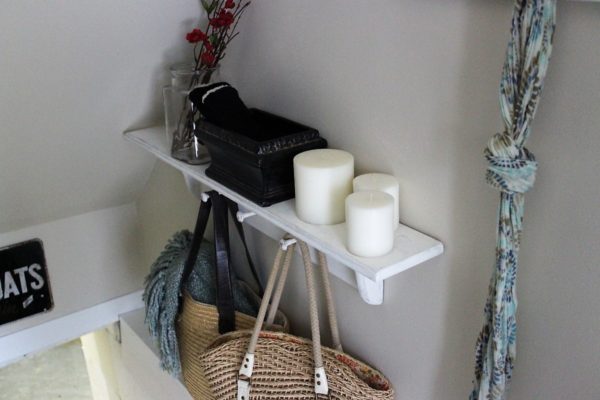 The white and blue throw blanket were thrift store purchases.
Also purchased were several thrifted pillar candles and the black planter catch-all.
I shopped my home for everything else.
Cost $10.92
Entryway rug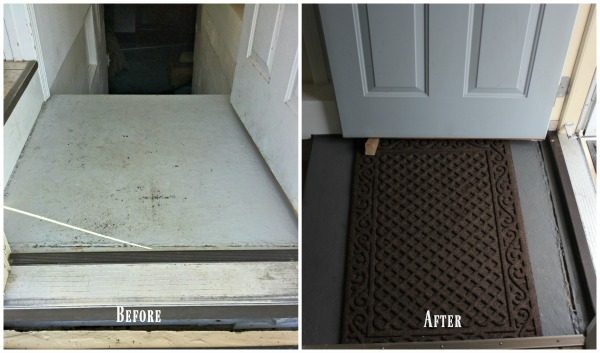 While I wanted to get one of those industrial strength 3′ x 5′ rubber mats and cut it down to fit the entire square footage of the entryway floor.
I settled for this 2′ x 3′ rubber entry mat that was under $6.00 and kept me on budget.
When I look at the before and after of this entry floor alone, it makes me so glad this space is finally cleaned up.
Cost for mat $ 5.88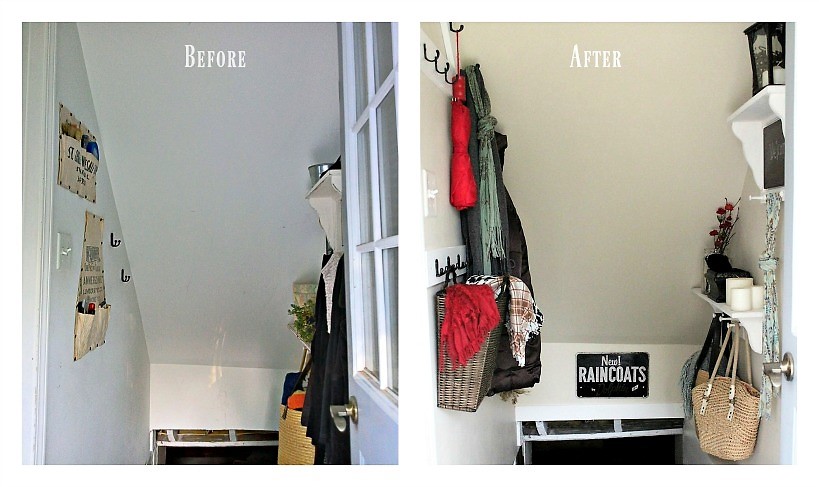 Total Cost for the entire room $ $111.67
Now this space if fresh and clean, rustic, welcoming and full of hanging vertical storage.
I've managed to keep the over-clutter down.
I've accomplished the goal of attaining full clearance at anytime by making the shutters and the coat rack shelves removable.
And I only went over budget by about $11.67
Full disclosure. I stared working on this space in the fall, right before the holidays. So this wasn't a one month makeover for me. I do think a space like this is doable in 4 weeks, but we all work at our own pace. Working with a group to stay on budget and get the job completed could not have been more helpful. Thank you, again, Erin for including me.
Stayed tuned for future $100 Room Challenges by following Erin at Lemons, Lavender and Laundry.
Thank you so much ~ Amy
Other basement projects:
How to paint an open basement ceiling
How to spray paint a plastic laundry tub
$1200 Open Floor Basement Remodel
On to the rest of the room reveals —>